Meeting of the Americas 2019 Conference

Monday, October 21, 2019 from 9:00 AM to 7:00 PM (EDT)
Event Details
MEETING OF THE AMERICAS will bring together investors, allocators and fund managers from the U.S., Latam and Canada to discuss the opportunities, debate the substantive issues surrounding the current state-of-play, and provide perspectives on the exchanges, broker-dealers and other trading venues that facilitate capital flows.
Thank you to our sponsors: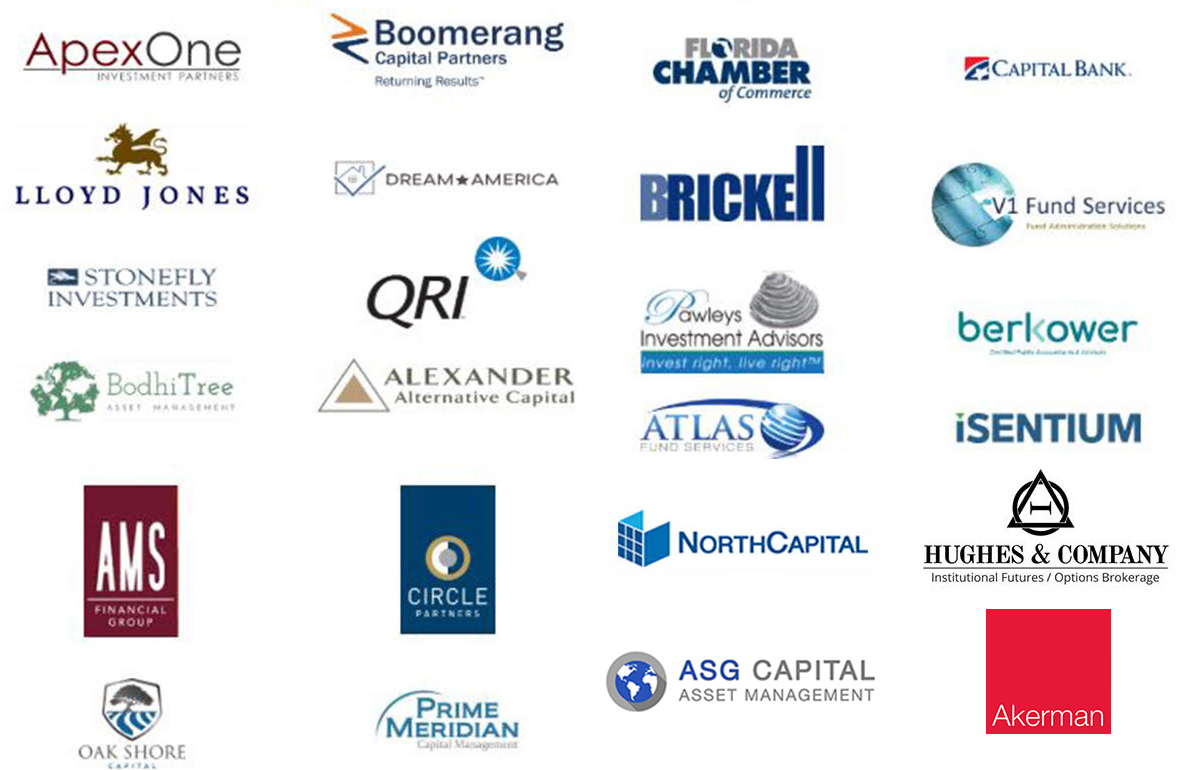 9:00AM - 10:00AM Registration & Breakfast Networking
10:00 - 10:15AM - Welcome Remarks
Jonathan Awner, Akerman LLP
10:15 - 10:45AM - Opening Remarks
Roberto Munoz, First Horizon National Corporation & FLAIA Board Member
10:50AM - 11:40AM - Opportunities in 

Real Estate, Direct Lending & Private Debt
AMS Financial Group - Offshore Financial Services including Offshore Fund Formation
Lloyd Jones - Multi Family Real Estate Deal by Deal in the Southeast

Prime Meridian  - Real Estate Business & Consumer Loans
ApexOne Investment Partners - Multi Family Value Add Real Estate Fund

Boomerang Capital - Real Estate Finance Focused on Lending & Equity Investments

11:50PM - 12:40PM - Success in Structuring, Custody & Compliance in 2020
Millennium Trust Company 
- 
Unique Cu
stody Solutions to advisors, financial institutions, businesses and individuals
Akerman LLP - Middle Market M&A & Complex Disputes - Moderator
Glide Capital - Platform of Alternative Investments & Well-Diversified Portfolio
FCS Group
 - Regulated & supervised Asset Management Company w/in the EU 
(invited)
12:45PM - 2:10PM - Lunch
12:45PM to 1:00PM - Keynote
FLAIA - 
Marketplace & Digital Marketing Overview 2020
1:00PM to 1:15PM - Keynote

Brickell Analytics - Macro Overview
1:30PM - 2:00PM - Keynote
Entrust Global
 - Introduction to Investment in Commercial Aircraft
2:20PM - 3:10PM - Opportunities in Private Equity & Hedge Funds
Circle Partners 
- Fund Administration Services - Moderator
Stonefly Investment 
- Prefer Return Private Equity Fund Mez Debt w/ E
quity Kicker
Oak Shore Capital - Private Equity Fund Consumer Receivables
Dream America - Private Equity Rent to Own Single Family Home Strategy
Pawleys Capital 
- Dividend & Growth Fund 
(Woman Owned & Operated)
3:10PM - 3:40PM - Networking Break
3:45PM - 4:45PM - Macro Overview in the Western Hemisphere
Hughes & Co - Introducing Broker to Open Brokerage Accounts for Advisors, Family Offices & Institutions
Stone Family Office - SFO Palm Beach
RWC Partners 
- Emerging & Frontier Market Equity
Bodhi Tree Asset Management - Multi Asset Class Tactical Allocation Fund

ASG Capital - Discretionary Fixed Income Instruments
5:00PM - 7:00PM - Networking & Cocktail Reception
*Agenda pending finalization and confirmation of invitation.  
Save This Event
When & Where

Akerman LLP
98 Southeast 7th Street
#1100
Miami, FL 33131


Monday, October 21, 2019 from 9:00 AM to 7:00 PM (EDT)
Add to my calendar
Organizer
The Florida Alternative Investment Association (FLAIA) is a not-for-profit 501(c)(6) organization created to establish Florida as an internationally leading center for Alternative Investment management. Our mission spans a broad-range of areas including Community Building, Education, Branding, Capital Attraction, Business Attraction, and Policy Optimization. Our ultimate goal is to articulate the State of Florida's impressive strengths as a center for Alternative Investment management and systematically strengthen the state's Alternative Investment "ecosystem" over time. For more information, visit www.flaia.org.