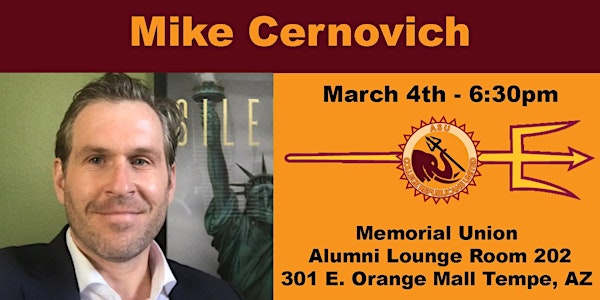 Meeting: Mike Cernovich
When and where
Location
301 E Orange Mall Tempe AZ
Description
Mike Cernovich is a producer and writer, known for The Red Pill (2016),and Hoaxed (2019). Cernovich rise to fame started with his promotion of the Podesta and Pizzagate emails, which accurately highlighted high-ranking Democratic Party officials involvement in child-sex ring with Epstein. He succeeded in getting Sam Seder fired from MSNBC with such an allegations and is a strong critic of pedophilic promotion within Hollywood. "The Harvey Weinstein case showed us that Hollywood is rotten to the core. We are continuing our investigation into the conduct and behavior of members of the Hollywood elite."

Mike's recent film, HOAXED, is an insider's look at the Fake News phenomenon and the consequences of media misinformation, with interviews from those who have been accused of spreading it themselves.

Join us March 4th as our Vice President Nina introduces Mike Cernovich to Arizona State University.