Description
A day of fire making & connection.
When: 21st Jan 2018 9.30-16.30
Where: Heathercombe, Dartmoor
Making a fire successfully every time, whatever the weather. Develop a deeper connection with fire.
A day of deep discovery of the art and practice of fire. Starting with the basics of what type of kindling and wood – you will be shown how to light the fire with matches, lighter, steel spark and bowdrill and keep it going.
Successful fire-making is a mixture of common-sense, skills through lots of practice, and a bit of science and magic thrown in for luck. Get the knowledge skills and confidence to make fire, again and again.
Deepen your connection with fire and yourself through a short fire quest.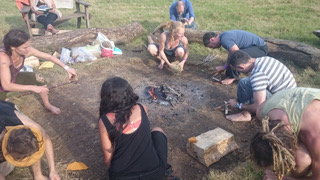 Whether you are a complete beginner or just looking to take your fire-making to another level, this will be both a real hands-on day as well as deeper connecting experience.
Taught in a small group.
Also available as a full day of personal tuition and support