Sales Have Ended
Registrations are closed
Registration timed out. Please try again. (Se agotó el tiempo de registro. Inténtalo de nuevo.)
Sales Have Ended
Registrations are closed
Registration timed out. Please try again. (Se agotó el tiempo de registro. Inténtalo de nuevo.)
Please join Council District 11 and LA Sanitation & Environment for an interactive community meeting.
About this event
*La traducción al español está a continuación. El evento será traducido en vivo al español.
The La Cienega Blvd Green Infrastructure Corridor Project is a Safe Clean Water Program-funded project led by the City of Los Angeles Sanitation and Environment. The goal of the project is to improve stormwater management and infiltration, and beautify a 0.45-mile stretch of La Cienega Blvd in Los Angeles' Ladera Heights neighborhood. The project will install several types of stormwater capture and permeability-promoting features to manage stormwater runoff onsite, reduce the flooding risk in this area, and provide water quality benefits to the region. The greening of an unimproved central street median provides the opportunity to improve the area's aesthetics and extends benefits to residents, pedestrians and local businesses.
We hope you can join us to share your thoughts and ideas about the project.
----------------------------------------------------------------------------------------------
El Proyecto del Corredor de Infraestructura Verde de el Blvd La Cienega es un proyecto financiado por el Programa de Agua Limpia y Segura liderado por el Departamento de Saneamiento y Medio Ambiente de la Ciudad de Los Ángeles. El objetivo del proyecto es mejorar el manejo y la infiltración de las aguas pluviales y embellecer un tramo de 0.45 millas de el Blvd La Cienega en el vecindario Ladera Heights de Los Ángeles. El proyecto instalará varios tipos de captura de aguas pluviales y características que promueven la permeabilidad para administrar la escorrentía de aguas pluviales local, reducir el riesgo de inundaciones en esta área y brindar beneficios de calidad del agua a la región. El enverdecimiento de la mediana de una calle central brinda la oportunidad de mejorar la estética del área y extiende los beneficios a los residentes, peatones y negocios locales.
En esta reunión de la comunidad virtual, los residentes aprenderán más sobre:
● Programa de Agua Limpia Segura del Condado de Los Ángeles que proporciona fondos para proyectos de captura de aguas pluviales y mejoramiento de la calidad del agua de múltiples beneficios
● El Proyecto del Corredor de Infraestructura Verde el Blvd La Cienega propuesto y sus objetivos para mejorar la calidad del agua y la estética del vecindario, reducir las inundaciones y crear más espacios verdes en Ladera Heights.
● Informarse de los próximos pasos del proyecto y de cómo los residentes pueden participar
Regístrese para asistir a esta reunión comunitaria.
Para obtener mas información o si tiene preguntas sobre el proyecto:
Envíe un correo electrónico a san.safecleanwater@lacity.org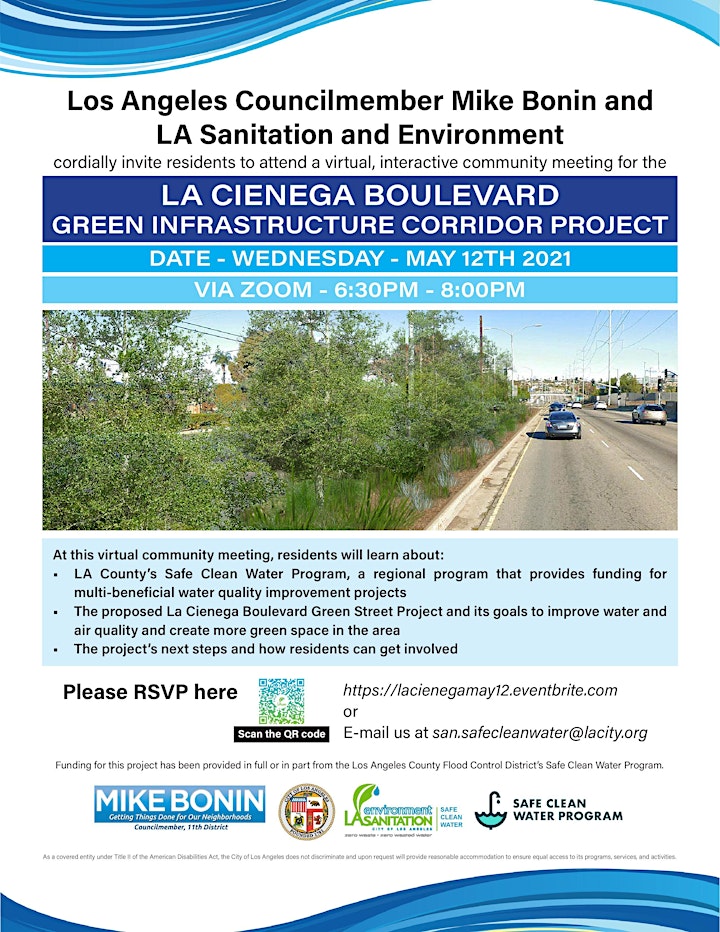 Organizer of Meeting: La Cienega Blvd Green Infrastructure Corridor Project
As the lead agency for the City's environmental programs and initiatives, LA Sanitation & Environment protects public health and the environment through the administration and management of three program areas: Clean Water (Wastewater), Solid Resources (Solid Waste Management) and Watershed Protection (Stormwater). These infrastructure programs collect, treat, recycle, and dispose of the solid and liquid waste generated by the nation's second largest city of more than four million residents. Through these essential public service programs, LASAN delivers a triple bottom line of economic, environmental, and social benefits that sustain the quality of life in Los Angeles. For more information, please visit www.lacitysan.org or call our 24-hour Customer Care Center at 1-800-773-2489. Note that by registering for one of our events, you will be added to our mailing list. 

View our brief video here ---> https://youtu.be/ZwPzIXQRFZg
Follow us on social media:   @lacitysan