Please join us to meet Dr. Jen Welter, the first female NFL coach
About this event
Dr. Jen Welter is a female trailblazer and sports pioneer whose life mission is to cross the last frontier for women in sports, football. Jen made headlines when, in 2015, she served as a linebackers coach for the Arizona Cardinals. 
​Following her record-breaking accomplishment with the Cardinals, Dr. Jen became the head coach of the first Australian women's national team in 2017. Dr. Jen became the first woman to play running back in a men's professional football league with the Texas Revolution. In early 2015, she was hired as the first female coach in men's professional football, helping coach the most successful Revolution season in franchise history.
Prior to joining the world of men's professional football, Dr. Jen had a highly decorated 14-year career in women's professional football which included four World Championships, two gold medals as a member of Team USA in the 2010 and 2013 International Federation of American Football's (IFAF) Women's World Championship, and eight all-star selections. She was inducted into the first class of the Women's Football Hall of Fame on November 30, 2018.
Dr. Jen's belief in the power of sport to transform society inspired her to create sustainable platforms and inclusive programs to help women become leaders, give girls access and empower kids to overcome challenges through physical, emotional and social well being. She founded Grrridiron Girls, the first national movement for girls in flag football. She has been honored and quoted by President Obama as a female pioneer and role model. Most recently, Dr. Jen served  as a defensive specialist for the Alliance of American Football (AAF). She is the author of "Play Big, Lessons in Living Limitless from the First Woman to Coach in the NFL."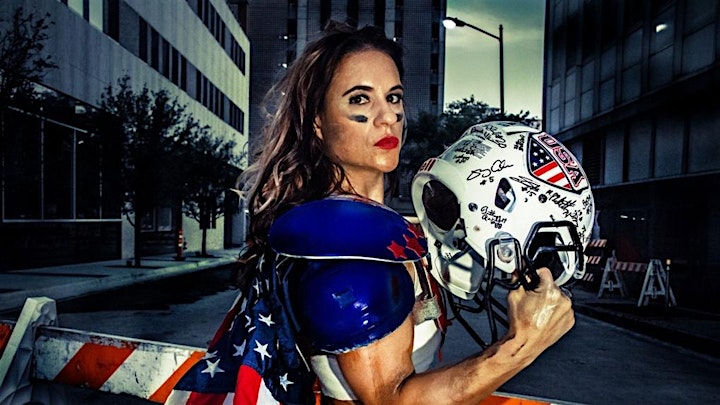 Organizer of Meet Your SheHero featuring Dr. Jen Welter, first female NFL Coach
SheHeroes is a 501c3 nonprofit  inspiring today's girls to become tomorrow's leaders. Our website, SheHeroes.org, features video profiles of successful women in their careers, with a focus on STEM, and includes age-appropriate discussion guides. Our free resources are designed for educators, families, after-school programs, and career counselors. We aim to show young women that you can succeed in any field that you work hard in.