Meet with… Sanderling Ventures

Wednesday, November 9, 2016 from 10:30 AM to 1:00 PM (CST)
Event Details
Sanderling is investing in today's seeds for tomorrow's harvest; is your technology the next bumper crop?

Since 1979, Sanderling has been dedicated to building new biomedical companies, utilizing a unique approach of specialized investment focus, active managing and long term commitment. Sanderling has supported over 90 biomedical companies from very early stage start-ups, through commercial development.

Investments are made at all stages with a focus on ground breaking early stage technologies that reduce costs in hospitals. Currently they are investing Sanderling VII which closed in 2015. Investment areas include:

Small molecule therapeutics
Drug delivery

Platform technologies

Medical devices
Diagnostics

Biologics and vaccines

Digital/eHealth
Sanderling Ventures Managing Director Timothy Mills will be in attendance to give an overview presentation about the company's key areas of interest. Following the presentation, don't miss this opportunity to introduce yourself to Timothy during the networking lunch. And finally, for those companies who apply online and are approved, one-on-one meetings with Sanderling will provide an intimate forum to discuss your company. 


Agenda:
10:30am | Registration Opens and Networking
11:00am | Presentation and Q&A
11:45am | Networking Lunch
1:00-5:00pm | One-on-one Meetings*

*Companies must have applied for a one-on-one meeting ahead of time and be approved. The application period ends on October 26th.


Sanderling Ventures Participating Representative:

Timothy Mills | Managing Director, Sanderling Ventures
Timothy Mills has over twenty-five years of experience in biomedical research, corporate management and venture capital investing. Dr. Mills joined Sanderling as an Operating Partner in July 1998, was promoted to Managing Director in 2000 and currently serves as the Chairman of the Investment Committee. At Sanderling, Dr. Mills has focused on early stage investments in Medical Devices, Biotherapeutics, and i-Health. His active roles within Sanderling's portfolio companies include Chairman, CEO, Director, and management team member. Portfolio companies previously served include Stereotaxis (NASDAQ: STXS), Stentor, acquired by Royal Philips Electronics (NYSE: PHG, AEX: PHI), CardioNet (NASDAQ: BEAT), Taligen Therapeutics, acquired by Alexion Pharmaceuticals (NASDAQ: ALXN), Neomend, acquired by C.R. Bard (NYSE: BCR), Sotera Wireless and InfraReDx (acquired by Nipro Corporation). Currently, his roles also include Chairman of Torax Medical, Pulsar Vascular and AdMIRx. Prior to joining Sanderling, Dr. Mills served as the Corporate Vice President of New Business Development and Chief Scientific Officer of Target Therapeutics, a medical device company that was acquired by Boston Scientific (NYSE: BSX) in 1997 for $1.3 billion. From July 1994 to July 1997, he was a Director for Prograft Medical, a Target affiliate that was acquired by W.L Gore & Associates. Before joining Target in 1994, Dr. Mills served as Director of Business Development and Advanced Research & Development in the Interventional Cardiology Division of Baxter Healthcare, now Edwards Life Science (NYSE: EW). Dr. Mills' previous academic appointments included Director of the Artificial Heart Program at the University of California, Irvine Medical Center and faculty member at the University of California, San Francisco Radiology Department. Dr. Mills received his Ph.D. in Bioengineering from the University of California, Berkeley & San Francisco School of Medicine. He also received a M.S. in Electrical Engineering & Computer Science from the University of California, Berkeley, and a B.S. in Electrical Engineering from the University of Colorado, Boulder. In addition, he is an advisory board member of the University of Colorado Technology Transfer Office and a program faculty member of the Stanford University Biodesign program.
Connect with Timothy:




Fees:
Presentation & Lunch
$25 | General Public
$35 | Onsite
Includes presentation, Q&A, and lunch. All attendees must pay this fee, regardless of one-on-one meeting status. Pre-registration to attend the presentation, Q&A, and lunch will remain open until noon on November 8th (or sold out).

One-on-One Meeting
FREE | Application
FREE | Accepted Companies
Companies must have applied for a one-on-one meeting ahead of time. The one-on-one application period ends on October 26th. Your application will be reviewed and you will be notified of acceptance by email. Acceptance of one-on-one meetings is not guaranteed as all applications must be approved.


About the Meet with... Series:
The purpose of the Meet with Series events sponsored by JLABS is to help start-up entrepreneurs, as well as the academic community, connect with potential partners, such as big pharma or other investment corporations, through one-on-one meetings. It is also a chance for the featured corporation to outline their specific business development goals and clarify what types of products or research they are interested in and how best to approach them to get the partnering process started. Past participants include the Wellcome Trust, Bill & Melinda Gates Foundation, MedImmune Ventures, NCI, Mercury Fund, DARPA's Biological Technologies Office, Correlation Ventures, Breakout Labs, New Enterprise Associates, Canaan Partners, Thomas McNerney & Partners, NCATS, NINDS, Johnson & Johnson Innovation, Poliwogg, California Institute for Regenerative Medicine, Astellas Venture Management, and OrbiMed.


Location:
JLABS @ TMC
John P. McGovern Campus
2450 Holcombe Blvd, Suite J
Houston, TX 77021


Parking Information:
Please park in the self parking areas of the McGovern Campus. Grab a Token at the gate and bring it to the event space. We encourage carpooling and using the TMC shuttles.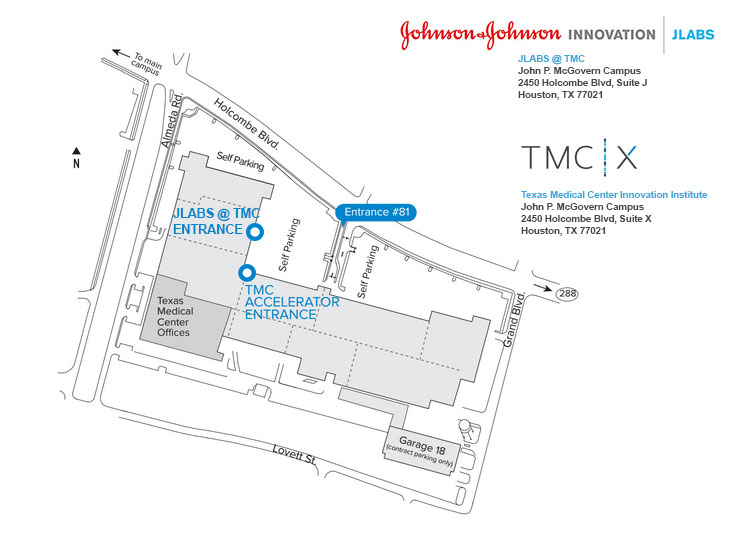 When & Where

JLABS @ TMC
John P. McGovern Campus
2450 Holcombe Blvd, Suite J
Houston, TX 77021


Wednesday, November 9, 2016 from 10:30 AM to 1:00 PM (CST)
Add to my calendar
Organizer
JLABS @ TMC
JLABS, part of Johnson & Johnson Innovation, LLC, is a network of life science incubators providing emerging companies many of the advantages of being in a big company, without the capital investment. JLABS offers singular bench tops, modular wet lab units and office space on a short-term basis, allowing companies to pay only for the space they need, with an option to quickly expand when they have the resources to do so. Companies residing at JLABS also have access to core research labs hosting specialized capital equipment and shared administrative areas. JLABS is an open innovation model, and the agreement for space does not grant JLABS or Johnson & Johnson Innovation any stake or rights in the companies, nor will the companies have a guaranteed future affiliation with JLABS. The flagship facility is located in San Diego at Janssen's West Coast Research Center, and JLABS has now two established locations in San Francisco - one through a collaboration with the California Institute for Quantitative Biosciences (QB3) and a second standalone facility - one in Boston through a collaboration with Lab Central, one in Houston through a collaboration with TMC, and one in Toronto through a collaboration with MaRS. For more information please visit jlabs.jnjinnovation.com.
Meet with… Sanderling Ventures