Meet Vivian Howard at Williams-Sonoma Bethesda Row + Eat from Her Food Truc...
Description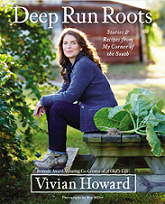 Deep Run Roots is Vivian Howard's comprehensive record of modern Southern cooking, filled with stories and more than 200 recipes that celebrate the flavors of her eastern North Carolina home. Organized by ingredient with dishes suited to every skill level, Deep Run Roots features time-honored simple preparations, extraordinary meals from her acclaimed restaurant Chef and the Farmer and recipes that serve as a culinary love letter to the South.

Ticket price includes one cookbook and a signature sandwich prepared by Vivian's food truck.