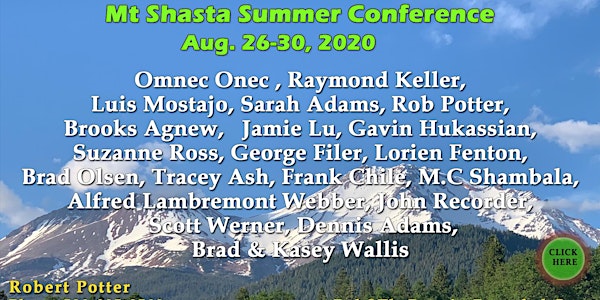 Meet The Venusians Mt Shasta Summer Conference 2020
5 Day Summer Conference Beautiful Mt Shasta, Contactees, Space Family, Meditations Excursions and Skywatches Movies Music & More CU There
When and where
Location
sacred space Alder Street Mount Shasta, CA 96067
About this event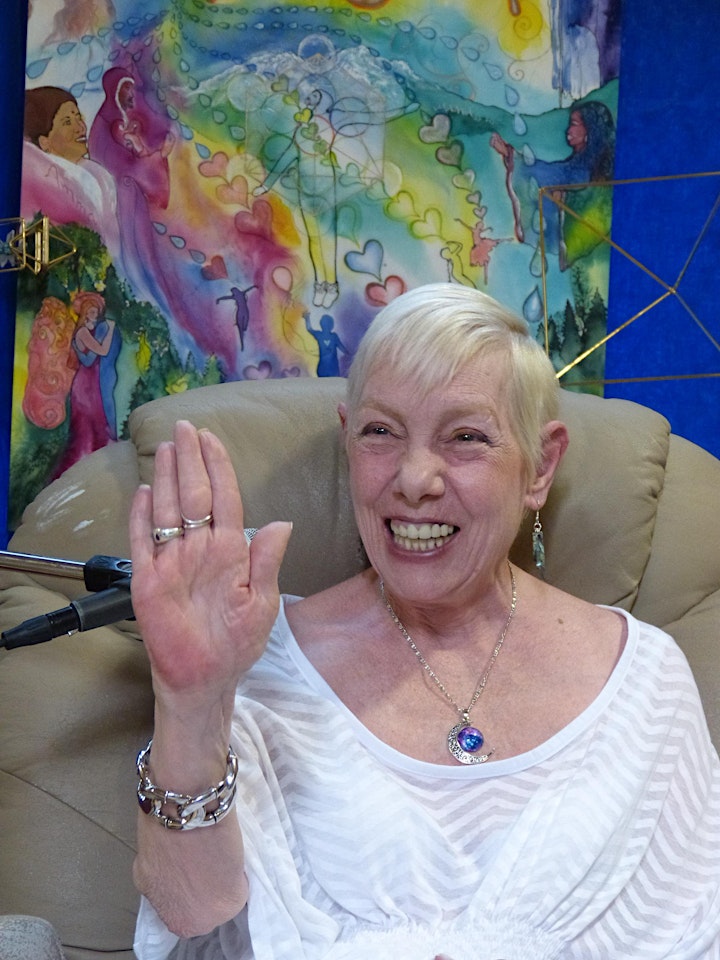 Dear Promise Friends, This Summer from August 26th – August 30th I will host the original 7th annual Mt Shasta Summer Conference.
BIG ANNOUNCEMENT:
Conference Update
I am happy to announce the conference will be allowed to take place this summer. Social distancing will be possible due to the very large hall and we recommend you bring masks if you have them we hope to be able to give them to those who dont have them. We take your health very seriously and the venue is giant so there will be plenty of seats and spacing to comply with social distancing. We will be covid compliant!
Many people do not know but you can all purchase plane tickets (very cheap right now) and travel anywhere in the United States without restrictions. You can also drive anywhere and drive to Mt Shasta as you wish.
The restaurants are open & face coverings are required in some stores, social distancing is required in restraunts & some super markets. We hoping the social distancing will end soon. The local gym is open and hotels motels bed and breakfasts are all open for business.
With lots of love and health to you all. See you soon
Rob
Please read this entire document very carefully all the information you will need is included here including directions and other important information. However if you need any help at all for any reason please call me.
'Meet The Venusians-We Are In Contact' is my tribute to honor of all the Venusians & Pleiadean's who have taken the time to present themselves to me throughout my life.
Introduction To The Conference
OnOctober 20, 2019, Raymond Keller helped arrange for me to meet in person and record and interview a female Venusian Commander. This video records me asking 8 questions of the 6th dimensional Venusian Aura Rhanes, the commander of the Venusian moon base Clarion. I will share this video and other messages at the conference.
I acting as a postmant delivering a message realize the most important aspect of my effort is simply to share the real and clear messages and to act as a postman delivering a message. I do my best to do this free from sensationalism and hype.
Furthermore, the Venusians want me to share their positive message of hope and to provide more details to the public on the coming shifts within and on the earth.
I hope you will join my friends and I this summer as we attempt to expand the human gnosis and experience into the seldom travelled vistas of the reality of extra-terrestrial contact.
Warm Regards
Rob Potter
Program Highlights
We will have a program that includes: • Incredible Speakers Crystal Skull• Guided Meditations • Vibration Raising Mantras • Qi Gong Exercises • Actual Videos of Many Encounters • Messages from Different ET Groups • Movie Night •Pyramids Tesla Coils Sound Light Color Laser Crystal Show•Vendors • Lake Swim Time and More
The Schedule of Speakers
The schedule is now being released. Please see below that we have many surprise guests. Omnec Onec, Raymond Keller, Sarah Adams, Luis Mostajo, Laura Eisenhower, Rob Potter, Lorien Fenton,Tracy Ash, Col Dave Berkoff, Gavin Hukassian, Maj. George Filier, Suzanne Ross, Scott Werner, Dennis Adams, John Recorder, Jamie Lu, Brad & Kasey Wallis, Brad Olsen, Shambala MC, Brooks Agnew, Eric The Healer, Shari Lynn, Col Dave Berkoff
Conference Schedule is up and MAY be subject to Change.
Speakers Biographies
Please see the Biography's of our Amazing Speakers by going to the very bottom of this page.
Although our speakers are special with advanced information and full of love and knowledge it is really about you our guests.
Everyone who comes makes special contact with many amazing and brilliant light workers. It is these loving associations that will enrich your lives and last a lifetime.
You will find out you're not alone in your faith in the truth and the reality that this planet is going through a miraculous change. That we are part of the universal family of Light.
The support of your fellow mankind and even a few secret space friends sprinkled throughout our venue will provide an atmosphere of community that is rarely experienced. Please bring your love and good vibes to this event.
Musical Guests
The band may not be available if the canadian border does not open as scheduled on the 21st? We will have some more organized later evening programs this year with musical guests Wings Over The Desert Shamballa. We may have other musicians and will let you know, as we get closer to the conference exactly who is going to perform.
Vendor Participation
If you are interested in becoming a Vendor please send an email to Rob@thepromiserevealed.com and include your name and phone number. We have several locations left. Cost of ticket + 200
The conference will be held in
Mt. Shasta, Ca.
96067
(530) 925-3502 Robs Phone
Lodging
We will not be providing any lodging or camping for you our guests this summer however we will direct you to these links below for all of your lodging possibilities.
Food
Because we are in town this year no food will be provided. There will be breaks for you to go to restaraunts or bring your own food as you wish. Due to Covid Protocols no food will be allowed or served in the / Venue
Camping
Besides the links provided below you may also camp on the mountain for free! Check with the forest service or Not to find a location to pitch a tent nearby.
The Best option is to camp at the campground with the most amenities which includes RV hookups- electrical, water, a store, restaraunt, showers and bathrooms and laundry. Best to book EARLY they always fill up by June or July. Siskyou Lake Campground with Bathrooms & Showers and here are the Lake Siskyou Campground Directions Directions to Lake Siskyou Campgrounds
Motels Hotels
I highly recommend The Stewart Mineral Springs which is about 20 minutes from the venue. However it has mineral baths, natural river dipping pool. sauna and even massages. It is secluded and very beautiful.
Free Tickets
Would you like free tickets to the conference? We have two options left available for you to receive free tickets.
Offer #1-Speaker Pick Up
You will Pick up speaker or speakers at either Sacramento Airport or San Francisco Airport on Tuesday the 25th of August. You will also drive them back to airport on either Sunday the 30th or Monday the 1st of September.
Requirements are: A nice newer model Car or SUV with room for luggage. Insurance and a valid license are required. We expect the car to be clean and for you to be on time for pick up. You will also cover the gas expenses.
Offer # 2-Speaker Housing
You will rent an Air B & B for 3-6 days and contact me. The number of the days is because not all speakers will be here for the full 5 days. We will discuss if you can house 1 or 2 speakers more details will be provided after you call. 1 Speaker wil be good for 1 ticket and 2 speakers will be traded for 2 VIP tickets to the conference.
Victory To The Light
Rob Potter 530-925-3502 Rob@ThePromiseRevealed@gmail.com
Mt Shasta Summer Conference Schedule
Wed. August 26th
8:45 AM – Check in come early on time get acquainted visit vendors choose your seats. Opening ceremonies will start at:
10:15 – Opening Ceremony – Introductions
11:15 – 15-minute break
11:30 – Scott Werner St Germain Meditation
1:00 PM - Lunch 1.5 hours
2:30 – Jamie Lu Activating Oneness in Our Multi-Dimensional Bodies
3:30 - 10-minute break
3:40 – Gavin Hukassian-Benefits of Qi Gong-Shaolin Yoga and The 5th Dimension
5:10 - 10-minute break
5:20 - Lorien Fenton - Angels Are Aliens Too!
6:50 - Dennis Adams - God Heals Through Us – Group Healing
7:50 Dinner 1 Hour -10 minutes
9:00 John Recorder UFO Footage and Slide Show to Music
9:30 Movie Farewell Good Brothers Giant Rock Early Venusian Contactees
Thursday August 27th
8:35 Doors Open - Guests Choice Circle - Explanation Given at Conference -Gavin Hukassian
9am – Alfred Lambremont Webber Pre-Recorded
10:00 - Col. Dave Berkoff - Secret Space Program
11:00 – Brooks Agnew-Remembering The Future
12:30 – 10 Minute Break
12:40 – Brad Olsen-Mysteries of South America & Antarctica
2:10 – Lunch 1 Hour-5 minutes
3:15 - Omnec Onec My Life on Venus and Q & A
4:45 10 - Minute break
4:55 – Raymond Keller My Trip To Venus with Q-A
6:25 -Kasey Wallis Julius The Conscious Journey Shared By All Beings
7:55 – Dinner Break 1 hour-5 mins
9:30 – Late Night Music Jam & Drum Circle on private property.
Friday August 28th
8:45AM - Guests Choice Circle - Explanation Given at Conference Scott Werner - Gavin Hukassian
9:00 – Maj. George Filer Pre Recorded – My UFOs Experiences in The Military Pre Recorded Presentation
10:00 15 minute break
10:15 - Rob Potters Recorded Q and A Queen with Lady Orda-Venusian Moon Base Commander Aura Rhanes along with Transcript of Valiant Thor and Al-An Part 1
12:15 – Lunch 1 hour 45 minutes!
2:00 – Bill Homann Crystal - Skull History
3:00 – 5- Minute break
3:05 – Luis Maertens-Contact on Venus The New Revelation 2020 Pre Recorded Presentation
4:30 – 5 Mimute Break
4:35 - Barbara Lindsey-Ambassador for the Light - LOVE is a Four Letter Word
5:35 - Dinner 1 Hour 10 Minutes
6:45 – Conference Group Photo-Don't Be Late
7:00 - Crystal Skull Meditation
8:00 – Skywatch on Private Property
Saturday August 29th
8:45 Am - Guests Choice Circle - Explanation Given at Conference Gavin Hukassian-Eric The Healer
9:00 – Laura Eisenhower Pre-Recorded Presentation Venus ~ Transits and the Return of the Cosmic Aether
10:00 – Shari Lynn
11:00 – Break 10 minutes
11:10 – Venusian Messages Part II New Questions & Answers From My Friends From Venus – Q & A possible surprise guest speaker!
1:10 – Lunch 2 hours
3:10 - Omnec – Rob – Raymond Answer Questions on Venusian Society and How Their Advanced Civilization Can Benefit Earth
4:40 – 15-minute break
4:55 - Dr Raymond "Coz" Keller Lady Columba Book 4 with Q & A
6:25 10 minute break
6:35: Shamballa The Cosmic Minstrel
7:00 Dinner free night
Sunday August 30th
8:35 Am -Doors Open Guests Choice Circle - Explanation Given at Conference Gavin Hukassian-Eric The Healer-Dr Scott Werner
9:00 – Tracy Ash - Ark Technologies & Advanced Timelines Pre- Recorded Presentation
10:00 – Suzzane Ross- The Bizarre Dance of Light and Shadow
11:00 – Break 10 minutes
11:10 – Sarah Adams
12:40 – Lunch 1.5 hours
2:10 - Omnec – Rob – Raymond Answer Questions on Venusian Society and How Their Advanced Civilization Can Benefit Earth
3:40 - Healing Panel: Dennis Adams, Jaime Lu, Sarah Adams, Eric The Healer & Dr. Scott Werner
5:40 Ancient Mysteries Panel – Brad Olsen, Brooks Agnew, Gavin Hukassian, Kasey-Julius
7:10 Closing ceremonies goodbyes
8:30 pm The End
What to Bring To The Conference
The conference is in beautiful Mt Shasta the weather is gorgeous. Please bring masks!
1. Bring summer clothes
2. If you do go on the mountain it may be cold at night so bring warm clothesjackets etc. as well
3. Our skywatch is on private property so you may want to bring something to lay on the ground with or even a beach chair or tarp!
4. If you choose to go to lakes or waterfalls you may want to bring a bathing suit.
5. If you are camping you may want to bring your flashlights
6. We will some accoustic music indoor so you may bring your drums and guitars or ther such instruments.
Speaker Biographies
Special Notice - Some speakers may not be able to attend due to international travel restrictions or for other personal limitations. At this time all speakers are committed to presenting in person except Laura Eisenhower, Alfred Lambremont Webber and Tracey Ash, John Recorder Luis Mostajo & George Filer all who have pre recorded presentations scheduled.
The Venusian and Spiritual Teacher Omnec Onec
The spiritual name "Omnec Onec" means "spiritual rebound". It's Omnec's task and talent to help people reconnect with their true selves as soul.
Omnec Onec was born on the astral level of the planet Venus and came to Earth with her own physical body in 1955. In the 90's, she became publicly known with her autobiography FROM VENUS I CAME . She has now completed her life's work with THE VENUSIAN TRILOGY.
In these books, she portrays life on the astral level of Venus and describes why and how she was born there and why as a child she was given the opportunity to lower her vibrations, to manifest a physical body and to come to Earth at the age of seven in order to later in her life work as a spiritual teacher and fulfill her life cycles here on Earth.
"As I was born on the planet Venus in another dimension and came to your planet as a young child, I was able to retain the knowledge and information that I had gathered as a soul through many incarnations and lifetimes.
I can keep this information intact, and what I teach people is actually what I KNOW and not what I've read about or what I've heard, but what I have experienced through many different life cycles on Earth and in other dimensions."
"The most important thing that people on earth have to learn is to replace criticism and judgement with love and acceptance."
Due to her unusual life story and her special individuality, Omnec always triggered much love and joy, knowledge and memories in people, but also criticism and doubts. Omnec kept emphasizing that one of the greatest gifts of a human being is his individual freedom to believe and to think whatever he decides.In her autobiography, Omnec describes the enlivened astral dimension of Venus and gives detailed insights into the way of living of these beings in a higher level of frequency than we know here on the physical earth. The Venusians live in tune with natural laws and the "Laws of the Supreme Deity". They are fully aware of their connection to creation and handle their spiritual powers with responsibility.
Dr. Raymond A. Keller II
A retired history professor currently attached to Christian Help from the National Council on Aging. Keller has recently come out with his famous trilogy, Venus Rising: A Concise History of the Second Planet, Final Countdown: Rockets to Venus, and Cosmic Ray's Excellent Venus Adventure Terra Alta, WV: Headline Books, 2015, 2017, 2017 respectively.
His fourth and fifth book "The Vast Venus Conspiricy" and "Lady Columba Venus Revelations" will have their public debut at this conference this summer. Lady Columba is now an Ascended Master living on Venus and she wrote this book while on earth. She handed the manuscript to Raymond in person in 2017.
Dr. Keller's books explore many facets of conditions and life on Venus in many dimensions from a perspective of conspiracies, history, theosophy, ufology and current events, especially space research.
Raymond travels the world sharing his amazing experiences about his 10 weeks visit to Venus in 2012-2013. He also shares his vast metaphysical knowledge through his public appearances. In the Venus Series of books, you will learn some of the following information:
• With members from Salt Lake City chapter, he travels to Mt. Shasta and entire group meets the Ascended from earth Mormon saint Annalee Skarin. As anscended being she is called Lady Encara. She materializes and meets them at a spring on the slopes of the mountain. She then explains that they are standing in an inter-dimensional vortex and bi located on the planet Belaton in the Sirius star sector. They encounter large, intelligent praying mantises. Lady Encara dematerializes in column of light, the same way she arrived.
1) Raymond was living in China when Delores Barrios (aka Lady Orda) invited him to an "Ascension Party"Raymond Travels in a "Nimbus" to Tibet and then onto Venus.
2) He watches spellbound as Lady Mazu the Chinese Saint ascends to the Central Sun.
3) His Friend who invited him to Venus Delores Barrios aka Lady Orda is announced the New Queen of Venus, he meets with "wonderment and awe" the ascended master El Morya the "Accidental Apostle" or "Lord Dysmas"
4) He soon receives permission from El Morya and the newly installed Queen Lady Orda to view the Akashic records. He does allowed to do so despite the Chrono master's objections.
5) He spend 2 1/2months viewing the earth's history and even future. In these forays he learns details unknown by special viewing apparatus the earths relationship to Venus.
6) He sees all of his previous lifetimes including his first incarnation as the roman scribe and poet Publius Virgil Mauro.
7) Finally, he actually travels back in time to 1954 with the current Queen of Venus his friend Lady Orda.
8) Due to nuclear experiments of the 1950's their time travelling "Nimbus" the bi location technology is disrupted by distortions in the tachyon drive leaving Raymond and the Queen literally lost in time! He makes it back to the correct timeline! You will learn more when you buy his books or meet him.
Sarah Adams
Sarah has experienced many things from seeing abductions to seeing angels who aided her. Her awakened consciousness increased as she got older. She experienced the supernatural and past lives in Egypt & Atlantis. telepathy, weather abnormalities, feeling other emotions, remote viewing, quantum leaping, and time travel are among the other alternate realities Sarah has endured. "I've healed so much and believe every day is a healing journey to greater heights".
Sarah works with many clients around the world in what she calls "Intuitive Healing". This includes using homeopathy herbs, supplements, diet super foods, detoxing, energy work, essential oils, visualization, mediation, subtle energy work, cellular work, all to heighten the frequency of the temple and precious bodies we have been given.
Sarah Adams continues to be a major force in the world of enlightenment while healing many around the world.Website: https://www.sarahradams.com
Luis Fernando Mostajo Maertens will prerecord his power point it will be presented in english at the conference!
Luis was born in Cochabamba, Bolivia on January 20th, 1964. He studied Architecture and specialized in Art and Antiques Restoration. At present, he has his own construction company in La Paz, Bolivia. He also likes to compose and play New Age electronic music.
Luis Fernando is considered one of the most important E.T-contacts of our times. He has experienced many physical encounters with his extraterrestrial guides, who have given him direct guidance and assistance since he was 13, in 1977, when he lived his first contact experience.
He has written and published 6 books, in which he shares the nature of his E.T's contact experiences and the great awakening message he receives from them for these times. ONE IS ALREADY AN INTERNATIONAL BESTSELLER!
He is one of the few contacts who have demonstrated that his experiences are real by inviting members of the press, some of which work for TASS Agency, to watch "programmed U.F.O. sightings".
He has been prepared as an Instructor in inner-development techniques in a physical, mental and spiritual level giving courses on the conscientious use of energy and Xolar Initiation. He has promoted the creation of the Continental Platform with preparation centers in Mount Shasta (U.S.A), Copan (Honduras) and Titicaca Lake (Bolivia).
Laura Eisenhower Pre Recorded Presentation
Robert Potter
Rob is a real physical contactee of the Venusians and the Pleiadeans has been researching healing and consciousness for over 40 years. He has given seminars all over the world including Egypt, Japan, Australia, Bolivia, Peru, Canada, China, Europe and USA.
Rob has just recently on Nov. 22nd, 2019 met the Venusian Commander Aura Rhanes. She is the leader of the Venusian Moon Base. This colony is called Clarion and is back side of the moon from which the Venusians run various operations on the earth.
Rob recorded an interview and will share this video as well as some written and recorded messages he has received in the last year. He will take questions after his presentation
Rob is working with Venusians and is now able to share some direct messages from them in regard to their efforts to give the earth hope and to enlighten us towards an era of peace and prosperity for all.
Can we grasp the reality of what is happening? Can we accept the message and act on the wisdom offered from our solar brothers and sisters from Venus. He has done TV many radio and newspaper interviews including Coast 2 Coast, Jimmy Church , Jeff Rense and John Wells. He was on sharing the profound aspects of the ongoing process we know as Interplanetary Cultural Exchange.
Rob will demonstrates his Pyramid Systems Star Gate portal technology to help people actually develop and experience their own spiritual bodies or Merkabah conscious field. Rob will explain how Star Gate Portal technology is designed to heal the planet.
Rob is very much involved with supporting the mission on the Venusians on earth to help foster awareness of their mission of love peace and hope. Please see the other links including some voice-recorded messages from the Queen of Venus on his website. Rob has a new TV show starting soon On SciSpiTV.com
Brad Olsen
Brad Olsen is author of nine books including two in his Esoteric Series: "Modern Esoteric" and "Future Esoteric." An award-winning author, book publisher and event producer, his keynote presentations and interviews have enlightened audiences at Contact in the Desert, UFO Mega Conference, the 5D events and dozens of radio (including Coast to Coast, Ground Zero, and Fade to Black) and television shows (including Ancient Aliens, America Unearthed, Beyond Belief, and Mysteries of the Outdoors). Brad is a founder and co-producer of the How Weird Street Faire in the SOMA neighborhood of San Francisco. The Chicago native's esoteric writing continues to reach a wide audience while he continues breaking ground in alternative journalism, public speaking, illustration and photography. facebook.com/brad.olsen108/http://www.BradOlsen.com
Tracey Ash
Tracey Ash is a force of disclosure on revolutionary consciousness technologies, sovereign humanity pathways, Planetary Grid and smashing False Matrix. Tracey Ash is a Global Ascension Leader and New Earth Builder, Initiated Sufi, Alchemist and Mystic. She is an Ascension and Meta-Physics Maverick and Contact Genius. She was trained at world-class College of Psychic Studies, London and mentored by President Suzanna McInnerey who in 1999 gifted her first contract. She worked at CPS from 1999-2015 whilst building an international career on her extraordinary gifts. Her contact footage was so good, she was invited to The United Nations in 2018. Her recent disclosure interview in Tokyo Sports News reached a whopping one million readers in 2019.
She is creator of Ascension University, Avatars of The Earth Gathering, and Center of Ascension, Egypt. Author of four books including The Ascension Maps and Wound weaver. She is host of Underground Mystic.
Gavin Hukassian
Gavin will be leading Qi Gong and breathing exercises everyday of the conference. I feel he is a very special and unique individual with a powerful charismatic presence and a gentle demeanor. He is a Grey Jedi Master. A Matrix Warrior from the Orion Legion. By being trained closely with Archangel Michael, Gavin hopes to join the ranks of the Archangels just as Metatron had in his direct promotion from his human form. Gavin studies Alchemy and Metaphysics; developing his Chi in the spiritual practices of Shaolin Kung Fu.
Brooks Agnew
Brooks grew up in Pasadena, California hanging around JPL and Cal Tech. He entered the Air Force in 1973, where he graduated top in his class in electronics engineering. He received his Bachelor of Science with honors in Chemistry from Tennessee Technological University. He is a Certified Quality Engineer, a SixSigma Master and a member of the Society of Automotive Engineering. He has worked for 30 years consulting with the Fortune 100 to save or bring back to America more than 10 thousand highly productive jobs.After publishing more than 10 thousand articles and technical documents, he authored 7 Amazon best-selling books with 10 titles in print. He is one of the world's most recognized voices in the Human Disclosure Movement helping millions to unlock their full potential.
X-Squared Radio is the #1 talk radio program in America on Sunday nights after 14 years on Sunday from 8-11 PM. He has been featured on dozens of TV and hundreds of radio programs as well as numerous scientific documentaries. He is a multi-patented engineer and currently the CEO of an electric truck manufacturer in North Carolina. www.x2-radio.com www.bearthtrilogy.com www.brooksagnew.com www.npiee.com
Suzanne Ross
Suzanne has been on the front lines of the higher consciousness movement for over twenty years. She started out in the corporate world in 1985 and found it to be mean-spirited, corrupt and ruthless. She knew if she didn't get out, it would kill her and it almost did. After suffering from a variety of debilitating physical and mental ailments, in the winter of 1995, she finally sought refuge in the desert of Southern California. There she experienced what she calls a "Divine Intervention." One morning at sunrise, Suzanne was compelled to run to the top of a mountain and plea for higher guidance. She totally surrendered to whatever may come and in that moment was surrounded by pure white light and heard a voice resonate within her and all around her. It simply said "Can't you see you've come home. You will stay here and heal yourself and many others." When the light faded, she found herself looking out across the desert landscape and knew in her heart that the absolute truth had been spoken that she would become a healer in the desert. And she did.
Twenty-five years later, Suzanne is still dedicated to healing although her vision has expanded to healing the world by elevating global consciousness. This quest includes publishing books, producing conscious media, offering services and hosting events.She has also developed an internet TV network: SciSpi.TV with 7 channels and over 30 shows designed to enlighten, empower and inspire humanity. She also offers spiritual counseling, wellness services and psychic readings. She hosts large events every Spring and Fall equinox in the spiritual mecca of Sedona where she lives with her husband, Scott, and two furry kids, Tucker and Ruger.
Dennis Adams
Dennis is one of the most talked about spiritual and physical healers of our time. His work has received praise from our country's top professionals in the fields of health, science, and metaphysics.
Dennis' ability to heal life essence has been scientifically proven in laboratory controlled conditions with nuclear physicist Elizabeth Rauscher, Ph.D., and world famous healer, Olga Worrall, Ph.D. These experiments, dealing with the alterations of Salmonella bacteria, proved conclusively that matter is mutable and can be changed with the power of the mind.
Outside of the laboratory, Dennis has shared his healing and teaching talents with many organizations including the Theosophical Society and the Rebirthing community. He has worked with Sondra Ray, Leonard Orr, and Terry Cole Whittaker. Dennis has also traveled to India and Nepal where he met with Sai Baba and spent time demonstrating his healing methods to Lamas.
Lorien Fenton
Lorien became actively involved in the San Francisco Bay Area UFO Community after almost dying from a mysterious form of Pneumonia during the H1N1 scare of summer 2009. It was that near-death experience which propelled her into doing the work she loves in a community that she has been passionate about her entire life.
Lorien is the MUFON Marin and Sonoma counties Section Director, holding meetings in Petaluma, CA on the first Saturday of the month. Visit www.MUFONMarinSonoma.com.
Lorien's nonprofit, Conscious Community Events, produces UFO CON held annually in late February in the San Francisco Bay Area. Visit UFOCON2020.com
She also produced the Super Soldier and Mind Control Summits (2012-13-14) and the JFK Assassination Conferences (2013-16). She is currently planning: Time Travel CON, Assassination/Murder CON, JFK's Birthday Online Summit for 2020/21. If that wasn't enough, she has two weekly podcasts. They are:
The Fenton Perspective, Mondays at 5pm PT/8pm ET on Revolution Radio at www.FreedomSlips.com The Fenton Files, Mondays at 8pm PT/11pm ET on KCOR at www.KCORradio,com
John Recorder
John is a dear friend of mine who wishes to remain anonymous. He has come along with me and Luis on several of our excursions to Peru and Bolivia. From these journeys he has begun his own contact experiences and has been able to document well over 50 videos of actual footage of Spaceships near his home.
He was also able to watch a landing of a ship and a person stepped down and he saw the light from the inside the spaceship that was behind that person
He is a quite humble soul and I will add that he is also spiritually mature. He will share his videos and talk about what his contacts mean to him and why he is chosen to have these experiences.
John will pre record his presentation
Jamie Lu
Jamie Lu is a gifted Intuitive Healer hailing from a long line of Filipino faith healers. Her training in Energy Medicine began as a young adult when she was diagnosed with chronic illness. She found herself over-achieving, over-stimulated, and surrounded by an environment that was not helping her body to heal. Jamie pursues the depths of spiritual awakening and authentic living. After much self investigation and training, she began to unlock inner abilities, wisdoms, and the healing power behind her Voice.
A Clairvoyant and Telepathic communicator, Jamie offers high-level intuitive guidance and Language of Light Transmissions that facilitates shifts in consciousness for self empowerment, cellular healing and embodied awakening.
Jamie Lu continually guide us inwards on the multidimensional journey of Unconditional Love and Liberation. Her vibrational healing method is extremely effective in releasing trauma, stuck emotional energy, anger, and other sources of chronic pain and anxiety with grace and ease. She frequently travels the world to share in her transformative medicine that many have called "Liberating" and "Angelic".
She trains students in self-healing and self-realization practices, and personally mentors healers through the Love Rising Online Academy. Learn More: www.loverising.earth
George Filer- Will not be able to attend in person. He has Pre Recorded Presentation due to eye surgery.
Major George Filer (retired) is an Air Force Intelligence Officer. He holds a bachelor's degree from Bradley University, a master's degree from Central Michigan University, and was the vice president of Medcor in Princeton. He debriefed four star generals and congressmen on our capabilities and the threat to our forces while holding the highest clearances in the military.
Filer is a retire Air Force intelligence officer. While serving in the Air Force, Filer was onboard an aircraft tanker over the UK when he and his crew were asked to check out a UFO on radar. When they got close to the large object it flew off at extraordinary speed. Later, while serving at Ft. Dix he was asked to brief Generals on an incident involving the shooting of an alien that had landed it's craft on their runway. He is now a MUFON regional director an produces a weekly UFO newsletter called Filer's Files.
Major George Filer was an Air Force Intelligence Officer who not only had an extraordinary encounter with a massive UFO on radar over the United Kingdom but later, in the 1970s while he was at McGuire Air Force Base in New Jersey, found out that an extraterrestrial biological entity had been shot at Fort Dix. The Extraterrestrial fled to adjacent McGuire Air Force Base, where it died on the tarmac. George testifies that this life form was then picked up and taken to Wright-Patterson Air Force Base. Afterwards, many of the key personnel on the base who had a connection with this event, were quickly transferred. Major Filer also points out that the ridicule factor has been very effective at silencing people who have seen ETs or UFOs, and has helped to maintain secrecy.
Dr Scott Werner
Scott was born with the gift of higher dimensional sight, which means that when he "tunes in" to someone, he would not only see them in the physical level but also "see" them on multi-dimensional levels.
In 2014, in answer to the question, "What do we do to stay healthy with all the chemical toxicity, GMO food and radiation on our planet?" St Germaine and other Ascended Masters appeared teaching how humans can evolve, perfect, and expand our DNA. Scott was given the 'Divine Invocation' 24 strand DNA manifestation, one of many ways to evolve our physical body, using The Archangels and Star Children to perfect our DNA, manifesting health and evolution.
St Germaine then sent Scott to Medellin, Columbia to heal Father Gabriel Mejia Montoya a Claritin priest who developed Hogares Claret for the "Disposible Ones", children who were orphaned due to the Cocaine drug wars started by our CIA in South and Central America. Scott wrote the book, Father Gabriel Mejia, a Modern-day Saint available on Amazon.com
Dr. Werner now travels around the world, teaching and mentoring human beings on how to Manifest health into their physical, emotional, and mental bodies with these techniques and get them ready for their Ascension.
Kasey and Brad Wallis
Brad & Kasey are renowned speakers, global workshop leaders, and facilitators of consciousness and why we are here. Since Brad's near-death experience, they have been conduits for an advanced intelligence named Julius, a Higher Light Teaching Group, who offers messages of empowerment and enlightenment for humanity. For over 10 years, the Wallis' have been inviting people worldwide to embrace their true limitlessness.
Through their programs, retreats, online courses, and personal readings, they guide and support people in eliminating judgement, resistances and lack in their life. Kasey and Brad (and the energy known as Julius that comes through to teach and guide) assist people to heal themselves, offer online classes as well as their latest workshop, Weekend With Julius, using unique techniques that heal repeated, negative patterns and expand perspectives to help people remember they are Source.
Kasey and Brad recently created Xpnsion Network, to allow for further sharing of their gifts and collaborating with others to share personal stories and extraordinary experiences. Their shows are also seen on Amazon Fire TV, Amazon Prime and Roku.
Kasey and Brad have been interviewed on over 400 media outlets. They have been featured guests on TV, such as CNN, Fox News, NBC, and ABC, as well as on radio, Telesummits, podcasts, and as key speakers at consciousness expos https://expandwithjulius.com/ http://xpnsionnetwork.com
Alfred Lambremont Webre- Pre Recorded Presentations
"Futurist Alfred Lambremont Webre's principal social contributions have been (1) founding the science of Exopolitics through his 2000 book Exopolitics, (2) the 2014 co-discovery of the Omniverse as the 3rd major cosmological body [after the Universe and the Multiverse] through which humanity understands the cosmos, and (3) developing the Positive Future Equation & Ascension Hypothesis that describes Soul development in our Universe & Omniverse. See Alfred's new book EMERGENCE OF THE OMNIVERSE at www.UniverseBooks.com
Shambala Songstar
Shambala is one of my Ranbow family brothers and a dear friend who has hosted and acted as the Master of Ceremonies for several of conferences. We met in Mt Shasta 26 years ago.
He is a wandering mystic and minstel who share his songs and poems where ever he goes. His improvisational music is always from the heart and full of joy. He is a poet laureate and often finds his groove in sponteneous articulations of the truth and the power of love.
See you in August