| | |
| --- | --- |
| Meet The Speakers! Confidence Bootcamp for Women Tele-Summit | |
Event Details
Meet the Speakers for the upcoming Confidence Bootcamp for Women in this 2-Part Tele-Summit series, as we have candid & open discussion about the effect the lack of confidence has on our lives, business, careers and relationships.  We're excited about letting you pull up close and personal and get to know who will serve you on Saturday, August 15th 10am-2pm.  Each Tele-Summit will be followed by Q & A, and special bootcamp offers for the listeners.  
Tele-Summit Dates:  Thursday, July 16th @ 8pm EST and Thursday, July 23rd @ 8pm EST.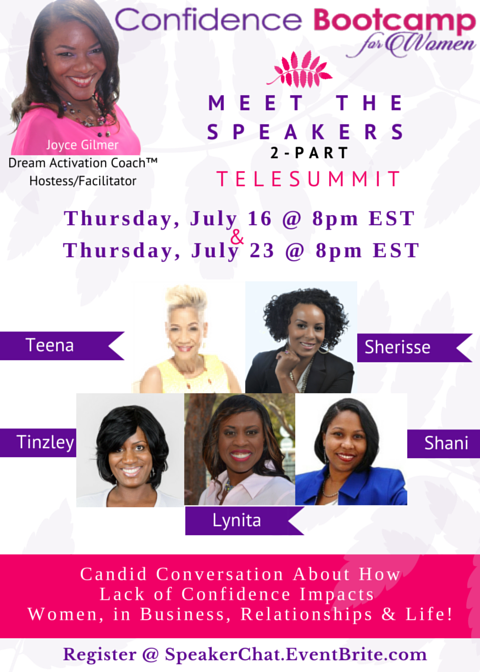 CAN"T WAIT?  Register for the Confidence Bootcamp for Women Now! www.joycegilmer.com/confidencebootcamp
Organizer
Hosted by: Joyce Gilmer-Certified Professional Coach
Joyce Gilmer is an Author, Motivational Speaker, National Preacher and Certifed Professional Coach.  She is the CEO and Dream Activation Coach™ of Empowered Living Coaching & Consulting, LLC and the Founder of the Kingdom Sisters Network, an online network dedicated to the empowerment of women in ministry, business and life.  Through live events, online tele-classes, and coaching, she is fulfilling her mission to help people get unstuck & move forward in life, business and ministry.   She is a Founding Member of Impact for Coaches, and an affiliate member of the Women Speakers Association.