Description
Meet the Social Entrepreneurs of RUNA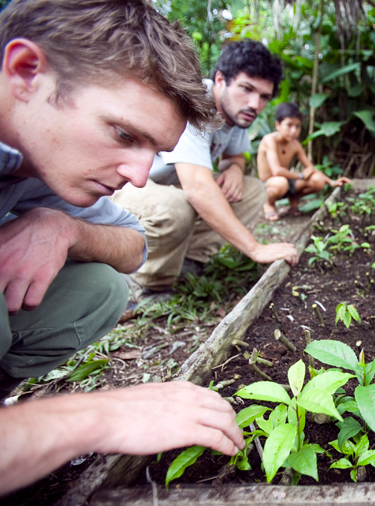 How can an energy drink have a social mission? Find out how the folks from RUNA are changing the lives of the indigenous Kichwa farmer families of Equador.
Planting trees, creating livilhoods, investing in farmers and people, and making a tasty energy drink for us. That's a win-win.
Meet Dan MacCrombie and hear his story of discovery to getting a product into major US ratailers and making an impace in lives and the planet.
Runa began when two students teamed up withAmazonian communities to share guayusa teawith the world. Tyler first drank guayusa whileconducting linguistic research in the Amazon,and partnered with Dan in a business plan classduring their last semester at Brown University tocreate their vision for Runa.The duo moved to Ecuador in 2009 to buildthe world's first value chain for guayusa tea,and are committed to their mission of creatinglivelihoods for indigenous Amazonian farmers.

Bring your questions about how to start an organization that makes a social impact! RUNA founder Dan MacCombie and his team want to talk to you.
This ticket is for the RUNA office hours only. If you would like to attend more of the Vibrant Future of the Creative Economy please visit the event site. Or RSVP at the other amazing sessions here to save your place.

Nathan Shedroff's Workshop: SciFi Your Thing http://vibrantfuture-scifi.eventbrite.com

Adrienne Leban's Originality Workshop http://vibrantfuture-originality.eventbrite.com

ArtSmart demo and Office Hourshttp://vibrantfuture-artsmart.eventbrite.com

3D Printing Doodle Bar with Digital SL8 http://vibrantfuture-digitalsl8.eventbrite.com

The entire day of talks and hands on activities: http://vibrantfuture.eventbrite.com
More about the program: http://www.openinvo.com/vibrantfuture
Organizer of Meet the Social Entrepreneurs of RUNA at The Vibrant Future of the Creative Economy
OpenInvo is a culture-driven innovation company. We are a team of innovators and futurists; thought leaders and artists; business consultants and product developers who combine our skills for greater impact. 

We offer clients a unique perception of their business: cultural view points, creative insights, executive training, and business strategy to deliver market growth. We also give ideators a digital framework to help them develop their intellectual content.