Come and meet our adoptable pups outdoors at Mika Cafe, Sat May 8th @11:30 am - 2:30 pm! Enjoy 10% off food and drinks courtesy of Mika!
About this event
Meet our adoptable pups! Come to our in-person event on Saturday, May 8th @ Mika Café in Bushwick (25 Thames St, Brooklyn). This event will be held at the outdoor event space from 11:30 am – 2:30 pm. This will be an opportunity where you can meet the dogs for adoption in person and learn more about them. Fill out an application online or in person at koreank9rescue.org/adopt. Feel free to grab a drink and food at a 10% discount from Mika Cafe. Enjoy the afternoon outdoors with our rescue pups!
If you can't attend watch the Livestream @ 12 pm on Facebook, YouTube and Instagram!
This is not an adoption event; potential adopters will be meet the pups in person, learn about each dogs personality, and then meet/greet and observe the dogs from a safe social distance from outside of their playpens. We will answer your questions at our questions booth, and if you are interested in adopting, fill out an adoption application before or after the event!
REQUIRED
In compliance with NYC Covid-19 Phase 4 re-opening (www1.nyc.gov/), please show proof of Covid Vax or Negative Covid test within the last 3 days. It is required to meet the dogs upon entry. Our staff and volunteers will also meet the requirements. We encourage you to register for free tix to this event here. Masks and social distancing rules will apply. Limit 50 people to the outdoor dog viewing area.
DISCLAIMER
By registering and purchasing this ticket, and in consideration for Korean K9 Rescue providing you with the opportunity to participate in this event, you agree to release and indemnify and hold harmless Korean K9 Rescue, its past, present and future officers, directors, representatives, agents, employees, volunteers, consultants, affiliates, successors, and assigns from and against any and all liability, claims, suits, actions, judgments, costs, fees, including reasonable attorney's fees and damages of any kind or nature for any damage, injury or other harm of any kind or nature to you, any other person or property arising out of and/or in connection with attending or participating in any events held by Korean K9 Rescue.
If your answer is yes to any of the following questions, please DO NOT come to this event.
Within the last 14 days:
Had any known contact with a known or suspected COVID infected individual?
Had any symptoms compatible with COVID-19 such as dry cough, fever, difficulty breathing or new loss of taste or smell?
Had a positive COVID-19 test or diagnosis of COVID-19 by a healthcare professional?
Traveled to another state or region within the US, or internationally?
Any other reason to believe that you may have been exposed to COVID-19?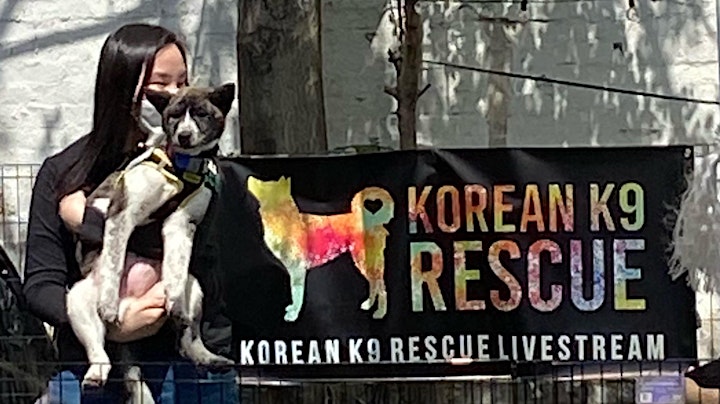 Organizer of Meet The Pups! Livestream & Outdoor Event Saturday, May 8th @ Mika Bushwick