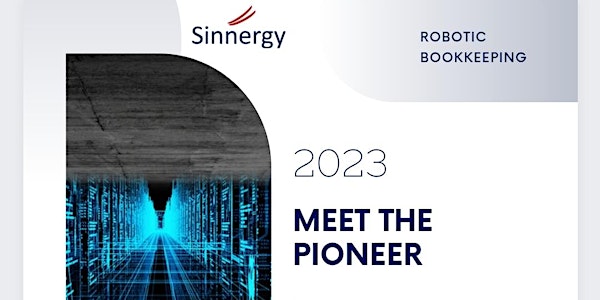 Meet the Pioneers
A Fireside Chat series showcasing how small bookkeeping and accounting practices are deriving value from delegating low-level tasks to Bots.
By Kanayo Eruchalu (CEO Sinnergy Limited)
Date and time
Wed, 29 Mar 2023 05:00 - 06:00 PDT
About this event
Scaling Up With Bookkeeping Robots: A Fireside Chat Series
Thinking of growing your accounting or bookkeeping practice exponentially? Join us for our Scaling Up With Accounting Robots: A Fireside Chat Series – a behind the scenes look at what it takes to 10X your accounting and payroll operations without increasing costs and/or reducing service quality.
Our guest this month is Dan Ryder, owner of the wildly successful accounting services company, Level Accounting. During this intimate and interactive 50-minute conversation he'll talk about the challenges he's faced with systemising his practice and servicing a growing customer-base, why small practices face automation gaps, and how robots are helping to overcome those challenges and close the gaps. This is an opportunity for you to hear how a small practice owner is leveraging robotic automation to build the accounting practice of the future.
Bring your burning questions about the future of accounting, the role of accounting robots, and learn from the experience of a Pioneer.
This is an online INTERACTIVE event, NOT a canned presentation! You'll be engaged in the conversation from the start. You will be able to ask questions, present challenges and we'll create answers and opportunities to collaborate. (The moderator for the event will be Kanayo Eruchalu)
Some of the topics we'll be discussing include how to:
• Discover the biggest problems manual processes are creating in your practice and how to solve it.
• Find out how to identify processes that are low hanging fruits, that can easily be automated to deliver quick wins for your practice.
• Bridge the gap between your growth aspirations and the limitations placed by manual, repetitive processes on your bookkeeping team.
We'll also create opportunities for a limited number of practice owners to dip their toes in the water by trialling a Xero Bank Reconciliation robot for 60 days at zero cost.
WHEN?
Wednesday, 29th March 2023 at 1pm
WHO SHOULD ATTEND?
This event is for owners of accounting and bookkeeping services companies, and accounting and bookkeeping professionals that want to learn from and connect with peers!
SIGN UP NOW AND WE'LL SEE YOU SOON!