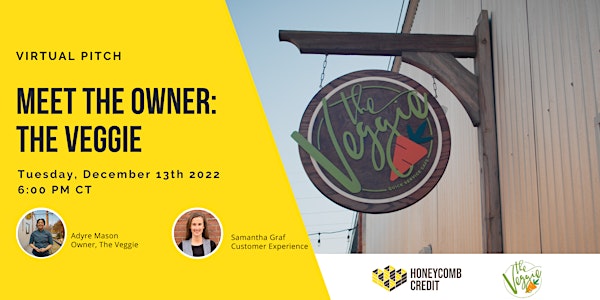 Meet the Owner: Adyre Mason
Meet Adyre Mason, Founder and Owner of Huntsville's favorite vegan restaurant, The Veggie!
About this event
Learn more about The Veggie from the founder herself, Adyre Mason!
The Veggie is an all-vegan fast casual restaurant in Huntsville, AL. Adyre started The Veggie as a vegan meal prep delivery and pop up service in 2018. Due to organic community support, regional recognition through a pitch competition win in Chattanooga, and a plant based burger competition win in Atlanta, her business, and the demand for her products grew. After continuing to excel during the pandemic, Chef Adyre opened The Veggie's first brick-and-mortar cafe in 2021.
The Veggie is now ready to expand. Adyre is raising investment capital through Honeycomb to fund the businesses next phase of growth. She is looking to move The Veggie to a more central location in Huntsville to increase customer reach and foot traffic. Come here more about future plans for The Veggie from Adyre herself!