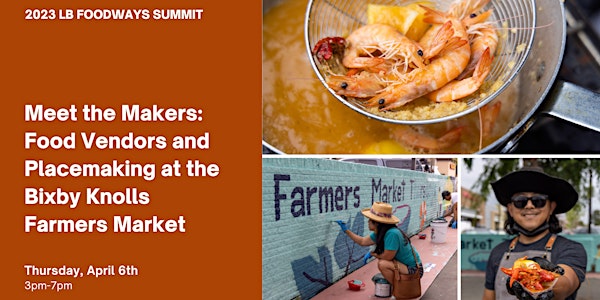 Meet the Makers: Food Vendors and Placemaking at the Bixby Farmers Market
Unleash the Power of Community at the Farmers Market - Hear Vendor Stories and Collaborate on Making the Market the Heart of the City!
Date and time
Thursday, April 6 · 3 - 7pm PDT
Location
Bixby Knolls Farmers Market E 46th and Atantic Long Beach, CA 90807
Refund Policy
Contact the organizer to request a refund.
Eventbrite's fee is nonrefundable.
About this event
Come and join us at the Thursday afternoon Bixby Knolls Farmers Market to sample some of our favorite vendors and hear from Chef Chad of Battambong BBQ and Kerrina Sanchez of Farmer K Homestead. We will be discussing the challenges and opportunities that food vendors face in our city, as well as learning about their experiences and journeys to success. But that's not all - we will also be exploring the concept of placemaking and how it can be used to create a vibrant and welcoming community hub at the Farmers Market.
From beautification efforts to providing comfortable seating and live music, we are constantly looking for ways to enhance the market's appeal and create a space where people can come together and connect.
Placemaking is all about empowering communities to work together and make public spaces that are both functional and enjoyable. So come and be a part of this exciting movement as we explore the potential of the Farmers Market as a heart of the community!
About the Foodways Summit:
The Foodways Summit is a multi-day, multi-site exploration of potential and emerging innovations in local food, with the goal of expanding healthy food access, education, and opportunities. Supporters are encouraged to become a Foodways Champion .
About the organizer
Our Mission
To increase the production, distribution and consumption of healthy, local foods in Long Beach, California
Background
Food in America is broken: Inequalities in food access and overconsumption of processed foods, chemicals and GMOs are affecting public health and the environment in disastrous ways.

Communities are organizing to fix the gap: Local farms, chefs and activists are educating citizens and establishing sustainable, local food growth and distribution. Urban agriculture is becoming an increasingly viable source of fresh affordable foods.

We believe in helping all three parts of a local food economy work together: Eaters (consumers), Feeders (establishments ranging from schools and hospitals to restaurants, distributors and co-operatives) and Seeders (local farms and growers). Eaters, Feeders and Seeders comprise the agricultural cycle of supply, distribution, and demand. If Eaters, Feeders and Seeders can become more connected, both supply and demand for local food production will scale up and become a change agent in public health and the local economy.