Get access to our previous stops on the Meet the Makers Pizza Tour highlighting different genres of pizza from our favorite pizza partners.
About this Event
Breville presents exclusive virtual pizza demonstrations with local legend pizza makers from around the world. Each stop was guided by Scott Wiener, a pizza expert, who runs the famous NY based Scott's Pizza Tours and founder of Slice Out Hunger. Also recently launched his website, Pizza Resource Center for all your pizza needs.
Meet pizza pros and get an in-depth view into their story and craft. From the New York Slice, Chicago Deep Dish, to the Margherita and so much more, you will learn the tips behind making each of these pies from the comfort of your own home. Each recording link purchase will include the featured pizza pro's recipe. Purchase the event(s) individually, or opt for an all-access pass to all the stops!
In honor of National Pizza Day (Feb. 9th), we've decided to re-open the links for purchase for a limited time (ends on Feb. 28th). All proceeds will benefit Slice Out Hunger, supporting hunger relief and prevention initiatives across the U.S.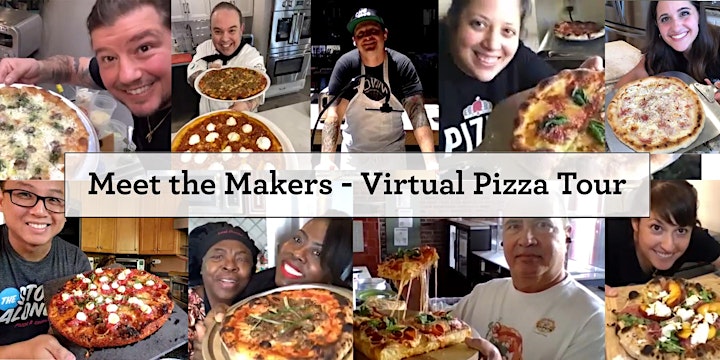 Tour Stop #1 - Thin & Crispy Pie with Anthony Falco
Who: Anthony Falco - International Pizza Consultant
Where: New York
Style: Thin & Crispy
Tour Stop #2 - Chicago Style with Leo Spizzirri
Who: Leo Spizzirri
Where: Chicago, IL - NAPCA
Style: Chicago Style - Stuffed Crust & Tavern Style
Tour Stop #3 - Che Fico Signature Style with David Nayfeld
Who: David Nayfeld
Where: San Francisco, CA - Che Fico
Style: Che Fico Mortadella
Tour Stop #4 - New York Style with Laura Meyer
Who: Laura Meyer
Where: San Francisco, CA
Style: NY Style - Old vs. New
Tour Stop #5 - New York Influenced Jerk Chicken Pizza with Nicole Russell
Who: Nicole Russell
Where: New York - Last Dragon Pizza
Style: NY Inspired Jerk Chicken
Tour Stop #6 - Detroit Style with Derrick Tung
Who: Derrick Tung
Where: Chicago, IL - Paulie Gee's Logan Square
Style: Detroit Style
Tour Stop #7 - Summertime Sourdough with Audrey Kelly
Who: Audrey Kelly
Where: Boulder, CO - Audrey Janes Pizza Garage
Style: Sourdough with Seasonal Ingredients
Tour Stop #8 - Sicilian with John Arena
Who: John Arena
Where: Las Vegas, NV - Metro Pizza
Style: Sicilian
Tour Stop #9 - Gluten Free+ Gelato with Anna Crucitt
Who: Anna Crucitt
Where: Pittsburg, PA - Mercurio's
Style: Gluten Free Porchetta & Nutella Gelato
Tour Stop #10 - Red Fife Whole Wheat with Chef Joe Sasto
Who: Joe Sasto
Where: Los Angeles, CA
Style: Under 24-Hr Red Fife Whole Wheat
Tour Stop #11 - Iberian Pork and Apple with Nicole Bean
Who: Nicole Bean
Where: Houston, TX - Pizaro's
Style: Artisan Iberian Pork & Apple + Peaches & Speck
Tour Stop #12 - Neapolitan-Influenced Pizza with Luca Varuni
Who: Luca Varuni
Where: Atlanta, GA - Varuni Napoli
Style: Neapolitan
Tour Stop #13 - TX Meats NY Pizza with Lee Hunzinger
Who: Lee Hunzinger
Where: Fort Worth, TX - Zoli's NY
Style: Grandma Pan & NY Thin with Sesame Seeded Crust
Tour Stop #14 - Chasing Flavor on Pizza with Dan Kluger
Who: Dan Kluger
Where: New York, NY - Loring Place
Style: Artisan Vegetarian (3 styles)
Tour Stop #15 - The Portland Approach with Scottie Rivera
Who: Scottie Rivera
Where: Portland, OR - Scottie's Pizza Parlor
Style: Sourdough - Margherita & Southwestern Inspired
Tour Stop #16 - Elements of Pizza with Ken Forkish
Who: Ken Forkish
Where: Portland, OR
Style: Cookbook Recipe "Elements of Pizza"
Tour Stop #17 - The Perfect Pan Pizza with Peter Reinhart
Who: Peter Reinhart
Where: Charlotte, NC
Style: Cookbook Recipe, Pan Pizza
Tour Stop #18 - Pinsa Romana with Katie Parla
Who: Katie Parla
Where: Based in Rome - Filmed in NJ
Style: Pinsa Romana
Tour Stop #19 - Secrets to Perfecting Pizza with Grant Crilly
Who: Grant Crilly
Where: Seattle, WA - ChefSteps
Style: Experimenting with Topping and Portion Control