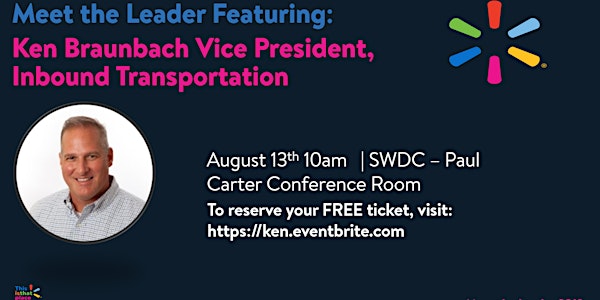 Meet the Leader Featuring: Ken Braunbach Vice President, Inbound Transport...
Location
Sam M. Walton Development Complex - Paul Carter Conference Room
2001 SouthEast 10th Street
Bentonville, AR 72712
Description
Meet the Leader Series is excited to announce that Ken Braunbach will be our featured speaker on August 13th 10 AM. We hope to see you there!
Ken Braunbach is Vice President for Walmart Supply Chain U.S. He currently leads and supports Inbound 3PL, Dedicated Operations, Global Logistics, and Transportation Strategy. Ken joined Walmart in October 2002 after 12 years of running trucking operations in several different states. While with Walmart, he has held senior leadership positions in Carrier Relations and Transportation Strategy. Before his current role, he spent the last four years leading the eCommerce Transportation Team and had responsibility for the Walmart.com and Samsclub.com transportation networks including strategy, design optimization, line hauls, contracting, and last-mile integration. Ken is a former Army Engineer and Logistics Officer. He's a retired Lieutenant Colonel, after 29 years of military service.