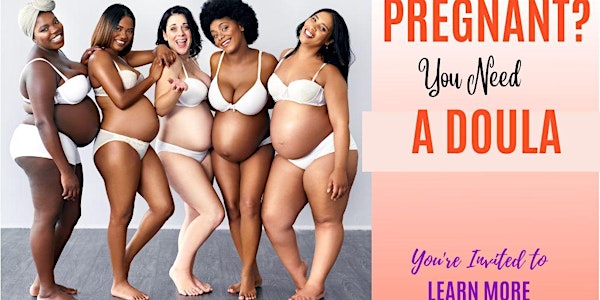 Multiple dates
MEET THE DOULA NIGHT | CONOCE LA NOCHE DE DOULAS
Doulas can help you have a safe, satisfying, and joyful birth. Meet our Doulas. Sign up for FREE doula services. Sesión de español. GRATIS
By HAPPY MAMA HEALTHY BABY ALLIANCE
Date and time
January 20 · 5pm - December 15 · 7pm PST
About this event
HAPPY MAMA HEALTHY BABY COMMUNITY DOULA PROGRAM MEET THE DOULA NIGHT
Offering Services in Los Angeles and Las Vegas
Pregnant? Worried about giving birth?
Well, fear no more. Let's DOULA THIS!
WHAT IS A DOULA?
Doulas ("Doo-LAHs") are trained, professional childbirth companions who support women through pregnancy, childbirth, postpartum and early motherhood. They are also skilled in care of newborns and postpartum mothers.
Doulas are especially important for pregnant women of color as they can help reduce high rates of cesarean section and prematurity occurring among mothers and infants of color.
Our doulas are women of color themselves and understand what you need: to be heard and seen, treated with dignity and respect during your pregnancy, and childbirth experience. Don't give birth without one of these special women by your side!
WHAT DO DOULAS DO?
Advocate- Helping you speak up for what you want during labor and for your baby
Educate- Teaching you of how to stay healthy and informed.
Empower- Supporting you to make your own best choices.
Nurture - Doulas mother-the-mother while she is in labor (massage, comfort measures, breathing and relaxation methods) and recovering from childbirth.
Breastfeeding Support - Helping you get it right from the start, encouragement and practical support.
Childbirth Education - Helping you create your birth plan, teaching labor coping methods and labor support skills to partners.
Referrals - Connecting you to resources
WHO SHOULD ATTEND?
Pregnant women 12 weeks to 30 weeks who are interested in having a doula
Partners of pregnant women
Family members planning on attending the birth
TOPICS DISCUSSED
Meet the HAPPY MAMA HEALTHY BABY DOULAS who serve families in Los Angeles and Las Vegas.
HAPPY MAMA HEALTHY BABY COMMUNITY DOULA PROGRAM - How the program works, and how you can sign up for a FREE doula.
How partners and doulas work together
How doulas work with doctors and nurses for your benefit
DETAILS YOU NEED TO KNOW
These sessions meet on the 3rd Friday of each month on Zoom.
English Session: 5:00 pm to 6:00 pm PST
Sesión de español: 6:15 pm -7:15 pm PST
FREE OF CHARGE | GRATIS
PRE-REGISTRATION REQUIRED
Zoom login link will be sent upon registration
2023 SCHEDULE OF MEET THE DOULA NIGHT
Friday, Jan. 20
Friday, Feb. 17
Friday, March 17
Friday, April 21
Friday, May 19
Friday, June 18
Friday, July 15
Friday, August 19
Friday, Sept. 20
Friday, October 20
Friday, November 17
Friday, December 15
________________________________________________
HAPPY MAMA HEALTHY BABY PROGRAMA DE ACOMPAÑANTES PROFESIONALES DEL PARTO CONOCE LA NOCHE DE DOULAS
HAPPY MAMA HEALTHY BABY COMMUNITY DOULA PROGRAM
Ofrece servicios en Los Ángeles y Las Vegas
¿Embarazada? ¿Preocupada por dar a luz?
Bueno, no temas más. ¡Vamos a DOULA ESTO!
¿QUÉ ES UNA DOULA?
Las doulas ("Doo-LAH") son compañeras de parto profesionales capacitadas que apoyan a las mujeres durante el embarazo, el parto, el posparto y la maternidad temprana. También son expertos en el cuidado de recién nacidos y madres posparto.
Las doulas son especialmente importantes para las mujeres embarazadas de color, ya que pueden ayudar a reducir las altas tasas de cesárea y prematuridad que ocurren entre las madres y los bebés de color.
Nuestras doulas son mujeres de color y entienden lo que necesitas: ser escuchada y vista, tratada con dignidad y respeto durante tu embarazo y la experiencia del parto. ¡No des a luz sin una de estas mujeres especiales a tu lado!
¿QUÉ HACEN LAS DOULAS?
Abogar: ayudarlo a hablar por lo que quiere durante el parto y por su bebé.
Educar- Enseñarle cómo mantenerse saludable e informado.
Empoderar: apoyarlo para que tome sus mejores decisiones.
Crianza - Doulas madre-la-madre mientras está en trabajo de parto (masaje, medidas de confort, métodos de respiración y relajación) y recuperándose del parto.
¿QUIÉN DEBE ASISTIR?
Mujeres embarazadas de 12 semanas a 30 semanas que estén interesadas en tener una doula
Socios de mujeres emabrazada
Miembros de la familia que planean asistir al parto
TEMAS TRATADOS
Conozca a las HAPPY MAMA HEALTHY BABY DOULAS que sirven a familias en Los Ángeles y Las Vegas.
HAPPY MAMA HEALTHY BABY COMMUNITY DOULA PROGRAM - Cómo funciona el programa y cómo puede inscribirse en una doula GRATUITA.
Cómo los socios y las doulas trabajan juntos
Cómo trabajan las doulas con médicos y enfermeras para su beneficio
ETALLES QUE NECESITA SABER
La sesión se reúne el tercer viernes de cada mes en Zoom.
Sesión en inglés: 5:00 p. m. a 6:00 p. m. PST
Sesión en español: 6:15 pm -7:15 pm PST
Esta sesión es GRATUITA para todos.
Se requiere reinscripción previa.
El enlace de inicio de sesión de Zoom se enviará al registrarse
2023 HORARIO DE LA NOCHE DE ENCUENTRO CON LA DOULA
viernes, 20 de enero
viernes, 17 de febrero
viernes, 17 de marzo
viernes, 21 de abril
viernes, 19 de mayo
viernes, 18 de junio
viernes, 15 de julio
viernes, 19 de agosto
viernes, 20 de septiembre
viernes, 20 de octubre
viernes, 17 de noviembre
viernes, 15 de diciembre
About the organizer
MATERNAL-CHILD HEALTH EDUCATION, TRAINING, CONSULTATION AND SUPPORT
  WHO WE ARE 
Happy Mama Healthy Baby Alliance was founded in 2020.  HMHBA is a community-based, non-governmental organization located in Los Angeles, California, USA. We are  501 (c) (3) non-profit public charity 509 (a) (2), our IRS name is Wholistic Midwifery School of Southern California, founded in 1993.
We are multidisciplinary perinatal and mental health professionals united in a common vision to promote maternal and infant health, improve maternity care quality and access, reduce perinatal health disparities and achieve social justice in maternal and infant health for all childbearing families.
Our board of directors, advisory committee and consultants are mental and perinatal health experts with training and expertise in Doula Support,  midwifery,  nursing, pre and perinatal psychology, social work, psychiatry,  obstetrics and gynecology, pediatrics, preventative care, global public health, and health education and promotion.
 OUR MISSION 
To promote high-quality, family-centered, evidence-based, respectful maternity and newborn care, and improved health outcomes for all childbearing persons and their babies.
 OUR WORK 
Our work focuses on addressing health care disparities and to engendering birthing justice for all pregnant women, persons and their infants.   As ethnically diverse, multidisciplinary professionals serving pregnant and parenting families,  we offer Doula services, childbirth preparation classes, breastfeeding support, and maternal- infant mental health workshops and support groups and opportunities for continuing education for professionals.
We also offer professional training, certification, learning and networking opportunities for mental health providers and social service and health professionals working with Maternal, Child and Adolescent Health populations.
Our focus areas are:
Training, Certification and Continuing Education Programs for Professionals
Childbirth Doula and Postpartum Doula Services
Breastfeeding Support Services
Promoting Maternal Mental Health and Infant Mental Health
Engendering Birthing Justice for All Childbearing Persons
OUR PHILOSOPHY 
As advocates for families and babies, we seek to ensure that all childbearing persons are treated with dignity and respect during the pregnancy, childbirth and postpartum periods.
We promote a self-growth approach to pregnancy; which is a special and unique time in a woman's and a person's life.

We believe each pregnant woman or person should be surrounded by a loving and supportive community and each baby should be born into the hands of skilled, compassionate and respectful caregivers.

We protect the Mother/Baby dyad whose needs are mutually dependent.

We are reverent of the sacred nature of birth and are inspired by its potential to transform women, relationships, families, and communities.

We strive to improve birth outcomes for women and infants where perinatal health disparities and inequities exist.

We aim to improve the quality of maternity and newborn care in all settings.
We are dedicated to helping families have empowering, satisfying and joyous experiences from conception through gestation, childbirth, and early parenthood.


 Donations are tax-deductible to  Happy Mama Heallthy Baby Alliance a DBA of Wholistic Midwifery School of Southern California, a 501 (c) (3) non profit organization, 509 (a) (2) public charity. We are qualified to receive tax-deductible bequests, devises, transfers or gifts under section 2055, 2106 or 2522 of the IRS  code.