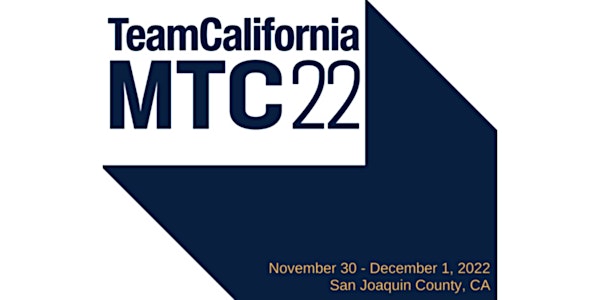 Meet the Consultants 2022
Welcome to the 9th Annual Meet the Consultants 2022, A TeamCalifornia Forum | Hosted by: San Joaquin Partnership
When and where
Location
Great Wolf Lodge & Conference Center | Northern California 2500 Daniels Street Manteca, CA 95337
About this event
Our annual MTC Forum showcases specific California regions to site selectors making decisions about business investments in California and hear their experiences.
Attendees will hear the latest trends in the site selection industry and network with decision makers.
The program includes an interactive panel, consultant presentations and round table discussions with consultants. Topics include workforce development strategies, high-tech movement in and out of California, aviation retail and rural development as well as Foreign Direct Investment (FDI).
Join us for our back-in-person event on November 30 - December 1st!
Preliminary Agenda
Day 1
4:00pm - 5:30pm Registration Open
5:30pm - 6:30pm Welcome Reception - Meet the Consultants
7:00pm Sponsor/Speaker Dinner (Invitation Only)
Day 2
7:30am - 8:30am Light Breakfast & Networking
8:30am - 8:45am Opening Remarks - San Joaquin Partnership, City of Manteca and TeamCalifornia
9:00am - 9:30am Session One - Matthew Szuhaj- Deloitte Consulting- ESG Factors in Site Selection
9:40am - 10:10am Session Two - Tim Feemster- Foremost Quality Logistics- Global Investment, Trade and Logistics - Update on Global Supply Chain
10:15am - 10:30am WIFI/Networking/Telephone and Email Break
10:35am - 11:10am Session Three - Andrew Shapiro- Biggins Lacey & Shapiro- Medical & Life Sciences Trends
11:15am - 11:45am Session Four - Matt Tate- Retail Strategies- 5 Steps to Attracting Retail to your City
11:45am - 1:00pm Consultant Networking Luncheon - Settle In and Connect
1:00pm - 1:30pm Jeff Berkheimer- Lodi Municipal Utility- Energy Panel Discussion
1:35pm - 2:05pm Session Five - Laura Gourley- Grant Thorton LLP-Trends in Incentives and Credits
2:10pm - 2:40pm Session Six - Spencer Schobert - Newmark- Site Selection
2:45pm - 3:00pm WIFI Networking Break and Transition to Discussion Tables
3:00pm - 4:30pm Meet the Consultant Round Tables (Each consultant will participate in roundtable discussions for open dialogue and questions with attendees to answer more specific questions)
4:30pm Closing Remarks and Adjourn
5:30pm Dinner Fireside Chat with Companies and Site Consultants.
Day 3
San Joaquin Day (Optional, additional charge applies)
Hotel Registration
All attendees will receive a room block code so they can secure the $135.00 a night which is a family suite for 4 and includes indoor water park passes for 4.
Each room is reserved on an individual basis by a guest by calling Great Wolf Customer Contact Center at 888-966-9653 or visiting the hotel website at www.greatwolf.com by 11- 14 -2022.
Each caller must identify themselves as a member of the group with the Block Offer Code 2211TEAM_001 and provide the first night's room and tax as a deposit using a major credit card.
Tickets
$595 for members and $795 for nonmember guests.
This rate includes Wednesday Welcome Reception and all meals and sessions
Need the member discount code? Please contact drew@teamca.org
Sponsorship
Want to be a Sponsor for Meet the Consultants 2022?
Checkout our Sponsorship opportunities here.