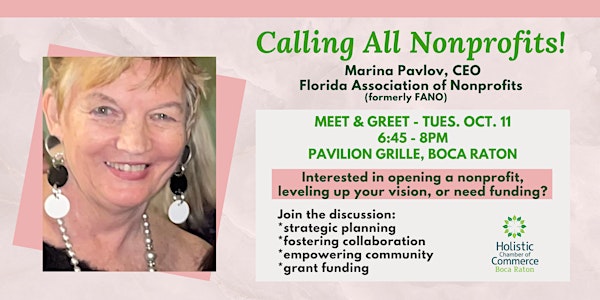 Meet the CEO of The Florida Association of Nonprofits
Network and meet the CEO of The Florida Association of Nonprofits currently supporting 50,500 organizations. Event starts at 6:45 PM sharp!
When and where
Location
Pavilion Grille 301 Yamato Road #1201 Boca Raton, FL 33431
About this event
Event Info:
Are you a nonprofit? Do you want to open a nonprofit? Are you looking to level up your mission and are seeking funding?
Now is your chance to meet Marina Pavlov - the CEO of The Florida Association of Nonprofits (formerly known as FANO)! You do not want to miss this, as this is THE non-profit association in Florida.
Now with more than a 25-year history, the program is more popular than ever. The CNM curriculum is endorsed by Nova Southeastern University Fischler School of Education and Broward College.
At the Boca Raton Holistic Chamber of Commerce, part of our mission Is giving back. The Florida Association of Nonprofits is a state wide center, currently supporting 50,500 organizations.
It was founded by nonprofit leaders in 1989 to enhance the well-being of all people in the communities in Florida by building the capacity of the nonprofit sector.
If you want to open a nonprofit, or level up your vision/mission or need funding - You will not want to miss this meet and greet!!
*strategic planning
*foster collaboration
*be connected
*empower community
*grant funding
Will you help us help our community Nonprofits?
Raffle tickets will be available should you choose to donate. All proceeds go toward the scholarship fund.
Agenda:
Inspirational Visualization Guided by Carly HillWelcome
Meet our Members and Guests
Introduce and Interview our special guest Marina Pavlov
Raffles
Local Holistic Events and Announcements
Break Out Groups
Details:
Attendance is $5 for first time guests, members, and speakers, and $10 for second time guests. Attendance is open to the public so be sure to bring a friend or co-worker.
We are so happy to be hosted by Pavilion Grille with their kind offering of 10% off main menu and drinks starting at 5:45PM so come early to network and dine! After the organized activities at 8:00 please stay to connect, dine, and dance to live music!
WHERE: Pavilion Grille, Event takes place in The Grill Room. 301 Yamato Rd #1201, Boca Raton, FL 33431
WHEN: Tuesday October 11th at 6:45. All attendees who are ON TIME will have 3 chances to win free admission to our next event!
General Info:
HCC is a phenomenal community to connect in person to others who exercise a holistic mindset. This is not specific to holistic health, but is a home for all people who strive to connect to community, who desire to be conscious of the environment, who prioritize a healthy relationship of self/others/business/finances - essentially all individuals who are mindful of the integration with all aspects of life.
The more people who come together with a collaborative mindset, the more we can accomplish together as a community!
Here is our Chapter Website Page
Here is our chapter's Facebook Page
To apply for a membership, click here!
Next Event:
TUESDAY, November 8th. Join us at 6:45.