Write your Story, Write a Book
About this event
Meet The Authors:
July we will be featuring three authors and their stories.
Mercedes Youn - Author of "Prosperity Through Service"
Maria Debes - Author of " Otro Vuelo de Mariposa"
Joe Lugo - Author of "Beauty In His Silence"
The center is part of Rosie Paulsen Enterprises mission: "Passionately Helping Business Owners Succeed "
RPE Business Resource Center will be open to provide a place for our community to gather, learn and grow together while supporting our local business owners.
"Light Refreshments will be Serve"
Find Rosie and have a "Cafecito" with other like-minded professionals
What is Cafecito with Rosie?
Attendees meet dynamic business owners and community leaders whose purpose is to support business in the area.
The introductions during the event if foster will become relationships; once Trust is established, the relationships became customers or Referral sources.
Following the motto of people do business with people they "Know, Like, and Trust."
By attending, you create visibility for your business with a .30 second infomercial opportunity and using Rosie's proven methods of Networking with a Purpose learned at her workshops.
You will see results in your ROI.
These introductions many times over time have created partnerships, marriages, and solutions to community concerns.
By working together, we can make a difference.
98 % of Tampa's economy are a small to medium-size business.
The event is one platform to showcase the movers and shakers and how they impact our community.
#CreatingNetworkingOpportunities
#Togetherwecanmakeadiference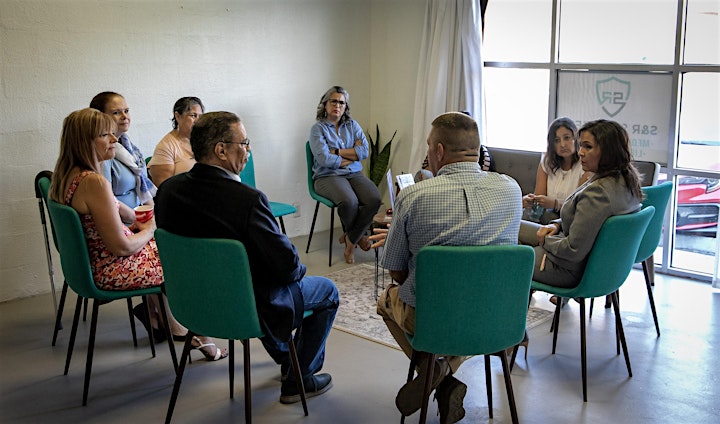 Organizer of Meet The Authors at Cafecito with Rosie - June 2021
Rosie Paulsen, who has been honored as one of the Fifty Most Influential Hispanic Business Leaders in Florida, is a native of Ecuador who came to the United States as a teenager. A public speaker and business trailblazer, Rosie owns Rosie Paulsen Enterprises and S&R Services, a company that brokers Medicare coverage for people all over Tampa Bay. She has received a Leadership Award from the Tampa Bay Hispanic Heritage and is an alumnus of Smart Start Pasco and Inner-City Capital Connection. Rosie currently serves as a commissioner of The Florida Commission on the Status of Women and City of Tampa Equal Business Opportunity Council. She lives in Tampa with her husband and children.