Meet The Author! Lauren Handel Zander at The MIT Coop.
Description
Discussion, Q & A, and Book Signing at The Coop @ MIT (Kendall Square)
Lauren Handel Zander

Author of
Maybe It's You: Cut The Crap. Face Your Fears. Love Your Life.

A no-nonsense, funny and proven approach that teaches you how to reset your life.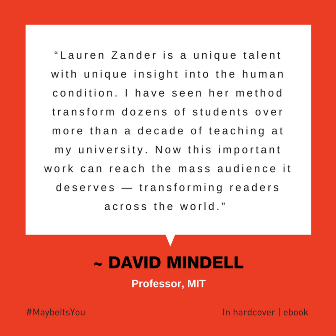 Lauren Handel Zander is a life coach, university lecturer, and public speaker with a bachelor's degree in Environmental Science from George Washington University. She is also the creator of the groundbreaking coaching methodology, The Handel Method®, which she developed and taught at MIT. Lauren has spent over 20 years coaching thousands of private clients: entrepreneurs, professors, politicians, families, couples, award-winning artists and musicians, and Fortune 500 CEOs. Her corporate clients have included executives from Sony BMG, The New York Times, News Corp, J. Walter Thompson Agency, Citibank, LinkedIn, The Gap Inc., BASF, and NYU Langone Medical Center. Lauren's led seminars and conferences all over the world for organizations, including: the World Bank, the US Department of Justice for Judges, Rodale Publishing, Mayya Movement International, Prevention R3 Conference, LeadingAge, Donna Karan's Urban Zen, Soho House, and Empowering Latin American Women's Conference. She presented her coaching methodology at the world renowned TEDx Women's Conference in Amsterdam, and was a moderator, running the roundtable for the White House Office of Center for Social Innovation Conference at Stanford University. She is a contributor for several publications and media outlets, including: The New York Times, the BBC, Harvard Business Review, Forbes, Women's Health, Men's Health, and The Huffington Post.