Connecting Perspectives Event Series: In this 7-part virtual series, learn how 26 artists created 13 artworks while separated by distance.
About this event
Connecting Perspectives is a cross-border art initiative produced by the Social Distancing Festival and the Consulate General of Canada in New York. Drawing inspiration from the theme "Art Today," 26 exceptional artists who identify as Black, Indigenous, and/or People of Colour in Canada and the U.S. were paired and funded to create 13 new, interdisciplinary, collaborative art.
To celebrate these unique works, we invite you to join us for 7 virtual events in July and August during which the artists will discuss their experiences and creative processes while working across distances, time and disciplines.
This event will feature artist pairs:
Moderated by Tawhida Tanya Evanson, with remarks by Canada's Acting Consul General in New York, Khawar Nasim, and Canada's Consul General in Boston, Rodger Cuzner.

HEALING JOURNEYS, presented by the Consulate General of Canada in Boston:
"In exploring our recent art practice and the themes that have resonated for us, we (Leela Gilday and Tran Vu) settled on HEALING as a common experience during this time. Faced with the collective trauma that the pandemic has perpetuated on the global population in general, and artists specifically, we discussed the ways that we have each dealt with this in our own lives and through our art practices..."
If you're from the North, Leela Gilday's music is home. If you've never been, it will take you there. Born and raised in the Northwest Territories, she writes about the people and the land that created her. The power in her voice conveys the depth of her feelings of love and life in a rugged environment and vibrant culture, as if it comes straight from that earth. Leela's family is from Délįne on the shore of Great Bear Lake and her rich vocals dance across the rhythmic beats of traditional Dene drumming as smoothly as a bass line onstage the largest venues in the country. And she has played them all.
Leela has toured festivals and concert halls with her four-piece band through every province and territory in Canada. She has played in the United States, Greenland, Australia, New Zealand and several countries in Europe. Her live shows are where she connects with fans who have followed her on a 20-year career and where new fans are born. She reaches into their hearts and feels the energy of every person in front of her as she guides them on a journey through song and experience. She believes music has an inexplicable effect on people. It is a place where she can share light and dark and the most vulnerable moments, with a clarity and genuine purpose that reassures her listeners through every word. She is a storyteller, and through this, reflects the world onto itself.
Five years after her last album was released—five years of growth, healing and head-down work—Leela's fifth album "North Star Calling" was released fall 2019. It is more raw, more intimate and more Leela than anything you've heard from her before.
Ngoc-Tran Vu (she/her) is a 1.5-generation Vietnamese-American multimedia artist and organizer whose socially engaged practice draws from her experience as a connector, educator, and lightworker. Tran threads her social practice through photography, painting, sculpture and audio so that her art can resonate and engage audience with intentionality. Her work evokes discourse of familial ties, memories and healing amongst themes of social justice and intersectionality.
In 2019, Tran was the National Arts Strategies' Creative Communities Fellow and featured as one of the WBUR Artery 25, a series highlighting millennials of color making an impact in the Boston arts scene. Tran has collaborated with ArtPlace America, the Boston Children's Museum, MASS MoCA Assets for Artists, Heritage Museums and Gardens. She teaches workshops on storytelling, digital marketing, financial literacy, housing strategies for artists, and has taught in the Future Imagemakers program at NYU's Tisch Department of Photography. Currently, she's an adjunct faculty teaching an Asian American Studies course titled "Asian Women in the United States" at the University of Massachusetts Boston.
Born in Sài Gòn, Việt Nam, Tran came to the United States with her family as political refugees and grew up in Boston's Dorchester and South Boston, both working-class neighborhoods of Massachusetts. She works across borders and is grounded in Boston's Dorchester community. https://tranvuarts.com/ | @TranVuArts

WAIT FOR TODAY, presented by the Consulate General of Canada in New York:
"Dancer/choreographers Isaac Abriel (Halifax) and Neil Totton (New York City) created a short dance film "Wait For Today" set to original music composed by Neil. The film explores the role of age as it relates to our artistic practices expressed through dance and text."
My multidisciplinary practice makes full use of my body exhibited as a medium and object. As Multidisciplinary artist, I currently am focused on making video collages that remix archival footage, photography, recorded interviews, dance, and music to artistically speculate on past and present perspectives in Black America. I am fascinated with editing aesthetics that utilize kaleidoscopes, screen overlays, and repetitive sound alterations. My artistic vision is to translate complex ideologies into visuals that are conscientiously innovative and psychoanalytic. I craft my films holistically from what I observe in the world to promote the power of art to catalyze introspection and social change.
Isaac is a dancer/choreographer from Nova Scotia. He has performed at events such as the CAFTCAD Awards, along with dancing in music videos. His choreography is now presented weekly in class form at House of Eights Dance Studio, he choreographs for Halifax Dance and 2nd Act Theatre Company as well. Isaac began his training at Precision Dance Association in Nova Scotia then moved onto train at Mather Dance Company after graduating high school in 2018. Isaac is so excited to be working with the Social Distancing Festival on Connecting Perspectives.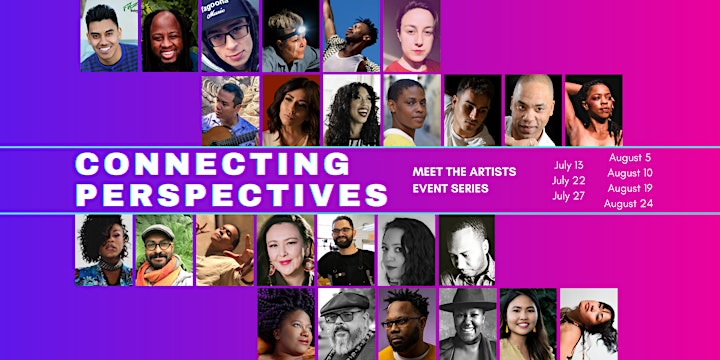 We are honoured to feature the works of these visual artists, poets, choreographers, and musicians. Our jury reviewed nearly 400 submissions, selecting 26 artists from across Canada and the United States, including: Alberta, British Columbia, California, Colorado, Florida, Georgia, Manitoba, Massachusetts, Minnesota, New Brunswick, New Mexico, New York, Northwest Territories, Nova Scotia, Nunavut, Ohio, Ontario, Prince Edward Island, Quebec, Saskatchewan, Washington, Washington DC, and Yukon. View the inspiring works here.
Please be sure to support these amazing artists by sharing these pieces and checking out their other work. You can also learn more about the artistic team and the project's jury by clicking here.
CONNECTING PERSPECTIVES ARTISTIC TEAM:
TAWHIDA TANYA EVANSON, ARTISTIC ASSOCIATE
Tawhida Tanya Evanson is an Antiguan-Québecoise poet, author and artist. Her two poetry collections are Bothism (Ekstasis 2017) and Nouveau Griot (Frontenac 2018), and her first novel Book of Wings (2021) is fresh from Véhicule Press. She also has recent work in The Fiddlehead, UPPERCASE and Changing the Face of Canadian Literature (Guernica).
With a 25-year practice in spoken word, she has performed at literary and arts festivals in over a dozen countries, released four studio albums and six videopoems including the award-winning Almost Forgot my Bones. In 2013, she was Poet of Honour at the Canadian Festival of Spoken Word and received the Golden Beret Award for her contribution to the genre. She is program director of The Banff Centre Spoken Word Residency and vice president of The Quebec Writers' Federation. She works as an arts educator and arts event producer in Tiohtià:ke/Montréal, and moonlights as a whirling dervish.
NICK GREEN, FOUNDER, SOCIAL DISTANCING FESTIVAL
Nick Green is a Dora Mavor Moore and Elizabeth Sterling Haynes Award-winning playwright and the creator of The Social Distancing Festival (socialdistancingfestival.com). Projects produced and presented through The Social Distancing Festival include Connecting Perspectives, created in collaboration with the 13 diplomatic missions for Canada across the United States; COSMOCABARET, a partnership with Toronto's Paprika Festival and Thesbos in Mumbai that celebrates emerging artists in both countries; Long Distance Art, a collaborative art project that has engaged artists in Canada, the US, the UK, Tanzania, Mexico, Estonia, Australia, and beyond; and the exhibition of nearly 300 artistic works from around the world. As a playwright, favourite credits include Body Politic (lemonTree Creations/Buddies in Bad Times, recipient of Dora Award); Every Day She Rose (co-writer, Nightwood Theatre); Dinner with the Duchess (Next Stage); Living the Dream (book, CMTP, Theatre Sheridan); Fangirl (book, Musical Stage Company); In Real Life (book; Theatre Sheridan/Musical Stage Company); and The Fabulous Buddha Boi (Guys in Disguise, Sterling Award). Nick has been a part of the Stratford Festival's Foerster Bernstein New Play Development Program; Factory Theatre's Natural Resources unit; Nightwood Theatre's Write from the Hip; and Sheridan College's Canadian Music Theatre Project.
A PROJECT BY:
THE SOCIAL DISTANCING FESTIVAL
The Social Distancing Festival is an online artist's community made to celebrate and showcase the work of the many artists around the world who have been affected by the need for social distancing that has come about due to the spread of Coronavirus (COVID-19). To date, the site has featured artist work of hundreds of artists from countries around the world. Founded by Toronto-based playwright Nick Green, SDF's main goals are to serve as a platform to promote artists' work (both cancelled, new and ongoing) in a virtual setting; create an international sense of artistic community; and help artists continue to grow their artistic practice, sharing work, and celebrate the work of others. Follow SDF on Twitter, Facebook and Instagram.
THE CONSULATE GENERAL OF CANADA IN NEW YORK
The Consulate General of Canada in New York represents the Government of Canada in New York, Connecticut, Delaware, New Jersey, Pennsylvania, and Bermuda. The Consulate General's efforts and engagements cover a range of political, commercial, cultural, security and economic interests to Canada in our region. From providing business clients with practical advice and on-the-ground intelligence, to engaging with local, state and federal government representatives, to servicing Canadians and visa holders, the Consulate General of Canada in New York is highly engaged with stakeholders across multiple sectors and industries. Follow the Consulate General on Twitter, Facebook, Instagram and LinkedIn.