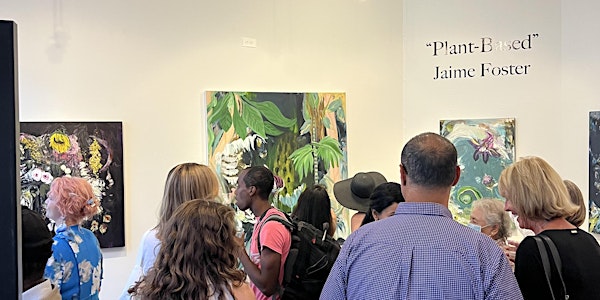 Meet the Artist and Mimosas
Meet the Artist, Jaime Foster, on the closing day for her solo exhibition "Plant-Based"
When and where
Location
Elephant Room Gallery 704 South Wabash Avenue Chicago, IL 60605
About this event
Join us on Saturday, September 24th from 12pm to 3pm to meet artist Jaime Foster and sip on mimosas! This is the final day to view her solo exhibition, "Plant-Based". "Plant-Based" is an exhibition of abstract paintings that explore the textures, patterns and shapes that are found in nature. Jaime's work takes on a life of its own as the paint blooms, flows, rushes and swirls. Some works resemble vast glacial landscapes while others contain intricate botanical patterns. The inspiration behind these works is clearly found in nature but Jaime has taken those elements and created abstracted visuals that give the subject new life and elicit an emotional response through her use of color and movement. Jaime's passion for the fact that biodiversity is essential to life and that plants make our existence possible is translated into each work, resulting in a stunning homage to nature.
Additional works by Jaime can be viewed in the lobby of The Blackstone Hotel at 636 S Michigan Ave., just around the corner from the gallery. "Plant-Based" can also be viewed on the gallery's website and shop link. Contact kim@elephantroomgallery.com or 312-361-0281 with inquiries.