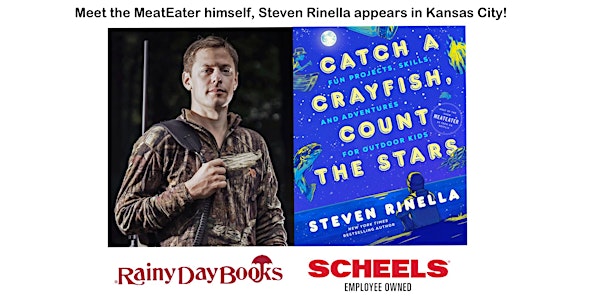 Meet Steven Rinella, Host of MeatEater, Outdoorsman, and Writer
Meet MeatEater host and Outdoorsman Steven Rinella as he signs copies of his new book Catch a Crayfish, Count the Stars!
Date and time
Wednesday, June 21 · 5 - 7:30pm CDT
Location
SCHEELS 6503 West 135th Street #STE 88 Overland Park, KS 66223
About this event
2 hours 30 minutes

Mobile eTicket
EVENT OVERVIEW: Rainy Day Books and Scheels team up to welcome MeatEater host and Outdoorsman Steven Rinella to Kansas City. Join us as Steven meets & greets fans as he autographs copies of his new book Catch a Crayfish, Count the Stars.
ADMISSION PACKAGE: $27.00 plus tax/fees includes one hardcover copy of Catch a Crayfish, Count the Stars. A book purchase is required to enter the signing line. Kids welcome, bring your camera!
TIME & DATE: Wednesday, June 21, 2023 from 5:00 PM - 7:30 PM
LOCATION: SCHEELS, 6503 W 135th Street, Overland Park , KS 66223
ABOUT THE AUTHOR: Steven Rinella is an outdoorsman, writer, wild-foods enthusiast, and television and podcast personality who is a passionate advocate for conservation and the protection of public lands. Rinella is the host of the television show and podcast MeatEater; his last two books are the New York Times bestsellers Outdoor Kids in an Inside World and The MeatEater Guide to Wilderness Skills and Survival. His writing has appeared in many publications, including Outside, Field & Stream, and The New Yorker. Rinella lives in Bozeman, Montana, with his wife and their three kids.
ABOUT CATCH A CRAYFISH, COUNT THE STARS:
A hands-on, gloves-off, muddy-boots activity book for young adventurers ages eight and up, offering fun projects and adventures to build lifelong skills and knowledge about the natural world—from the host of MeatEater and the New York Times bestselling author of The MeatEater Guide to Wilderness Skills and Survival.
Does climbing a tree, building a bug hotel, spearing a bullfrog, stalking wild animals, and scouting for petrified wood sound more fun than homework or chores? If so, this guide is your perfect companion to endless summer days and rainy fall afternoons alike. Filled with advice, insights, and activities to inspire wonder and excitement about the natural world, Catch a Crayfish, Count the Stars is a curious kid's treasure trove, filled to the brim with outdoor projects, skills, and adventures complete with illustrations. The book presents a ton of fun and exciting ways to explore the natural world, like
• building an outdoor exploration kit
• identifying constellations and navigating using the sun and stars
• collecting fossils and other geological wonders
• tracking animals and following weather patterns
• making your own compass
• growing your own fruits and vegetables
• building survival shelters and primitive hunting weapons
• fishing, hunting, and foraging for wild foods
• making cool art projects using natural materials
A must-have guide for budding naturalists, scientists, gardeners, anglers, foragers, and hunters, Catch a Crayfish, Count the Stars helps get kids out into nature, imparting lifelong knowledge and skills along the way.
PLEASE NOTE: Admission Packages are non-refundable. Eventbrite ticket fees are nonrefundable.
About the organizer
Vivien B. Jennings is the Founder & President of Rainy Day Books, Inc.  Since Vivien opened the doors on November 04, 1975, Rainy Day Books has provided the Greater Kansas City community with a gathering place, a wellspring for ideas and creative thought, and an ongoing voice for literacy and awareness.  Rainy Day Books is the major independent bookseller in Kansas City, recognized locally and nationally profiled by The Kansas City Star, KC Small Business and Publishers Weekly for its community Author Events, which average 300 plus per year.  Rainy Day Books recommends selections to over 140 Book Clubs in the area.  Vivien and her partner Roger Doeren support many local charitable and civic organizations in raising both funds and awareness through many of the community Author Events.  Their philosophy is: "Bigger Isn't Better.  Better Is Better.  We are interested not so much in what we have done, but more in what we still want to do.  It is thrilling to watch people leave our Events with the knowledge that authors and their books can expand their awareness, improve their health, make them laugh, touch their hearts, and encourage them to achieve a better life in abetter world. This is truly the spirit of the 'Legacy of Literacy' that we hope to contribute to the community."