About this Event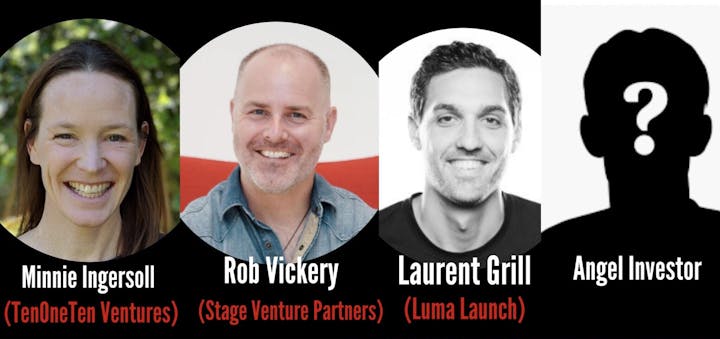 Ethos Society (Korea Town)
Founder Meet Funder focus on supporting entrepreneur growth by connecting them with mentors, influencers and investors within the community. The goal is to identify disruptive early stage startups with high growth opportunity and connect them with strategic angel investors. Connecting startups with top VCs and Angel Investor.
Panel discussion
1. Why we got into this career?
2. What are the moments of delight and pain in the venture business?
3. What we do to serve our Founders and what might be the gaps that still need filling?
* What does your fund do? What sorts of things do you fund?
Our Speakers
Minnie Ingersoll *TenOneTen Ventures
Investor and host of LA Venture podcastPartner at TenOneTen actively investing in great teams. We are operators who invest early (pre-seed, seed, seed+) and love working with technical founders who are passionate about what they're building. Started my career as an early product manager at Google. In my spare time I volunteer for city government, surf baby waves, and raise baby people.
Rob Vickery *Stage Venture Partners
Co-Founder and General Partner of Stage Venture Partners, which is a seed venture capital fund that invests in emerging technology for B2B markets.Stage VP invests in founders from diverse backgrounds who are building cutting-edge software technology for enterprise clients. Founders, especially those solving hard problems that matter, seek us out for our unique expertise, and our alignment with their daring vision. We have the conviction to be first; often the first institutional investor on the cap table and the first to identify new technological trends.
Laurent Grill *Luma Launch
Laurent is an Entrepreneur turned Venture Capitalist who works with start-up founders to successfully build scalable teams, strong company cultures and disruptive products. Laurent believes that there is a fundamental need for additional support in the early stage ecosystem in Los Angeles and other budding technology hubs around the US and globally. This desire to support these growing tech communities led him to his current role as the Lead Investor at Luma Launch, a pre-seed to seed venture fund. Luma Launch is focused on early-stage startups at the convergence of evolving technology and content markets, capitalizing on internal and external resources to create successful products.
Investors
Nick Wu @Angel Investor
Asher Leids @Angel Investor
Sam Lee @Angel Investor
Mark Son @Pasadena Angels
Jeff Chuang @Pasadena Angels
Alexander Renzi @ Investor
Megan McCashland @LvlUp Ventures
Anil Ramineni @Angel Investor
And More Investors and Mentors

Early Stage startups
Grilla
Best Being
DropStat
Epartrade
GetEnflux
CaseWorx
MS Health Connect
Rebel space tech
Nature Soothie
Event Hub
Kobunga Grill
YepChat
Kaya
Care Nodes
Leef
Foodies AI
Audzilla
Upic App
Its Coastal
usedCardboardBoxes
Choon
3rdNut
Elude
EmoJam
FilmoCracy
Nitelifenav
HomWork
EscapeVR Games
Classic Stills
Sunryde
Lexset
Yesrally
Reasi
Elevate referrals
Preveta
ClockSmith AI
Rotendr
String AI
Riv
Waka Coffee
MyIDK App
Sport AMIX
CleanBoxTech
Hansel
Drink New Motion
Blue Flag Project
Ilumin IO
Lets Shake
Vercellc
Eusoh
Beauty Par