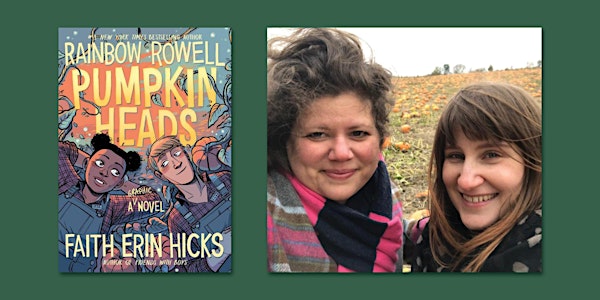 Meet Rainbow Rowell & Faith Erin Hicks at Barnes & Noble Union Square
When and where
Location
Barnes & Noble 33 East 17th Street New York, NY 10003
Refund Policy
Refunds up to 1 day before event
Description
Event Description:
Join author Rainbow Rowell and illustrator Faith Erin Hicks to celebrate the release of Pumpkinheads at Barnes & Noble Union Square! Rainbow and Faith will take pictures with fans and sign Pumpkinheads. They will also discuss their book and give a Q&A.
Guidelines:
1 ticket = 1 book. You must have a ticket to attend the event. Photos will be taken by a Barnes & Noble bookseller with each customer's camera or phone.
Ticket Information:
There are two types of tickets available for this event. Please choose the type of ticket you need based on which edition of Pumkinheads you prefer. Your ticket includes the opportunity to meet Rainbow and Faith and take a photo with them in the signing line.
Purchase of the General Admission - Hardcover Book ticket entitles the ticket holder entry into the signing line, as well as one signed hardcover copy of Pumpkinheads.
Purchase of the General Admission - Paperback Book ticket entitles the ticket holder entry into the signing line and one signed paperback copy of Pumpkinheads.
Back stock for both Rainbow and Faith will be available for purchase at the event. Each author will sign three (3) books in total including PUMPKINHEADS, and personalize one (1) book of the attendee's choice from the three. The additional signed items can include books brought from home.
Refunds:
Attendees can receive refunds up to 1 day before your event start date. If you are unable to attend the event, Barnes & Noble Union Square will hold your book(s) for seven days after the event. Please contact the store to arrange your pickup.
Pumpkinheads Book Description
#1 New York Times-bestseller Rainbow Rowell teams up with Faith Erin Hicks for a hilarious story of missed connections in a pumpkin patch!
Deja and Josiah are seasonal best friends. Every autumn, all through high school, they've worked together at the best pumpkin patch in the whole wide world. (Not many people know that the best pumpkin patch in the whole wide world is in Omaha, Nebraska, but it definitely is.) They say good-bye every Halloween, and they're reunited every September 1.
But this Halloween is different—Josiah and Deja are finally seniors, and this is their last season at the pumpkin patch. Their last shift together. Their last good-bye.
Josiah's ready to spend the whole night feeling melancholy about it. Deja isn't ready to let him. She's got a plan: What if—instead of moping and the usual slinging lima beans down at the Succotash Hut—they went out with a bang? They could see all the sights! Taste all the snacks! And Josiah could finally talk to that cute girl he's been mooning over for three years . . .
What if their last shift was an adventure?
Beloved writer Rainbow Rowell and Eisner Award–winning artist Faith Erin Hicks have teamed up to create this tender and hilarious story about two irresistible teens discovering what it means to leave behind a place—and a person—with no regrets.
Rainbow Rowell Bio
Rainbow Rowell is the award-winning, No. 1 New York Times–bestselling author of Eleanor & Park, Carry On, Wayward Son, and more. Pumpkinheads is her debut graphic novel.
Faith Erin Hicks Bio
Faith Erin Hicks is a writer and artist living in Vancouver, British Columbia. Her previous works include the Nameless City trilogy, Friends with Boys, The Last of Us: American Dreams (with Neil Druckmann), Nothing Can Possibly Go Wrong (with Prudence Shen), and the Eisner Award–winning The Adventures of Superhero Girl. She can be found online!
Please note that Eventbrite is the only authorized dealer for this event.
For additional information about upcoming events at Barnes & Noble Union Square, please click here.