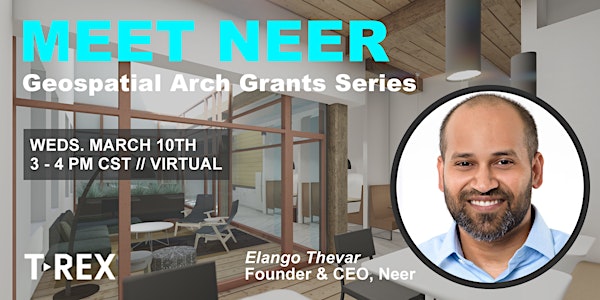 Meet Neer - AI for Water Systems Management | Geospatial Arch Grants Series
Join T-REX for our monthly happy hour & conversation series revolving around the geospatial intelligence & location based tech community!
Refund Policy
Contact the organizer to request a refund.
Eventbrite's fee is nonrefundable.
About this event
The 2020 Arch Grants cohort included a bold and unprecedented element. In an effort to continue to build upon St. Louis' geospatial revolution, 5 of their transformative $50,000 equity-free grants & pro-bono resources were awarded specifically to geospatial startups. Partnering with T-REX's new Geospatial Innovation Center, these 5 geospatial startups have also been awarded incubator space for the duration of their grant, embedding them within our growing geospatial ecosystem. Each month through this virtual event series, you'll get a chance to get to know the 2020 geospatial Arch Grants cohort and newest T-REX community members.
This March, T-REX's Mark Tatgenhorst will introduce and host a community conversation with Elango Thevar, Founder & CEO of NEER.
About NEER:
NEER offers comprehensive integrated real time water management platform that leverages Machine Learning to model and assess the risk condition of water, sewer and stormwater infrastructure systems
About Elango:
Elango Thevar is Founder & CEO of NEER. He spent more than 15 years of experience on hydrology and hydraulic modeling, water quality modeling, LID BMP sizing, floodplain mapping, water resources system design, asset management and project management. His experience has ranged from working on watershed master plan, sanitary sewer overflow (SSO) and combined sewer overflow (CSO) studies to strategic asset management for water, sewer and stormwater infrastructure.
About Arch Grants:
Arch Grants disrupted the status quo of economic development in 2012 with a mission to transform the economy of St. Louis by attracting and retaining extraordinary entrepreneurs. Through their unique and groundbreaking Global Startup Competition model, Arch Grants provides $50,000 equity-free grants and access to an ecosystem of resources, helping early-stage startups grow and scale. Arch Grants' program is a beacon for entrepreneurs globally, developing the next generation of employers, civic leaders, and philanthropists for the St. Louis region. Starting in 2020, Arch Grants began awarding 5 grants each year specifically to geospatial startups to help build a pipeline of talent and technology for the quickly expanding geospatial cluster in St. Louis.
About T-REX:
T-REX is a non-profit technology innovation & entrepreneur development center in downtown St. Louis. With an emphasis on facilitating groundbreaking ideas from early stage entrepreneurs, T-REX houses nearly 200 companies within its 160,000-square-foot, 8 Floor facility on Washington Avenue. Founded in 2011, T-REX has graduated more than 100 companies from incubation that remain in the St. Louis region. T-REXers have created 4,457 St. Louis jobs since its inception and are responsible for more than $620.9 million in annual economic output. In 2020, T-REX completed construction of a revolutionary concept; the nation's first Geospatial Innovation Center, located on the facility's 4th Floor.
Registration allows T-REX to communicate relevant programming details via email for this and future Geospatial Innovation Center @ T-REX events.