Actions and Detail Panel
Meet MomTime Muse Nicole Feliciano, Author of MomBoss
Wed, November 16, 2016, 11:30 AM – 1:30 PM EST
Description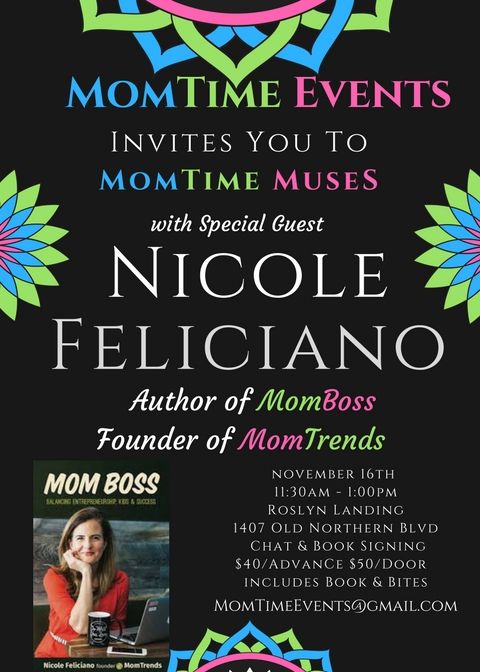 Please join me in welcoming Nicole Feliciano to Long Island!!
MomTime Muses is a new event series by MomTime Events Founder Cynthia Litman to connect with successful entrepreneurs and media personalities to gain insights and inspire you forward in your journey.
For the first event in the series, we have the amazing opportunity to meet Nicole Feliciano, founder of MomTrends, a brand she's steadily built up in between mommyhood into a multi-million dollar business. If it sounds familiar, it's because you've probably seen a few trends pop up on your Facebook feed.
Her new book "MomBoss: Balancing Entrepreneurship, Kids and Success" is essentially a pre-requisite for all Momtrepreneurs. MOMBOSS is part motivational tool and part instruction manual and is filled with wisdom and stories compiled from Nicole's and many other successful momtrepreneur's experiences, challenges and triumphs in building their businesses.
She is known for helping women in business find their personal brand of success!
Nicole will be joining us for an interactive conversation and is mostly excited to answer your questions and help guide you on your entrepreneurial journey!!
Tickets are $40 in Advance/$50 at the Door (Space at the beautiful Roslyn Landing is limited)
Includes the MomBoss Book, Light bites, refreshments and Book Signing
Follow the Event Updates on the Event Facebook Page
Click To View Nicole's MomBoss Book Trailer.
#MomTimeMuses #MomBoss