Meet Me @Metro: Uncovering LA's Hidden Treasures

Weekly Event - Every Saturday & Sunday
Event Details
Here are some of the artists and production staff involved in Meet Me @Metro III:

* Ampersand 
* Rick Burkhardt - the Nonsense Company 
* Ollin Band 
* Rhythm Child 
* Opera del Espacio 

East LA Rep 
Playwright - Anthony Aguilar 
Director - Alejandra Cisneros 
Costume Designer - Gina Davidson 
  
Cast 
Juan E. Carrillo 
Jeremiah Ocanas 
Anthony Aguilar 
Juan D. Ramirez 
Angela Imperial 
Sophia Cisneros 
Joel Jimenez 


Company of Strangers 
Playwright & Director – Joe Luis Cedillo 

Cast 
Mariel Martinez 
Ilana Carter-Ramirez 
Mitchell Colley 
Ezequiel Guerra 
Dolores Yanez 

Rogue Artists Ensemble 
Miles Taber 
Estela Garcia 
Janice Markham 
Featuring Opera del Espacio 

Watts Village Theater Company 
Jackie Valmont (DANCER 
Elizabeth Aldrete (DANCER) 
Daniel Galo (ACTOR-DANCER) 
Rony Vega (ACTOR-DANCER) 
Tony Duran (ACTOR-DANCER) 
Andrea Zúniga (SINGER) 
Rubén Valencia (DANCER-ACTOR) 
Rubén Izquierdo(MUSICIAN 
Jesus Castanos Chima (DIRECTOR) 
RICARDO SOLTERO (TOWERS' DISIGNER) 

Moving Arts 
Producer & Marketing – Cece Tio 
Playwright – Terence Anthony 
Director – Dana Schwartz 
Managing Director, Moving Arts – Steve Lozier 

Cast 
Saidah Arrika Ekulona 
Casey Nelson 
Lemuel "Lem" H. Thornton III 
Steve Lozier 
Vesna Hocevar
Meet Me @Metro: Uncovering Los Angeles' Hidden Treasures (M3-III) is Watts Village Theater Company's (WVTC's) third annual celebration of transit and performing arts. This hands-on artistic expedition will search out culturally significant sites around the Metro rail system and create "artistic excavations" that will allow audience members to discover and learn about Los Angeles' rich and diverse artistic history in an active and participatory manner.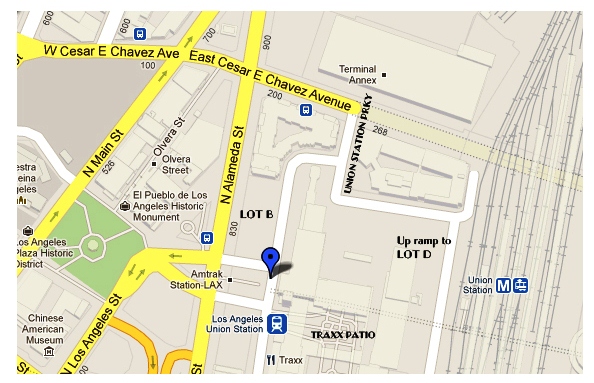 (Get directions to Union Station and how to prepare for the experience at meetmeatmetro.com)
The audience members will be led by a "Musical Archaeologist" who will guide the audience to the discovery of different performing treasures. All the performing solo artists and companies along the route will play the role of "Site Stewards" by safeguarding the truth of each site's history. The overall concept is to create a site-specific artistic extravaganza that highlights Los Angeles' rich cultural and artistic wealth. Performances will take place on and around the Metro Gold Rail Line. This project's route was selected specifically because it will make it possible to highlight the many artistic contributions made to Los Angeles' cultural identity by Native American, Asian American and Latino/Hispanic/Chicana/o communities. 
M3-III continues WVTC's amazing tradition of providing original professional theatrical performances for people who would not otherwise be able to experience them. It also facilitates the theater experience for people in new, surprising and unexpected ways. This project speaks to the new and creative way in which Los Angeles theater companies are reaching out to new audience members and communities!
WVTC is a multicultural urban company that seeks to inspire its community with an appreciation of all cultures through new works about contemporary social issues. Commissioned theater companies will produce a 5 - 10 minute play for the event. Each performance will be staged at Metro stations on the Gold Line going towards East Los Angeles. In addition, musicians and solo performers will move audiences from one place to another in between performances and as they travel the Metro stations towards their next performance.
The Meet Me @Metro Team:
Curator: Guillermo Aviles-Rodriguez
Associate Curator/Dramaturg: Fanny Garcia
Assistant Curator/WVTC Director: Jesus Castanos Chima
Producer: David Mack
General Manager/Communications Director: Rick Culbertson
Associate Communications Director: Joleen Deatherage
Marketing/PR Assistant: Jennifer Sova
Production Manager/Producing Director: Ashley-Nicole Sherman
Production Stage Manager: Angelica Estevez
Associate Production Stage Manager: Sherrie Lofton
Graphic Designer: Daniel Lucas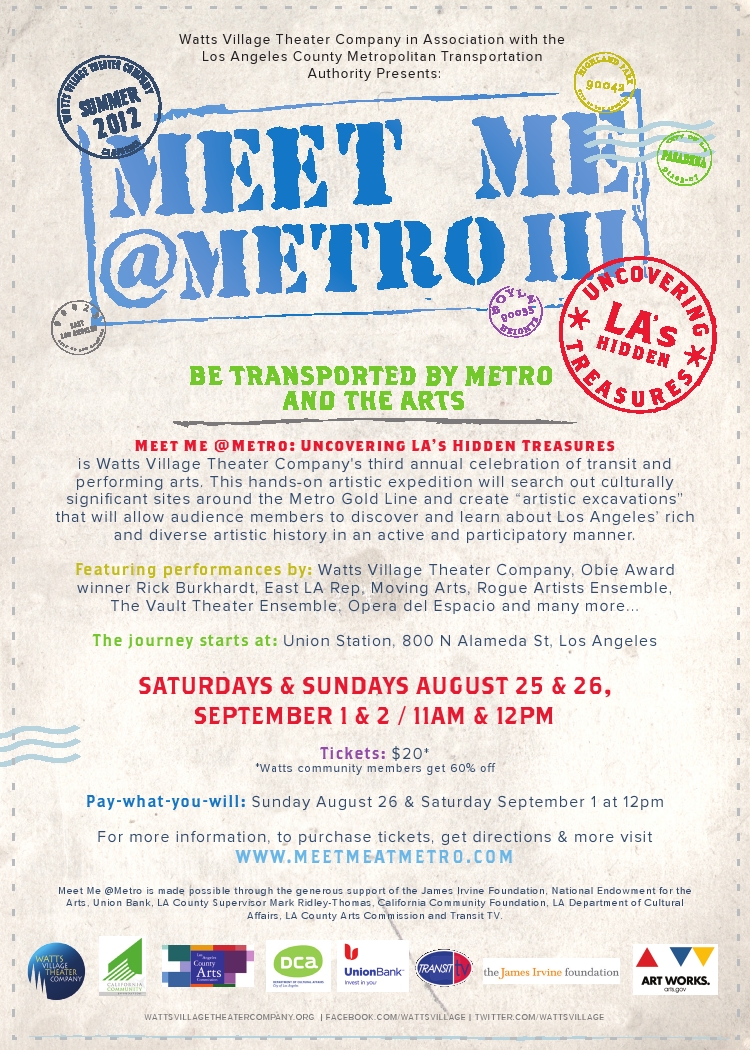 Where

Union Station
1 Gateway Plaza
Los Angeles, CA 90012


Weekly Event - Every Saturday & Sunday
Add to my calendar