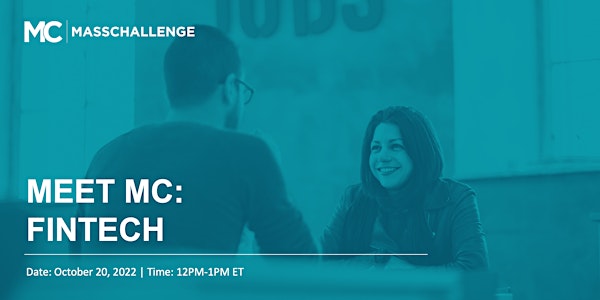 Meet MassChallenge - FinTech 2023
Questions about the MassChallenge FinTech program? Join the team for an insightful conversation and get your questions answered!
About this event
RSVP TO:
Learn all about the MassChallenge FinTech Challenge Program
Uncover the challenges our Partners are solving this year
Plug in to the global MassChallenge community
Network with your FinTech peers
Watch a live walkthrough of how to build your profile and apply
Get your questions answered by the community with LIVE Q&A!
Startup applications open October 4.
Learn more and get a HEAD START by creating your profile today!  
MassChallenge's proven methodology hyper-focuses on helping founders identify goals and key initiatives, providing access to a meaningful network of experts and mentors, while also providing connection to a deep peer network from across the global community. All for no equity and no strings attached.
MassChallenge FinTech accelerates outcomes-driven partnerships between startups and enterprises to fuel innovation across banking, insurance, asset management, and other financial sectors. Our partners' challenges have C-Suite support, budget, and resources, and now they need YOU to help them tackle these issues. In turn, you'll benefit from their deep subject matter expertise and explore avenues that further validate your solution.

About MassChallenge
MassChallenge is the global network for innovators. Headquartered in the United States with seven locations worldwide, MassChallenge equips bold entrepreneurs to disrupt the status quo and to create meaningful change. Since launching in 2009, more than 2,900 startups have participated in a MassChallenge program and non-profit has awarded over $17M in equity-free cash prizes. Learn more about MassChallenge at masschallenge.org.