Description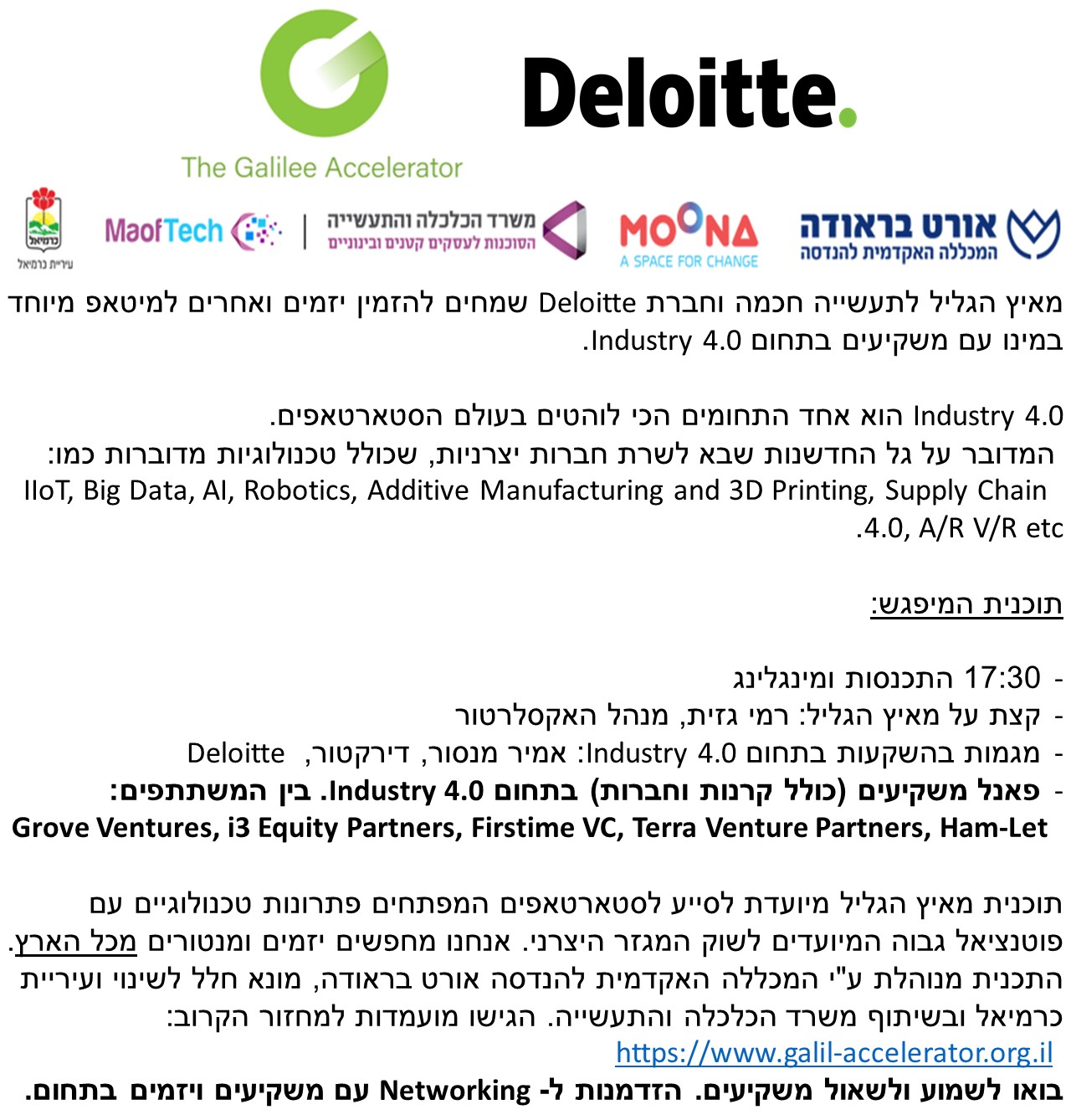 Meet Industry 4.0 Investors
Industry 4.0 is one of the most pressing and desirable areas in the ever changing industrial world. Technologies such as IoT, Big Data, AI, Robotics, Additive Manufacturing and 3D Printing, Supply Chain 4.0, AR / VR are included in this innovation wave and incorporate innovative elements of digital technology, with emphasis on intelligent and integrative industrial operations.
The Galilee Accelerator for Smart Industry and Deloitte are happy to invite entrepreneurs, investors, industrialists and mentors to a very special Meetup with Industry 4.0 investors and experts.
The meetup will take place on Tuesday, February 19th from 17:30 at Deloitte's Greenhouse - 42nd floor of the round building, Azrieli Tel Aviv.
The Galilee accelerator program is designed for start-ups who develop high-potential technological solutions for the manufacturing sector.
Apply now - https://www.galil-accelerator.org.il/
On the Agenda:
17:30 – Gathering
Opening – The Galilee Accelerator Program - Mr. Rami Gazit, Head of the Galilee Accelerator for Smart Industry
4.0 Investments Trends – Amir Mansour, Director, Deloitte
What do 4.0 investors look for? - Panel with Grove Ventures, i3 Equity Partners, Terra VC, Firstime.vc, Ham-Let (incubator) and Eli Tidhar, Head of Strategy group and Energy, Consumer & Industrial Products Industry Leader at Deloitte.
This is a great networking opportunity for investors and entrepreneurs.
Hurry up and register!
*Hebrew speaking event.