Description

MEET & HIRE WEB DEVELOPERS
Finding great development talent is hard. DecodeMTL is an intensive coding school bringing together the best and brightest minds and getting them up to speed with today's modern development practices.
Join us for our hiring event on Friday, May 25th at 1PM to meet and potentially hire our newest graduates.
PAST COMPANIES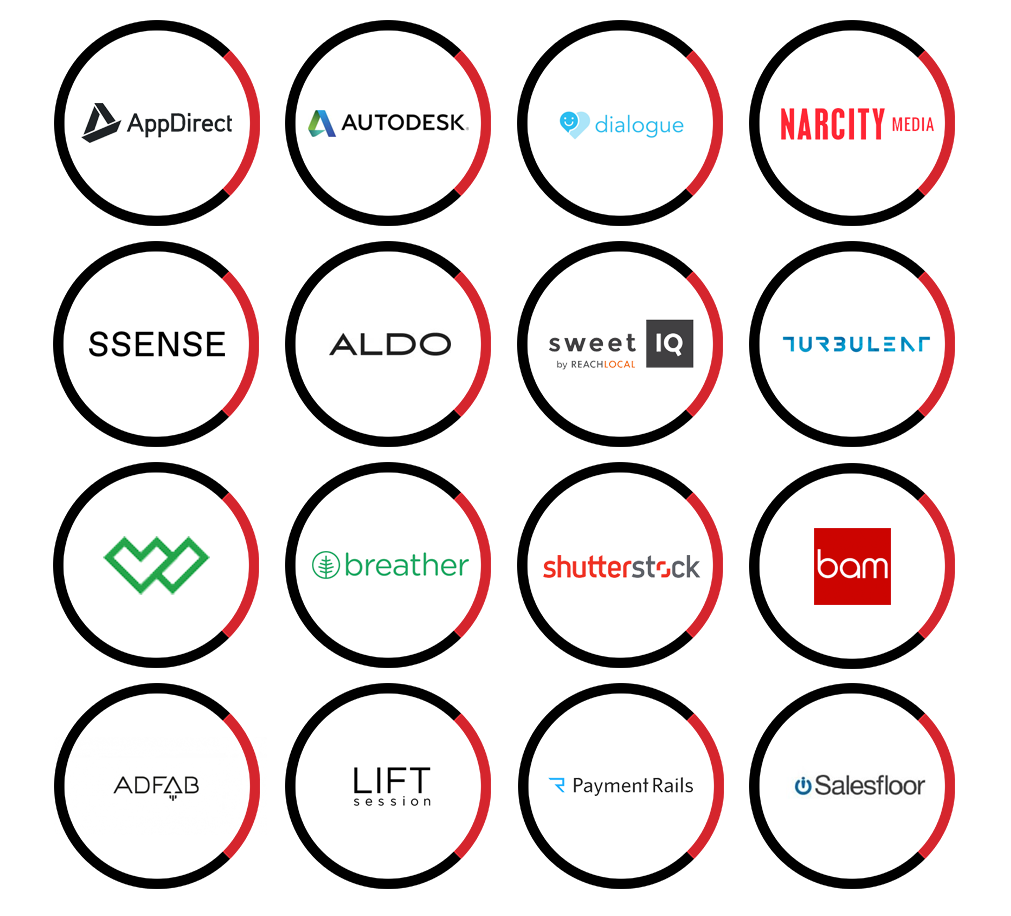 WHY ATTEND?
- Get facetime with exceptional candidates to fill your Web Development positions
- Meet the Decode team and become part of there exclusive employer network
- Gain access to all candidates contact information including Linkedin profiles and email addresses
FAQS!
What should I bring?
Please bring business cards to give potential candidates. A notebook is also recommend to write down notes about those you may wish to hire.
How does this event work?
Our graduates have created some awesome projects, and will be presenting them to you between 1:30PM and 2:30PM. After the presentations, they will be stationed at tables waiting to hear about from you about the positions your looking to fill!
Can I bring multiple people?
Yes! We recommend coming with people from both your Human Resources department and your technical team. You are welcome to bring as many people as you wish.
Are there any fees for this event or to hire?
At the moment we do not charge any fees to attend or hire from Decode.
I still have questions, who can I contact?
Please contact us at hello@decodemtl.com with any questions.
----- Version Française -----
DÉCOUVREZ & EMBAUCHEZ DES DÉVELOPPEURS WEB
Trouver du nouveau talent en développement web est difficile. DecodeMTL est une école de programmation intensive qui rassemble les meilleurs afin de les mettre à niveau avec les pratiques modernes de développement.
Joignez-vous à nous le vendredi 25 mai à 1h00pm pour notre événement de recrutement afin de rencontrer et éventuellement embaucher nos nouveaux diplômés.
POURQUOI PARTICIPER?
- Obtenez un moment en face-à-face avec des candidats pour combler vos postes de développement web
- Rencontrez l'équipe de Decode et faites partie de leur réseau exclusif d'employeurs
- Accédez aux coordonnées des candidats y compris les profils Linkedin et les adresses e-mail
FAQ!
Que dois-je apporter?
Veuillez s'il vous plaît apporter vos cartes d'affaires afin de les remettre aux candidats potentiels. Un cahier vous sera également utile afin de prendre en note les informations de ceux que vous aimeriez embaucher.
Puis-je amener plusieurs personnes?
Oui! Nous vous recommandons de venir accompagné de représentants de votre équipe des ressources humaines et de votre équipe technique. Vous pouvez amener autant de personnes que vous le souhaitez.
Y a-t-il des coûts associés à cet événement ou à l'embauche d'un candidat?
Pour le moment, il n'y a aucun frais pour assister à l'événement ou embaucher chez Decode.
J'ai encore des questions. Qui puis-je contacter?
Veuillez nous contacter à hello@decodemtl.com pour toute autre question.
HOST