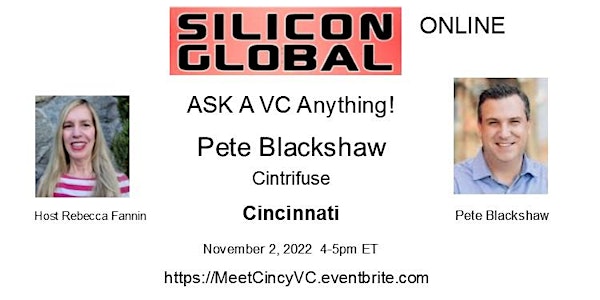 Meet Heartland VC Cintrifuse in Cincinnati
Ask A VC show features Cincy's Cintrifuse, a syndicate of funds and incubator for startups.
About this event
Silicon Global Online Presents
Ask A VC Anything! (Silicon Heartland series)
October 19, 4-5pm ET
Pete Blackshaw: CEO, Cintrifuse, Cincinnati
Pete Blackshaw is CEO of Cintrifuse, a syndicate "fund of funds" and startup incubator created by P&G, Kroger, Western & Southern and other major entities.
He is a one-time P&G brand manager and entrepreneur who was named CEO of this startup hub and innovation catalyst Cintrifuse in 2018. He previously ran digital innovation for Nestle in Europe. The P&G- and Kroger-supported hub has a flywheel of startup funds, an incubator, a community of entrepreneur members, a coworking and events space, and a unique model of venture investing.
Cintrifuse has pooled $120 million of capital into three syndicate funds, including $35 million from P&G, Kroger, and other corporates. These funds are currently invested in eighteen VC firms, including Silicon Valley–connected Refinery Ventures, Upfront Ventures in Los Angeles, and Greycroft Partners in New York.
"We're trying to put Humpty Dumpty back together again." __ Pete Blackshaw, about Cincinnati's tech future
Bio: Rebecca A. Fannin
Rebecca is a CNBC contributor, author of four books, and a media entrepreneur who has covered global innovation for more than 20 years. She was one of the first American journalists to write about China's entrepreneurial boom, interviewing Jack Ma of Alibaba and Robin Li of Baidu, among others. Inspired by the entrepreneurs she met, she formed her own media and events group Silicon Dragon Ventures in 2010. Rebecca's forward-looking and resource-rich books Silicon Dragon, Startup Asia, Tech Titans of China and her latest, Silicon Heartland, launched her as a commentator and public speaker. A guest on BBC, Bloomberg, Fox News, and NPR, and a quoted expert in the New York Times, she also has spoken at the Brookings Institution, Asia Society, and many universities including Harvard, Yale, and Oxford.
Attendees receive a 30% discount to pre-order Rebecca's new book. Click Silicon Heartland offer here and enter promo code Heartland.
About Silicon Dragon on Zoom
Silicon Dragon presents its online series. We kicked off the series in April 2020 with Bill Tai, a first investor in Zoom, and have since featured nearly 60 guests on the show. We regularly feature a VC or Tech Titan in a Q&A session. This series helps startups, strategists and investors connect and provides valuable insights into what makes them tick. Whether you're raising capital, perfecting your business model, scaling up, going for unicorn status, an IPO or M&A deal, or figuring out your Give Back strategy, don't miss this series. Register and join us online.
Our thanks to InvestHK for their series participation and support!