Description
Meet & Greet with SPS Administration
On Wednesday November 7th from 7-8pm in the Curtis Middle School Library (2nd floor) we will be having a Meet & Greet opportunity with SPS administration including NEW Superintendent Brad Crozier, Interim Director of Student Services Stephanie Juriansz & Assistant Director of Student Services Jeff Lappin. Come, get to know our new administrators, hear what's happening in our district and in Special Education this year. Find out what the goals are for the 2018-2019 school year, have an opportunity to ask questions, and give feedback.
Sudbury SEPAC Board Meeting
At 8pm, SEPAC will hold a brief open board meeting. All interested parents and guardians are encouraged to attend. You can also meet the new SEPAC board, find out how you can get involved, and what our goals and plans are for the year.
The agenda is as follows (subject to change).
Convene by 8:00pm
1. Introduction of new board members and liaisons and review of open role opportunities [2 mins]
2. Meeting schedule for the year [Discussion, 2 mins]
3. Review By-law changes enacted at previous meeting [2 mins]
4. Annual Goals [Discussion/action 3 mins]
5. Options for obtaining parent input, including survey, etc [Discussion/action 2 mins]
6. SEPAC financial overview [Discussion/action 3 mins]
7. Promotional/Teacher Appreciation Distributions (e.g. pens/bags) - funds, ordering [Discussion/action 2 mins]
8. Events update: Shared events with LS, Basic Rights with Neighboring SEPACs, Special Olympics, other [Discussion/action 3 mins]
9. Other updates from Officers and Liaisons [2 mins]
10. Open Forum [3 mins]
11. Review and approve minutes and action items from this meeting [3 mins]
12. Any requests for agenda items for the next meeting? [2 mins]
Adjourn by 8:30 pm
Our meetings are open to parents of children with disabilities in Sudbury and other interested parties.
Sudbury SEPAC Parent Social
At 8:45pm, join us at Oak Barrel Tavern in Sudbury to network with other parents
Each of these events is open to the general public. All are welcome and invited to attend.
Come join us!
Organizer of Meet & Greet with SPS Administration, SEPAC Meeting, and Parent Social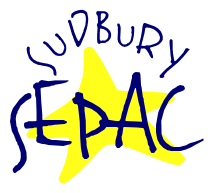 The Sudbury Special Education Parent Advisory Council (Sudbury SEPAC) is a volunteer advisory council of families who collaborate with administrators, educators, and the School Committee for Sudbury Public Schools to continuously improve student outcomes and well-being. Sudbury SEPAC also serves as a resource to local families of students with disabilities.