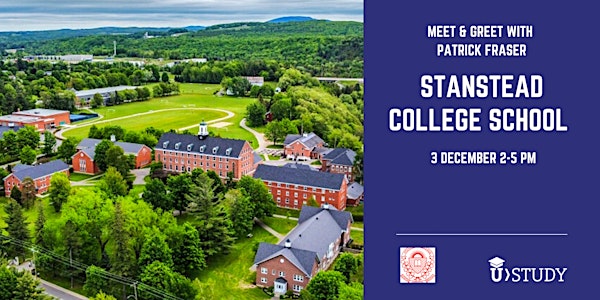 Meet & Greet Stanstead College in Brussels
Meet & Greet with Stanstead's Director of Admissions, Patrick Fraser.
About this event
Stanstead College is an independent, co-ed boarding school for students in Grades 7-12 located in Quebec, Canada. It is located on walking distance of the border with Vermont, USA.
Meet with Patrick Fraser, Stanstead's Director of Admissions in Brussels (Free!) for a 45 minute session.
After signing up you will receive an email to indicate which specific time slot you prefer.
About Stanstead College:
Founded in 1872, Stanstead College is one of Canada's top preparatory institutions. We are an English school that embraces the French language both in and out of the classroom. With a student population of 265 and a rigorous academic program, our school is also uniquely placed to open doors to top universities and colleges in the United States, Canada and around the world.
In keeping with the school motto – Sanitas, Sapientia, Religio or Health, Wisdom, Integrity – Stanstead College builds its program around the pillars of academics, athletics and student life. Academically, caring teachers and small class sizes are paired with advanced academics and an advisor support system to help students become aware, self-disciplined young women and men prepared for life after high school. In addition, our University Guidance team works closely with senior students to assist them in determining and achieving their post-secondary goals. As the only Canadian school accredited by the New England Association of Schools and Colleges (NEASC), our graduates receive acceptances from top universities across Canada and the United States as well as internationally.
Stanstead College's structured athletics program encourages teamwork, fair play, perseverance and, above all, health. Each term, students participate in their choice of athletic options. The school is perhaps most famous for its elite varsity girls and boys hockey teams, which compete at the top high school levels in Canada and the U.S.
Finally, students at Stanstead College enjoy the unforgettable experience of being part of a Canadian boarding school with a student body that includes 80-90 international students from 25 different countries. In addition to making lifelong friends, Stanstead students have endless opportunities to express themselves creatively and socially through clubs, weekend activities, school events as well as academic and service trips.
About Patrick Fraser:
Originally from Vancouver, Patrick arrived at Stanstead College in 2012. With a background education and a familiarity with boarding school life, Patrick has served as a teacher, coach, dorm parent and finally, Director of Admissions as of 2020. As part of his duties, Patrick also currently oversees the school's scholarship and financial aid program..
Location: Hotel lobby of Marriott Grand Place, Rue Auguste Orts 3-7/Grand Place, Brussels, Belgium, 1000. Website Marriott Hotel