Description
If you are a fan of HGTV's "Fixer Upper," you probably remember Clint Harp, one of Chip and Joanna Gaines' go-to craftsman for custom pieces for their clients. Obviously we know that Clint is a man of many talents– but now, he's putting out his very own book this fall titled Handcrafted. Meet Clint at the Katy Mills Books-A-Million for a book signing and meet and greet. Pre-purchase your book through the Eventbrite ticket link and you will receive a copy of his new book that will be signed by Clint at the event.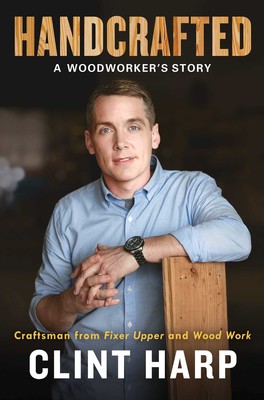 ---
"I've wanted to write a book since high school, and that dream is now a reality," Clint shared on his Instagram. "For the last 4 months my wife (Kelly) and my team (Harp Design Co.) have allowed me to step away from the shop for great lengths of time so that I could do just that. It's been a work in progress for almost two years now and I'm so excited to let you guys know that Handcrafted will come out this fall!"
About the book:
The book is described as part memoir and part manual– but it will give a behind-the-scenes look at how Clint got into carpentry and how he ended up on "Fixer Upper."
Spanning Clint's remarkable journey—from a childhood learning carpentry and hard work at his grandfather's knee, through his struggles to balance pursuing his dreams with supporting his family, to his partnership with Chip and Joanna Gaines and the many adventures and misadventures of filming Fixer Upper—Handcrafted is part memoir and part manual for dreamers.