Meet Daphne Oz of ABC's The Chew at Williams-Sonoma Highland Village
Description
Join us for a book signing with Daphne Oz, the bestselling author and Emmy Award-winning cohost of ABC's The Chew. She'll be signing copies of her latest cookbook, The Happy Cook.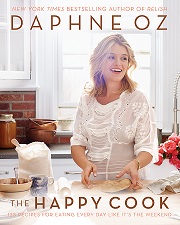 About the book:
The Happy Cook, takes the intimidation out of cooking and shows you how to savor life fully every day with this gorgeous cookbook featuring more than 125 easy, healthy, and delicious timesaving recipes.
For many people, especially those who aren't quite at home in the kitchen, the idea of cooking a homemade meal can be terrifying, uninspiring, or just feel like a chore. In The Happy Cook, Daphne Oz makes cooking fun and relaxing, and shows anyone—newbie or seasoned expert—how to celebrate every day with delicious meals that are as easy to create as they are to enjoy.
Note: Daphne will only be signing copies of The Happy Cook purchased at the Highland Village Williams-Sonoma store. Proof of purchase required.