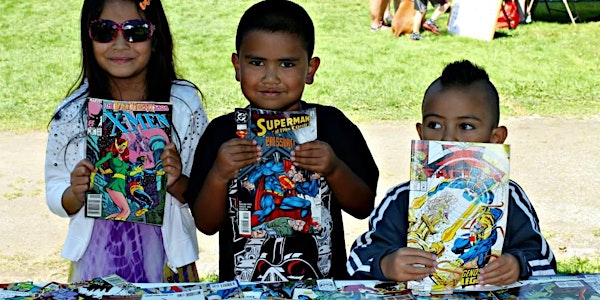 Meet Comics4Kids INC at Music and Art in Wright Park Tacoma WA Aug 11 2018
When and where
Location
501 S I St 501 South I Street Tacoma, WA 98405
Description
OUR STORY
MAWP; or Music and Art in Wright Park, for those less into brevity,
dates back to the early 1990's in the heart of Tacoma. The event's
humble origin can be traced to an unassuming record store, Mother
Records, and its charismatic owner, Ken Johnson.

Inspired by a performance of the Tacoma Symphony Orchestra at
historic Wright Park Ken thought, "Wonder if I could do that? But
Punk Rock…"

While simple in theory, it took a lot of time and energy to accomplish
this little dream. The initial effort to get the ball rolling was expended
by primarily Ken and Mother Records co-owner, Kelly Mickelsen. In
years after, the burden would fall on the shoulders of Ken alone.

It was no small feat to organize these events. His efforts included but
were not limited to: convincing the Tacoma Metro Parks Department to
allow such an audacious undertaking, booking the bands to perform,
promoting the show through various avenues of advertising, and
soliciting sponsors to secure and maintain the necessary budget to
manage all of this, all while still allowing enough funding left over for
staging, a sound system and security. A tremendous amount of Ken's
life was poured into the show every year for nothing more than a love
of local music; a fun and free opportunity for the public and the
performers alike.
That inaugural event way back in 1993 is a vague memory now. For
25 years Music and Art in Wright Park has offered a free and
creative outlet for the fans, artists and performers. And while he tried
to get away from it all or take a break from the event, Ken remains to
this day the heart and soul behind the organization, and a large
reason that MAWP is able to provide such a stellar show every year.

This festival is a family friendly, free event. filled with art, crafts, some
food trucks and a ton of music!! Rock, Rock-n-Roll, Alternative, Pop, Punk,
whatever you want to call it, Tacoma has a rich history in it and a bright future
for it. This music and art festival is totally reliant on donations, sponsors,
vendors, fund raisers, and volunteers to produce this local extravaganza.
Help keep MAWP a free to the public event and growing even larger.

All donations go to the future productions of Music and Art in Wright
Park. Thanks for your support!
Also celebrating our 25th year, Comics4kids, Inc. will give out free comics to the kids and talk all things comics with parents, teachers, dealers, celebrities, and general do-gooders!

Meet Comics4Kids INC - Dale, Spidey, and The Gang!

We will also grade and appraise comics, advise buyers and sellers, and accept donations!

Dealers and Collectors bring us some comics for tax relief!

Kids bring us your comic book reports in exchange for new free hardcover comics!!

SHOP Comics4Kids INC store located at: 743 Broadway Tacoma WA at the MIDDLE FLOOR MERCHANTS of Sandford & Son Antiques! Open Fridays, Saturdays, and Sundays noon-5pm! Come say "Hi" to Tommy!

SATURDAY August 11th and SUNDAY August 12th come in to the store and enjoy 50% off all regularly priced POSTERS!! Prices Range from $10 to $1,000.00 !! Sale does not apply to anything besides POSTERS

Your purchases at the store will help us buy comics for the reading library and many more kid friendly comics to give away for free!! We are an all- volunteer staff!


Please be sure to visit Perry Plush on the web at Zanaducomics.com ! You'll be glad you did!
Comics4Kids INC is a Seattle-based comic book reading Library and National non-profit literacy organization that has IRS 501 (c) 3 tax exemption status. EIN 20-2882260
Comics4kids INC collects donated comic books and then screens them and distributes to children for free. This is part of our mission to improve literacy and encourage imagination through comics. This is made possible by fundraising and generous donations made by our supporters. All contributions are welcome and essential to advancing our efforts!
Assisted by Vice President Damien Moore, Sgt. At Arms Mason Knox, First Vice President & Chief Executive Officer Heidi Spidey, Volunteer Coordinator Extraordinaire Anne Myrick, and Vice President Jerry Sims, President & Chairman of the Board Dale Moore rounds out the literacy champions who are Overstreet's Comic Book Price Guide Advisors and industry luminaries with over 100 years' cumulative experience in the field, having been readers, collectors, writers, artists, consultants to film (Ixtlan Entertainment), publishers (Green Pirate Press), store owners and everything in-between including two years as Grading Department's Quality Control Expert at Comics Guaranty LLC (CGC)
Comics4Kids INC is a recipient of a 2018 Bob Clampett Humanitarian Award !! Congratulations to our fellow recipient FREDERICK JOSEPH of The BLACK PANTHER CHALLENGE!!
https://www.comic-con.org/awards/bob-clampett-humanitarian-award
W E C A N ' T D O I T A L O N E !
Comics4kids INC
4609 South Thompson Ave
Tacoma WA 94808
(206) 337 7436
comics4kids@aim.com
www.comics4kidsinc.org