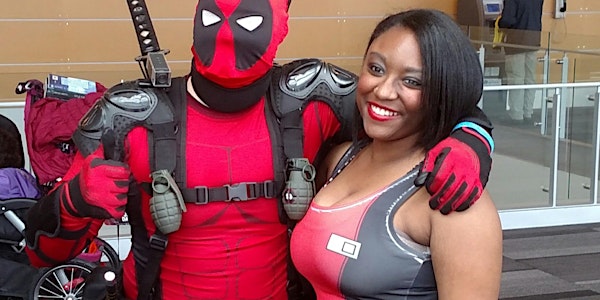 Meet Comics4Kids INC at Jet City Comic Show 2016 !
When and where
Location
Greater Tacoma Convention & Trade Center 1500 Broadway Tacoma, Washington 98402
Description
http://www.jetcitycomicshow.com/
They figured They'd write up a little what to do at a comic book convention since they assume this will be the first for many. So we wanted to let you in on some of the fun stuff at Jet City Comic Show.
Meet the Creators:
They'll have around 100 different comic book creators (writers and artists) at the show this year. You'll have a chance to meet/talk with the guests as well as discover upcoming creators. Get autographs, sketches or find that unique comic book or product.
The Dealers:
Search for that rare comic book you've always dreamed about owning while diving into a variety of boxes of comics from one of our great dealers. Or find a comic book that you can then go and get signed from one of the guests.
In addition to comic books you'll find all kinds of pop culture items such as posters, toys, games, jewelery, DVDs and much more!
Publishers:
You'll find some publishers at the in Exhibitor Booths as well as in Artist Alley. This is a great way to find a new and unique comic book and possibly even meet the creators.
Panels:
Sit in on some interesting lectures at the show and learn about some cool things happening in the industry as well as learn about being a creator. Panels will be down on the 4th floor (exhibition hall is on the 5th floor).
Costumes:
Cosplay is becoming a cornerstone of comic book conventions all around the world. It's a great chance get dressed up and have your picture taken with fans. Not too mention it's a blast to get dressed up and being a part of the convention.
When getting your picture taken please try to be courteous to the dealers and stand off to the side rather than blocking the aisles.
Plus the costume contest with cash prizes!
Parties:
They also have an after show party being put on by one of the local shops. They'll let you know details as soon as they can.
The night before the show they hold a Drink-n-Draw at the Harmon Brewery starting at 7pm for local creators to get away from their drawing boards/computers and socialize and support one another creatively.
Both are great ways to have fun and meet some new people.
Convention Exclusives:
Every year they have a JCCS merchandise table (attached to the ticket booth) where they have convention exclusives where the proceeds are donated to a charity

There's also likely to be some creators in Artist Alley that'll have their own exclusives for the show. Keep an eye on the website and Facebook page for further details on that.
Free Stuff
They have two eight-foot tables at the entrance which will have business fliers (some including coupons), comic books, posters and more for you to snag up.
COMICS4KIDS INC will be there giving away Marvel and DC Entertainment comics for free to the kids!
Plus if you're one of the first 200 attendees at the show you'll get a free print at the ticket booth
Gaming:
There are dealers that sell board games, role-playing games, miniatures and collectible card games… they also have actual gaming at the show.
New Friends
One of the cool things about a comic-con is that the exhibition hall is filled with people (young and old) who love pop culture and comic books. So it's a great opportunity to meet others with similar interests and hopefully build a great friendship.
The most important thing is to have fun!!