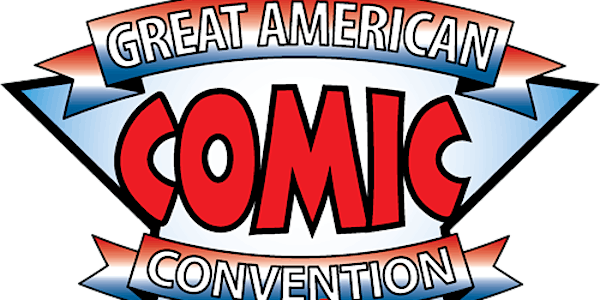 Meet Comics4Kids INC at Great American Comic Convention Las Vegas Nov 17 18
When and where
Location
Las Vegas Convention and Visitors Authority 3150 Paradise Road Las Vegas, NV 89109
Description
Comics4kids, Inc. will give out free comics to the kids and talk all things comics with parents, teachers, dealers, celebrities, and general do-gooders! We do not sell anything at shows! We will just give the kids comics for free!

Meet Comics4Kids INC - Dale & Spidey:
Comics4Kids INC will also grade and appraise comics, advise buyers and sellers, and accept donations!
Enjoy our 20% discount from CGC Grading fees when submitting books to be encapsulated! CGC Charter Member # 0063 (July 1999)

Dealers and Collectors donate us some comics for tax relief!

SHOP Comics4Kids INC store located at: 743 Broadway Tacoma WA at the MIDDLE FLOOR MERCHANTS of Sandford & Son Antiques! Open Fridays, Saturdays, and Sundays noon-5pm!

SATURDAY November 17th and SUNDAY November 18th come in to the store and receive 50% off your entire purchase price! (Stack'em up! We have Posters 1977-present, Pulp Magazines 1933-1945, Toys 1966-2000, and Comic Books 1939 to Present!)

Come say "Hi" to Tommy!

Your purchases at the store will help us buy comics for the reading library and many more kid friendly comics to give away for free!! We are a volunteer staff!


Please be sure to visit Perry Plush on the web at Zanaducomics.com ! You'll be glad you did!
Comics4Kids INC is a Seattle-based comic book reading Library and National non-profit literacy organization that has IRS 501 (c) 3 tax exemption status. EIN 20-2882260
Comics4kids INC collects donated comic books and then screens them and distributes to children for free. This is part of our mission to improve literacy and encourage imagination through comics. This is made possible by fundraising and generous donations made by our supporters. All contributions are welcome and essential to advancing our efforts!
Assisted by Vice President Damien Moore, Sgt. At Arms Mason Knox, First Vice President & Chief Executive Officer Heidi Spidey, Volunteer Coordinator Extraordinaire Anne Myrick, and Vice President Jerry Sims, President & Chairman of the Board Dale Moore rounds out the literacy champions who are Overstreet's Comic Book Price Guide Advisors and industry luminaries with over 100 years' cumulative experience in the field, having been readers, collectors, writers, artists, consultants to film (Ixtlan Entertainment), publishers (Green Pirate Press), store owners and everything in-between including two years as Grading Department's Quality Control Expert at Comics Guaranty LLC (CGC)
Comics4Kids INC is a recipient of a 2018 Bob Clampett Humanitarian Award !! Congratulations to our fellow recipient FREDERICK JOSEPH of The BLACK PANTHER CHALLENGE!!
https://www.comic-con.org/awards/bob-clampett-humanitarian-award
W E C A N ' T D O I T A L O N E !
Comics4kids INC
4609 South Thompson Ave
Tacoma WA 94808
(206) 337 7436
comics4kids@aim.com
www.comics4kidsinc.org
After a year of speculation, rumors, ideas posted and fan input, the first wave of guests are announced for the 2018 Great American Comic Convention scheduled to open its doors to fans once again November 17-18th. Moving to its NEW home at the Las Vegas Convention Center, we are all excited to see this show continue to grow. Look for exhibitor registration to open on March 1st and fan attendee tickets to go on sale beginning April 1st.
With our announcement of our first wave guests, we are excited to continue our tradition of bringing out the creators for Las Vegas fans, who have not been to a Las Vegas convention in the past or recently. Guests such as Tom DeFalco, Tony Isabella, Rick Leonardi, Arthur "Zombie King" Suydam and Elliot S. Maggin. And of course we bring out creators who span the time from Golden and Silver Age all the way to today's modern creators like Jose Delbo and Kyle Baker. And we are so proud to have returning from our last show, the Legend, Allen Bellman and Michael Golden and from our first show back in 2015, the Art of Tommy Castillo.
Look for more guests to be named and other surprises to be announced in the coming months
Frequently Asked Questions
If you have any questions, comments, or concerns, please contact us through the General Contact form and we do our best to respond right away. However, please be patient as in some cases it may take up to 7 (seven) business days of processing time for your email submissions.
General
What is Great American Comic Con?
Great American Comic Con brings you the opportunity to meet and interact with top Comic Book Writers, Artists, and Dealers. This year we will have a ton of great guests and vendors, along with cosplay contests and prizes to be won, plus endless amounts of activities, so you do not want to miss this!
When and where is Great American Comic Con 2018?
Saturday, November 17th & Sunday, November 18th, 2018 at the Las Vegas Convention Center..
What is the best way to stay in the loop for news and announcements about Great American Comic Con?
Follow us on Facebook, Twitter, and Instagram, along with updates on the site.
Where do I submit feedback and awesome content to you?
We appreciate all feedback, ideas and suggestions, as well as images, videos, memes, interesting links or other content through the General Contact form. We do our best to respond right away. However, please be patient as in some cases it may take up to 7 business days of processing time for your email submissions.
Are all guests guaranteed to show up?
All guests that we announce have committed to attend the show. As is standard practice at comic con events around the country, they have the right to cancel if there are circumstances that require it. If one of our announced guests cancels their appearance, we will do our best to replace them with a similar and comparable guest.
Ticketing
When will tickets for Great American Comic Con 2018 go on sale?
Tickets prices and packages are available now.
Can I buy tickets at the door?
Yes, you can buy them at the door subject to capacity limits. Tickets purchased at the event do not qualify for the pre-order discounts, perks, or incentives.
If I can't attend for some reason, can I get a refund for my ticket?
GREAT AMERICAN COMIC CON has a refund policy. Please return to the point of purchase for more information,
CHILDREN
Is Great American Comic Con a family friendly event?
Yes! We encourage families to attend together. There is plenty for kids to see and do, along with this year we are excited to announce a lego play area for children (adult supervision required).
Can I bring my stroller?
Yes. Strollers are allowed but please be courteous to fellow attendees.
ATTENDING THE EVENT
Where can I park at the convention and how much does it cost?
Las Vegas Convention Center can accommodate over 10,000 cars in multiple paved parking lots with ample ADA parking. Parking may require a daily fee.
Can I bring my own camera?
Yes! We highly encourage you to do so, as there will be lots to photograph! However, please be respectful and do not take photographs of any attendee, cosplayer or celebrity guest without their permission.
Can outside books and posters be brought in?
Yes.
Are backpacks, purses or shoulder bags allowed?
Yes. Keep in mind all bags and backpacks are allowed, but will be subject to a bag check by Great American Comic Con staff and security.
Will there be lockers or a coat check to store my stuff while at the convention?
No. We apologize for any inconvenience.
Will there be internet access at the convention?
There will be free basic wi-fi available at the Las Vegas Convention Center and a premium wi-fi connection available at an additional cost per day. The internet connection will probably be very weak due to the sheer number of people in attendance. Do not plan to rely on your smart phone's internet connection while you are at the event.
Will there be charging stations for my phone/tablet?
We will have unmanned tables set up with power strips for your use. But these stations will be used at your own risk and we are not responsible for lost or damages.
Is outside food allowed inside the Las Vegas Convention Center?
No. Exceptions will be made for people with food sensitivities or medical conditions. Small snacks and baby food are okay.
Is there a Lost and Found?
During the convention, the Lost and Found will be located at the Great American Comic Con Information booths. After the convention is over, Great American Comic Con will have the lost items at our offices. Please email us at marketing@gacclv.com with a complete description of the item, your contact information, and put "lost item – _______" as your subject line.
How safe is it to attend?
Great American Comic Con has a NO HARRASSMENT Policy.
Pet Policy
Only service dogs will be allowed at Las Vegas Convention Center. According to the Nevada State law regarding service dogs:
"Service animal" includes any dog that is trained, or is in training, to do work or perform tasks for the benefit of an individual with a disability, including a physical, sensory, psychiatric, intellectual, or other mental disability; performs work or tasks, or is in training to perform work or tasks that are directly related to the individual's disability.