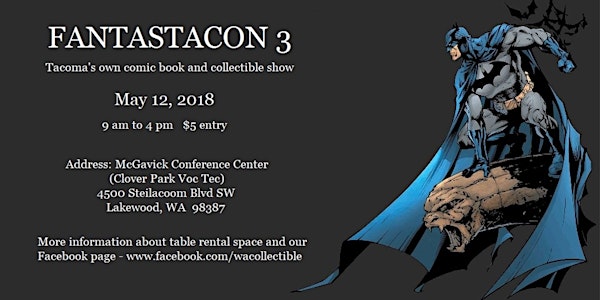 Meet Comics4Kids INC at FANTASTACON 3 Tacoma Wa Saturday May 12
When and where
Location
4500 Steilacoom Blvd SW 4500 Steilacoom Boulevard Southwest Lakewood, WA 98499
Description
SPECIAL FUNDRAISER SHOW! Comics4kids INC will have merchandise for sale to raise money for our comic book reading library! At our table there will be toys, cards, and comics for sale!
Comics4kids, Inc. will also give out free comics to the kids and talk all things comics with parents, teachers, dealers, celebrities, and general do-gooders!
We will grade and appraise comics, advise buyers and sellers, and accept donations!
Dealers and Collectors bring us some comics!!
Industry professionals stop by and say Hello and register for our Comics4Kids INC. Public Service Commercials!
Kids bring us your comic book reports in exchange for new free comics!!
Please note FANTASTACON 3 admission fees are separate from any Comics4Kids INC. donation or sale
You can also buy some posters 1973-2018 and pulp magazines 1933-1941 at our SHOP Comics4Kids INC store located at 743 Broadway # 220 Tacoma WA at the MIDDLE FLOOR MERCHANTS of Sandford & Son Antiques! Open Fridays, Saturdays, and Sundays noon-5pm!
Come say "Hi" to Tommy, Spidey, Dale, Anne, Mark, and Catherine!
Your purchase will help us buy more kid friendly comics!!
www.comics4kidskinc.org