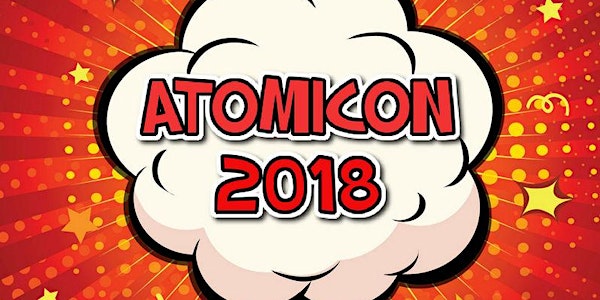 Meet Comics4Kids INC at ATOMICON 2018 Tacoma Public Library Main
When and where
Location
Tacoma Public Library Main Branch 1102 Tacoma Avenue South Tacoma, WA 98402
Description
Comics4kids, Inc. will give out free comics to the kids and talk all things comics with parents, teachers, dealers, celebrities, and general do-gooders! We do not sell anything at shows! We will just give the kids comics for free!

Meet Comics4Kids INC - Dale & Spidey:
Comics4Kids INC will also grade and appraise comics, advise buyers and sellers, and accept donations!
Enjoy our 20% discount from CGC Grading fees when submitting books to be encapsulated! CGC Charter Member # 0063 (July 1999)

Dealers and Collectors donate us some comics for tax relief!

SHOP Comics4Kids INC store located at: 743 Broadway Tacoma WA at the MIDDLE FLOOR MERCHANTS of Sandford & Son Antiques! Open Fridays, Saturdays, and Sundays noon-5pm!

SATURDAY October 13 come in to the store and receive 50% off your entire purchase price! (Stack'em up! We have Posters 1977-present, Pulp Magazines 1933-1945, Toys 1966-2000, and Comic Books 1939 to Present!)

Come say "Hi" to Tommy!

Your purchases at the store will help us buy comics for the reading library and many more kid friendly comics to give away for free!! We are a volunteer staff!


Please be sure to visit Perry Plush on the web at Zanaducomics.com ! You'll be glad you did!
Comics4Kids INC is a Pacific Northwest-based comic book reading Library and National non-profit literacy organization that has IRS 501 (c) 3 tax exemption status. EIN 20-2882260
Comics4kids INC collects donated comic books and then screens them and distributes to children for free. This is part of our mission to improve literacy and encourage imagination through comics. This is made possible by fundraising and generous donations made by our supporters. All contributions are welcome and essential to advancing our efforts!
Assisted by Vice President Damien Moore, Sgt. At Arms Mason Knox, First Vice President & Chief Executive Officer Heidi Spidey, Volunteer Coordinator Extraordinaire Anne Myrick, Treasurer Deborah Petri, and Vice President Jerry Sims, President & Chairman of the Board Dale Moore rounds out the literacy champions who are also Overstreet's Comic Book Price Guide Advisors and industry luminaries with over 100 years' cumulative experience in the field, having been readers, collectors, writers, artists, consultants to film (Ixtlan Entertainment), publishers (Green Pirate Press), store owners and everything in-between including two years as Grading Department's Quality Control Expert at Comics Guaranty LLC (CGC)
Comics4Kids INC is a recipient of a 2018 Bob Clampett Humanitarian Award !! Congratulations to our fellow recipient FREDERICK JOSEPH of The BLACK PANTHER CHALLENGE!! Check out his latest project(s) at www.wehavestories.org
https://www.comic-con.org/awards/bob-clampett-humanitarian-award
W E C A N ' T D O I T A L O N E !
Comics4kids INC
4609 South Thompson Ave
Tacoma WA 94808
(206) 337 7436
comics4kids@aim.com
www.comics4kidsinc.org
Atomic Comic Convention
Saturday, October 13, 2018 (10:00 am – 5:30 pm)
Tacoma Public Library Main Branch
Join us for Tacoma's FREE comic book convention that celebrates comics, reading, and geek culture. This event is recommended for Kids, Teens, Adults and Families.
---
---
What's Happening?
10 a.m. to 1 p.m.

11 a.m - 12:15 p.m.

Workshop "How to Create and Market Your Own Webcomic" by professional comic artist

Jennevieve Schlemmer

Author and illustrator of

The Adventure Book of Strong Women





Make a accessories like steampunk goggles, animal ears, and more to hone your current cosplay or upcoming Halloween costume.

2 to 3 p.m.

3:30 - 5:30 p.m.

Working with

Worbla

Presentation by Professional Cosplayer Lady Duvessa

Learn how to make fantastic light weight costume armor and more out of this unique medium.

5 to 5:15 p.m.





Join us for a costume parade at the end of the day.
---
Ongoing


10 a.m. to 5 p.m.

Fabulous LEGO displays by SPS LUG

Hands on crafts and activities for all ages

Free comics for kids and teens from

Comics4Kids Inc

.

Vendors and Artists Alley where you can buy local art and geek gear

Take photos with professional cosplay superheroes from Costumed Characters for Causes

Dress up in your favorite cosplay or Halloween costume
*Atomicon was formerly known as the Atomic Comicon.