Meet Bonnie and raise money for a great cause!
About this Event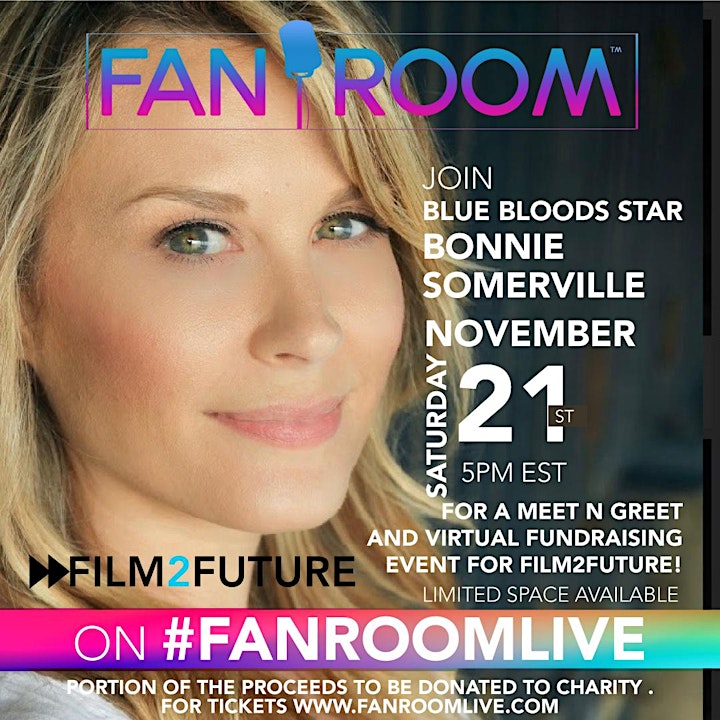 For More Celebrity Events go to www.FanRoomLive.com
Meet Bonnie and raise money for a great cause!
Join Blue Bloods & NYPD BLUE Star Bonnie Somerville for a Virtual Party & Meet N Greet on #FANROOMLIVE to raise money for Film2Future charity!
Saturday November 21st
at 5pm Eastern
Sample Video Of FanRoom Live experience bellow previous event with Brant Daugherty
Ticketing Options:
General Admission
Join the event and watch the show while raising money for a great cause!
Front Row Meet N Greet
Secure a front row seat to immerse yourself in the action and get exclusive access to ask Bonnie your questions face-to-face during the FanRoom Live Meet N Greet session with a 1on1 video chat while raising money and awareness for F2F Charity!
Meet N Greet + Backstage Pass
Get Meet N Greet + Backstage Pass
everything on offer with the Front Row VIP ticket and more!
Enjoy ultra-exclusive access to a private one-on-one hangout & video chat with Bonnie after the event for an even more personal experience . This option also comes with a recording of your session with Bonnie!
About Film2Future:
Film2Future (F2F) is a nonprofit, professional-level filmmaking program for under-served teenagers in Los Angeles. The mission is to diversify the entertainment industry workforce and inspire future filmmakers. Founded in 2016 by Haven Entertainment partner Rachel Miller, F2F empowers a new generation of diverse content creators to share their stories and to obtain paid positions across the entertainment industry. Hollywood executives, legendary filmmakers, and thought leaders from across the entertainment and media landscape volunteer as guest speakers as part of F2F's intensive, hands-on curriculum. Upon completion of our four-year educational program, each F2F student graduates with a creative reel, competitive resume, networking and interview skills, and an industry mentor.