Description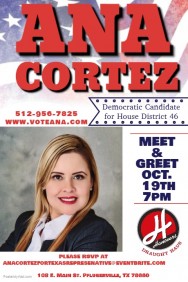 Join us for a Meet and Greet event with Ana Cortez as she continues her stride towards representing you in House District 46. Come out and meet Ana and several of her supporters as she continues to move forward with her campaign! Don't be afraid to ask Ana the tough questions regarding our District! Ana is passionate about her vision for the people and believes it's time for a common person to represent District 46 with common sense politics! She has no fear when standing up to the "Big" Politicians and promotes common sense solutions to complex issues!
Mrs. Cortez is currently an Officer on the Manor Independent School District Board, owns her own business, is a Mother of four and a leader in her community. I
...
f elected Ana promises to be an active and available representative to her constituents!
Together, she believes we can make a difference! Join us in making that difference!!
#Ana4HD46 #voteana
FREE EVENT! ALL ARE WELCOME!
For Sponsorship and Donations Please go to :


https://

secure.actblue.com/

contribute/page/voteana46
Or Contact 512-956-7825 ana@voteana.com
For the following sponsorship levels:
Platinum Ruby Level Gold Level Silver Level Bronze Level
ALL sponsorships will be announced and will be mentioned on Ana's Campaign Page!