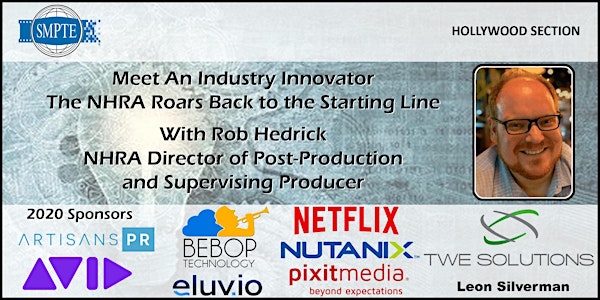 Meet an Industry Innovator: The NHRA Roars Back to the Starting Line
The first installment in SMPTE Hollywood's "Meet an Industry Innovator" Webinar Series
About this event
The Hollywood Section of the Society of Motion Picture and Television Engineers® (SMPTE®), will reveal how the National Hot Rod Association restored live coverage of drag racing's biggest events—safely and securely—in the first of its new "Meet an Industry Innovator" webinar series. The free event is slated for September 24th.
Having postponed its season in March due to COVID-19, NHRA returned to racing with three events at the Indianapolis Motor Speedway in July and August. To facilitate telecasts of the events on Fox, Rob Hedrick, NHRA's director of post-production and supervising producer, and the NHRA broadcasting team devised a workflow leveraging Sony, NewTek and Grass Valley technology and BeBop's remote collaboration platform, to allow the broadcast crew to carry on their work while adhering to social distancing guidelines.
At NHRA, Hedrick leads a team creating deliverables for Fox Sports and the association's OTT platform, which he helped create. With more than 20 years of television experience, he has pioneered live streaming since 2004 delivering live coverage of breaking news and weather events including Hurricane Katrina. Since the pandemic, Rob has transformed his apartment in downtown Los Angeles into an online editing suite to remotely support the NHRA on FOX's telecast.
Greg Ciaccio, principal of [VIZN] Consulting, will moderate.
As always, SMPTE Hollywood events are free and open to all, even non-members. Advanced registration is required.