Join MEERG and CSDFEA for an engaging book discussion on Thursday, September 30, 5:00 PM - 6:30 PM.
About this event
Savushun is a folk tradition, surviving in Southern Iran from an undateable pre-islamic past, that conjures hope in spite of everything. The novel chronicles the life of a Persian family during the World War II Allied occupation of Iran. It is set in Shiraz, a town which evokes images of Persepolis and pre-islamic monuments, the great Persian poets, the shrines, sufis and nomadic tribes all within a historical web of the interests, privilege and influence of foreign powers, corruption, incompetence and arrogance of persons in authority. The story is seen through the eyes of Zari, a young wife, and mother, who copes with her idealistic husband while struggling with her desire for traditional family life and her need for an individual identity.
Open to County employees, family, and friends - we look forward to seeing you!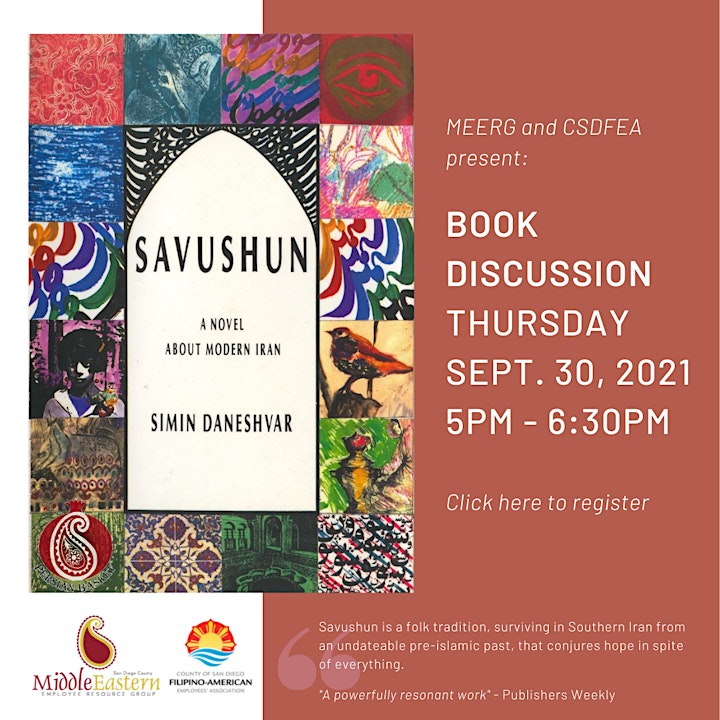 Organizer of MEERG & CSDFEA Book Discussion: Savushun
The County of San Diego Filipino-American Employees' Association (CSDFEA) and Middle Eastern Employee Resource Group (MEERG) are Employee Resource Groups (ERGs) of the County of San Diego. ERGs serve as a resource to employees and focus on the following: cultural awareness and multicultural competency, professional development, outreach, and support of County initiatives.