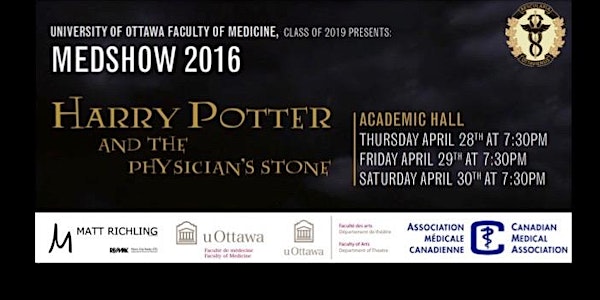 Medshow 2016: Harry Potter and the Physician's Stone - Harry Potter à l'éco...
Location
Academic Hall - University of Ottawa
135 Séraphin-Marion Private
Ottawa, ON K1N 1A2
Canada
Description
Please select the night you would like to attend before purchase!


The University of Ottawa Faculty of Medicine MD2019 Class Presents: Harry Potter and the Physician's Stone. All proceeds of this year's Med Show will be going towards the MD 2019 class charity: "Pancreatic Cancer Purple Team"
Show Nights:
Thursday April 28th // Friday April 29th // Saturday April 30th at 7:30PM!
Synopsis: When Harry Potter receives a letter from Dumbledore telling him about magic being used at the University of Ottawa, he becomes enrolled in the Faculty of Medicine to investigate. On his way to medical school he meets two friends who help him navigate his curriculum, interest groups, medical specialties, and the inner workings of the school. Watch as Harry learns about professionalism, dedication and friendship on his quest to find…the physician's stone!
_____________________________________________
La promotion MD2019 vous présente: Harry Potter à l'école des médecins. Tous les profits de MedShow seront remis au "Pancreatic Cancer Purple Team", la charité de classe de la promotion de MD2019.
Résumé: Lorsque Harry Potter reçoit une lettre de Dumbledore disant que de la magie se passe à l'Université d'Ottawa, il s'inscrit à la Faculté de Médecine pour investiguer. En chemin vers l'école de la médecine, il rencontre deux amis qui l'aident à naviguer le curriculum, les groupes d'intérêts, les spécialités, et les règlements d'école. Amusez-vous à voir Harry apprendre au sujet du professionalism, du dévouement, et de l'amitié lors de sa quête pour...la pierre du clinicien!