MedStartr Momentum contests bring together startups, investors, key stakeholders, patient activists, physicians, nurses, and the community.
About this event
Hashtags: #FightCOVID #MedMo #WarOnCOVID
Help Solve the Global Corona Virus Crisis
COVID-19 is running rampant and we won't be in public again until this is under control! But Never Fear, Healthcare Innovators are here to help! Innovators are retooling, inventing, and launching great ideas that can help from every corner of the world. To help everyone hear about them we are running a series of Virtual Pitch Competitions all throughout April with 4 heats of ten teams each and a finals on April 26th.  Join us Thursdays at 4 PM EST Every Week until then.  You can watch live or later on MedStartr.tv as well.
Innovators: We are calling all health innovators whose companies can help end COVID-19. That could be companies pioneering virtual health, telemedicine, homecare, or completely new technology that can slow or medicate the virus. Apply to Compete Here Apply to pitch or showcase your COVID Battling Innovation Here!
What you win: Everyone wins greater exposure of their ideas and the top teams have a chance to enter into our portfolio of amazing companies and accelerator / funding program that provides up to 2 million dollars in funding. Win and we will put your through our due diligence process and probably invest in you. Coronavirus has shown the need for innovation all over the world. Learn more and apply here to get on the stage for MedMo Virtual Pitch Contest!
Judges and Experts: This isn't just a call for startups; we need the input of doctors, nurses, and other healthcare professionals. Your insights are critical to determining which team has the best chance to help. Apply here to become a judge and MedStartr Mentor.
Why we are doing this? Who are you people?
This event is brought to you by MedStartr Ventures, our VC fund that invests in and accelerates the best new companies in healthcare. With the outbreak of the COVID-19 it shows how there needs to be more innovations! This is part of MedStartr Momentum World Tour 2020, or just #MedMo2020 for short. The team that created MedStartr.VC grew out of the Health 2.0 NYC community in New York and also created MedStartr.com. To learn more or to get involved please engage us on social media at @MedStartr or @alexbfair everywhere or call 530.MED.STAR anytime.
More about the MedStartr Ventures Acceleration Program:
Winning teams will be evaluated for inclusion in the MedStartr Acceleration Program which initially provides over $350,000 in funding and services including two years of support from the MedStartr Ventures team and Mentor network. MedStartr is no ordinary accelerator though. We select companies that are obtaining support from patients, providers, partners, institutions and investors and then accelerate them with services and introductions critical to startups in healthcare.
Why Pitch? What is all this about Momentum?
Pitching at a MedMo event helps get all companies the momentum they need to succeed in healthcare. MedStartr was started as a passion project to help as many innovations and entrepreneurs as possible and we remain true to that mission. Healthcare has changed in many ways in the 11 years since we started but there is more to do. Join us and help evolve medicine until we all can live longer, better lives!
Event Agenda
3:00 EST - All Pitching companies and judges login early to ensure tech working correctly
4:00 - 3-minute Pitches with 3 minutes of Q & A begin for up to 20 companies
5:00 - Dance Break - Pitches Resume
6:00: - Roundtable Discussion with Judges. Topic: This Week In Pandemics
6:30 - Winners announcement
Judges
Sunita Parajuli, MD - Infectious Disease Specialist
Paulo Machado - Founder of Health Innovation Partners , advisor on many healthcare startup's boards
Aline Noizet - General Manager, Digital Health Connector
Eugene Borukhovich - Serial healthcare entrepreneur, CEO of YourCoach.Health
Alex Fair - CEO and Co-founder of MedStartr and MedStartr Ventures
John Martinez, MD, COVID Response Team, Medical Director, Urgent Care
And over a dozen other experts plus hundreds online!
Startups Pitching
TBA - All applicants will be in a showcase and we will have up to 20 slots for pitches!
Apply to Pitch
To get a chance to pitch on stage please fill out the application at here.
Want to Sponsor or Connect to the Community on a Deeper level?
Want to Sponsor or Connect to the Community on a Deeper level? Here are some options:
Silver
$250- have your logo on the screen, and be on all newsletters and promotion about the event, one minute to advertise your product
Gold
$500- Have your logo on screen, three minute to advertise come on and talk about your product. Also be included on newsletters and promotions
Platinum
$5,000 - get on every MedMo War On Covid-19 competition and get introduced to all vetted teams, be included in all promotions and newsletters as lead sponsor!
Call is at 530.MED.STAR (530.633.7827) anytime or email us here.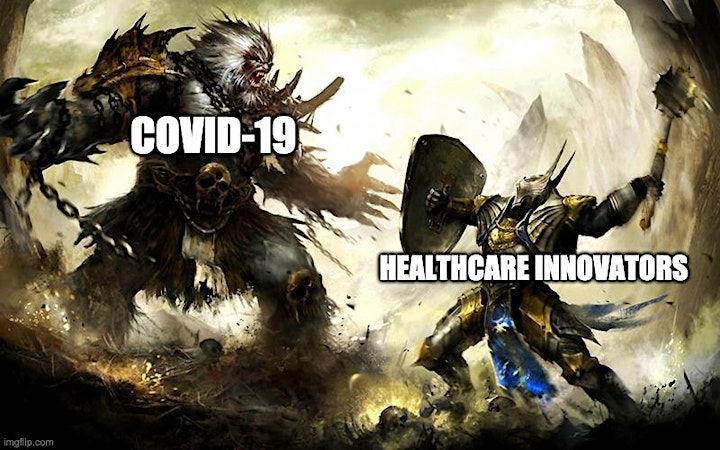 Thank you to all the Healthcare Innovation Heroes working so hard to help address the COVID-19 Crisis with their creativity, mad skills and heart!
Organizer of MedMo Virtual Pitch Contest War On COVID-19 heat 4
MedStartr started in 2008 as a volunteer organization of doctors, patients, students, managers, and professionals gathering monthly to discuss innovative healthcare ideas in NYC as Health 2.0 NYC. On July 4th, 2012 we launched  MedStartr.com and quickly became the leading crowdfunding site focused on Healthcare Innovation.  In 2013 we started running Challenges for government agencies, non-profits, and corporations, driving massive engagement online and off for the best new ideas in healthcare.  With over 180 events in 25 cities so far, MedStartr is one of the largest global healthcare innovation communities in the world.  We are happy that our challenges and programs have helped millions of people and thousands of organizations connect to medical innovations, helping new ideas get out of the lab and into care faster. In 2017 we opened up our first investment fund dedicated to investing in the best companies in healthcare innovation.  To learn more please visit MedStartr.com, MedStartr.vc and MedStartr.nyc; email us at events@medstartr.com; or just pick up the phone and call us at 530.MED.STAR (530.633.7827)  To see footage from past events please visit MedStartr.tv.  
In 2016 we launched the MedStartr Momentum Road Show and expanded it to a World Tour in 2020.  Join us at one of our events or apply to pitch at the next one here!
To become a member of the community and receive special discounts and our Newsletters, please join the community at MedStartr.com/global.  Thank you for your support.