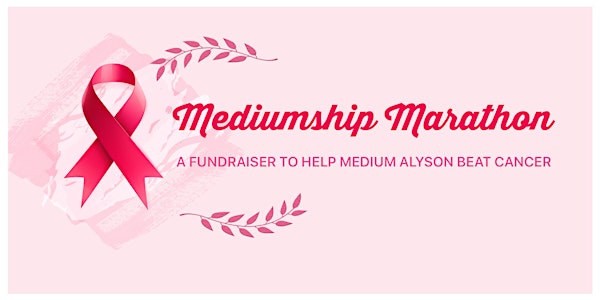 Mediumship Marathon (Online Event)
All-Day Audience Readings!
About this event
Spend the day with Spirit and 15 amazingly gifted mediums from around the world. Experience different styles of mediumship with the opportunity to hear from departed loved ones. Your ticket provides full access to the entire event...come for an hour or stay all day! This is an ONLINE event, watch from the comfort of your home.
Proceeds from this special fundraising event benefits our colleague Alyson Gannon, who is battling advanced-stage cancer.
All-Day Pass is $88
Please note: Many people will receive readings, but purchase of a ticket does not guarantee a reading.
*All Sales Final- No Refunds
Mediumship Marathon Schedule
Doors open at 8:30am PST//11:30am EST//4:30pm UK//5:30pm Central Europe
Introduction and navigating the day, 8:30am PST(California)
Beautiful invocation by Mystic Mariangela Pino Landau
Demonstrations begin at 9:00am PST(California)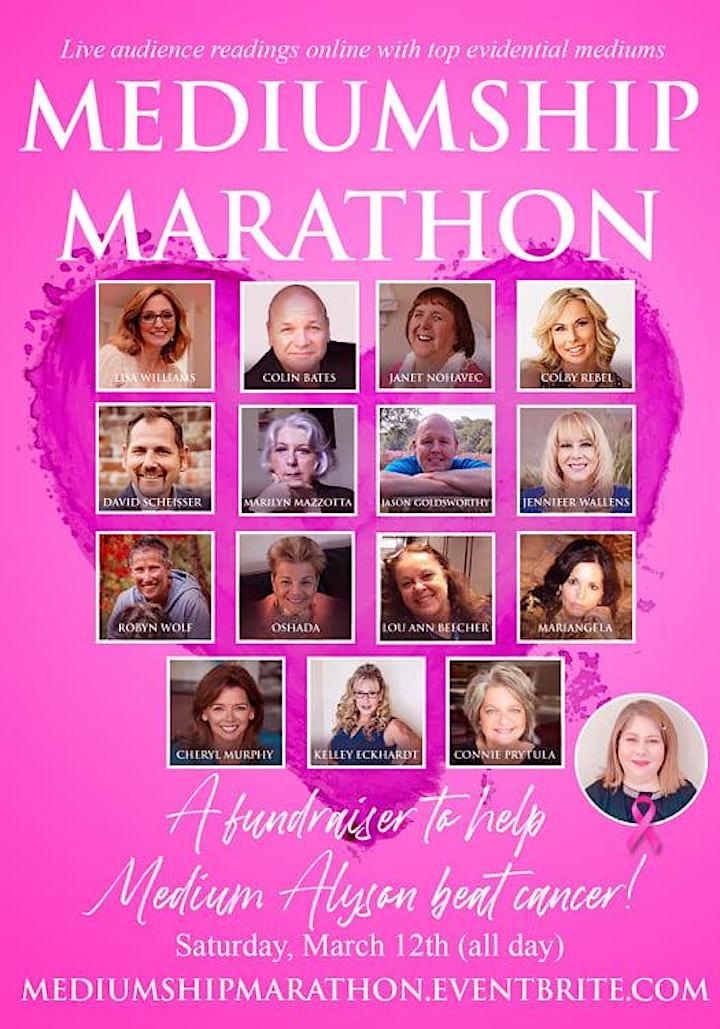 SCHEDULE: (All times are Pacific - California)
8:30 AM Intro & Navigating the Day
8:45 AM Mystic Mariangela Pino Landau - Invocation (Utah)
9:00 AM - 12:30pm Demonstrations by:
Rev. Janet Nohavec (New Jersey)
Minister Colin Bates (UK)
Medium David Schiesser (UK)
Medium Jason Goldsworthy (UK)
Medium Cheryl Murphy (California)
Medium Oshada Jagodskinski ( Florida)
++++++++++++++++++++++++++++++++++++++++++++++
12:30 PM Demonstrations by:
Medium Lou Ann Beecher (Maryland)
Medium Robyn Wolf (North Carolina)
Medium Jennifer Wallens (Florida)
Medium Connie Prytula (Canada)
3:00 PM Medium Lisa Willams (Lily Dale, NY)
Reverend Marilyn Mazzotta (Canada)
Medium Colby Rebel (Los Angeles)
Medium Kelley Eckhardt (California)
Event ends at 6pm Pacific // 9pm Eastern
MARIANGELA PINO LANDAU: Mariangela is the founder and co-director of The Center for True North. She is an intuitive medium, mystic, metaphysical minister, author and poet. She has been facilitating one-on-one Soulfire Spirit Sessions (readings), workshops, rituals, and ceremonial events for the past thirty-two years. To learn more about Mariangela and her offerings, please visit her website at: thecenterfortruenorth.com or email her at mariangelaplandau8@gmail.com
REV. JANET NOHAVEC: Rev. Janet Nohavec is internationally known for her evidential mediumship. She is the co-founder of the Journey Within School for Mediumship and pastor and founder of The Journey Within - A Center for Spiritual Evolvement. Janet resides in New Jersey, where her school, church, and private practice thrive. Learn more about Rev. Nohavec at her website https://journeywithing.org
DAVID SCHIESSER: David Schiesser is a seasoned mediumistic healer, teacher and practitioner. He provides platform Demonstrations, Private Readings, Spiritual Assessments and Appraisals. He teaches philosophical aspects of Spiritualism, Spiritual Trance, and Spiritualist Healing. He holds multiple diplomas and certificates in many modalities from the Spiritualists' National Union. David is also an appointed tutor at the world-renowned Arthur Findlay College in Stansted, England. Connect with David at his webiste: https://blendingmind.com/
Jason Goldsworthy: Jason is a long-time spiritual medium and teacher. He specializes in mentorship programs and trance mediumship offering private lessons and workshop platforms.His work has taken him to many beautiful countries and has led him to meet many wonderful people. Jason lives in Germany and offers both in-person and online readings and classes. To learn more about Jason, please visit his website at: https://www.jasongoldsworthy.com/
Cheryl Murphy: Cheryl is an accomplished medium and psychic and has studied metaphysics for over 20 years. She has oriented her practice as a spiritual medium toward channeling loved ones who have passed over and helping people with difficult life decisions. To connect with Cheryl, please visit her website at www.mediumcheryl.com
Minister Colin Bates: Colin is a mediumship tutor and course organizer at The Arthur Findlay College in Stansted, England. Colin is also a registered Spiritualist healer, public demonstrator of mediumship, teacher and lecturer of mediumistic and spiritual development for beginners through advanced students. He most recently appeared on the Netflix T.V. documentary, Surviving Death. You can connect with Colin at his website mediumcolinbates.com
Oshada: Oshada has worked as an evidential and healing medium since 1980. She serves the public, both within the Spiritualist community and through her private practice, Lost and Found. She has worked nationally and internationally, conducts development circles and workshops, and gives public demonstrations as well as spiritual consultations and private readings. For Oshada, mediumship is a true blending of the worlds, and an experience of the love and compassion that moves between us and our loved ones. Learn more about Oshada at www.oshada.com
Lou Ann Beecher: Lou Ann is the founder of Serenity Guides LLC where she offers mediumship, intuitive and tarot readings, reiki healing, and online & in-person classes. She helps others to deal with the day-to-day stresses in their life through a variation of holistic techniques. To learn more about Serenity Guides and Lou Ann, please visit https://serenityguides.webs.com/
Robyn Wolf: International medium, psychic, animal communicator – Robyn Wolf is a gifted medium who connects with your departed loved ones and assists in guiding you on your life path. Robyn's life purpose is to raise consciousness that life is continuous, and to help with the healing and grieving process. Love is everlasting. Connect with Robyn online at https://www.robynwolf.com/
Jennifer Wallens: Jennifer is a Certified Psychic Medium and Animal Communicator, serving for over 30 years. She is also a metaphysical teacher, spirit artist, and author. Jennifer is featured in multiple television and radio programs and is a leading Paranormal Investigator and Researcher. Jennifer currently serves as Vice President for Psychic Research and Paranormal Studies and Chief Examiner for the American Federation of Certified Psychics and Mediums. Jennifer provides private and group readings. Contact her on her website at https://jenniferwallens.com/
Connie Prytula: Connie is a psychic medium. She performs psychic and mediumship readings for groups and individuals, offers trance healing sessions, and teaches classes on mediumship. She believes that reconnecting to one's true self is essential for finding peace and healing. Connie is married and has four grown children and lives in rural Saskatchewan, Canada. To connect with Connie, please visit www.innerglowhealer.com
Lisa Williams: Lisa Williams is a world-renowned medium and clairvoyant with an incredible ability to communicate with those who have passed on to the other side. She is an accomplished author of books on mediumship and spirituality, including Survival of the Soul, Life Among the Dead, Was That A Sign From Heaven? and her newest book, Divine Wisdom. In 2013, she launched her network of gifted Advisors through Soul Connections and her development school - the Lisa Williams International School of Spiritual Development (or LWISSD for short). Lisa is committed to delivering world-class spiritual learning opportunities with her unique hands-on method of teaching. To learn more about Lisa Williams please visit her website at https://www.lisawilliams.com/.
Reverend Marilyn Mazzotta: Reverend Marilyn Mazzotta is a Spiritualist, working globally as a professional clairvoyant medium, certified astrologer, master of tarot for over 45 years. She is an international lecturer, teacher and author. She is a governor on the board of the Spiritualist Church of Canada. "Spirit has guided me to an amazing fulfilling life." Marilyn is delighted to be here and to be an ambassador of Spirit. To learn more about Reverend Marilyn Mazzotta, please visit her website at www.ReadingsByMarilyn.com
Colby Rebel: Colby Rebel is an International Psychic Medium, Certified Master Spiritual Teacher, podcast host, and three-time Best-Selling Author. She owns the Colby Rebel Spirit Center in Los Angeles. She has been featured on several television and radio shows sharing her mediumship gifts to audiences around the globe. To book a reading, view her courses, or to learn more about Colby, please visit her website at www.colbyrebel.com.
KELLEY ECKHARDT: Kelley is a Certified Advanced Psychic and Evidential Medium and Best-Selling Co-Author of The Last Breath: True Stories of Mediumship, the Afterlife & Messages from Heaven. Kelley understands navigating life-shaping grief, having experienced the loss of her oldest son Ron when he was 20 years old. She draws from this devastating experience and her own healing process to offer others an understanding of the Spiritual world. www.mediumkelley.com
Medium Alyson Gannon
Alyson is a pillar for the mediumship community - organizing, teaching and collaborating events and workshops.
The mediums demonstrating today are her friends and colleagues. She has known and worked with them for many years.
Help Alyson beat cancer! To further help Alyson, donations are being accepted on gofundme.com: search term Alyson Gannon. Please share with family and friends.
https://www.gofundme.com/f/lets-give-back-to-alyson-when-she-needs-us-most