Event Information
Refund policy
Contact the organizer to request a refund.
Eventbrite's fee is nonrefundable.
All Day Audience Readings!
About this event
Join us for a full day of online audience readings from top evidential mediums from around the world. Experience different styles of mediumship with the opportunity to hear from departed loved ones. Your ticket provides full access to the entire event...come for an hour or stay all day!
This is a special fundraising event, created with heart and soul, to benefit our colleague Alyson Gannon who is battling advanced-stage cancer. 100% proceeds go towards her healing.
All-Day Pass is $50
Please note: Purchase of a ticket does not guarantee a reading.
*All Sales Final- No Refunds
Help Alyson beat cancer! To help Alyson further, donations are being accepted on gofundme.com: search term Alyson Gannon. Please share with family and friends.
https://www.gofundme.com/f/lets-give-back-to-alyson-when-she-needs-us-most
Mediumship Marathon Schedule
Doors open at 8:45am PDT, please arrive early so we can begin the readings on time.
Event begins at: 9:00 AM Pacific (CA) // 12:00 PM Eastern (NY) //4:00 PM UK // 5:00 PM Central Europe
* Mediums Colin Bates & Lynn Probert (9:00 AM Pacific)
* Mediums Cindy Kaza and Natalie Lucia
* Mediums Kelly Fisher, Joy Giovanni and Cindy Jones
* Medium Thomas John (1:00 PM Pacific)
* Mediums Lillian Suarez and Kelley Eckhardt
*Mediums Lima Bergmann, Cheryl Murphy and Spirit Artist Courtney Kimmick
*Our event concludes with a healing session for all attendees, guided by Medium Alejandria Kate, author of Transformational Healing.
Please note: Tickets are for The LIVE event only. A replay will not be available.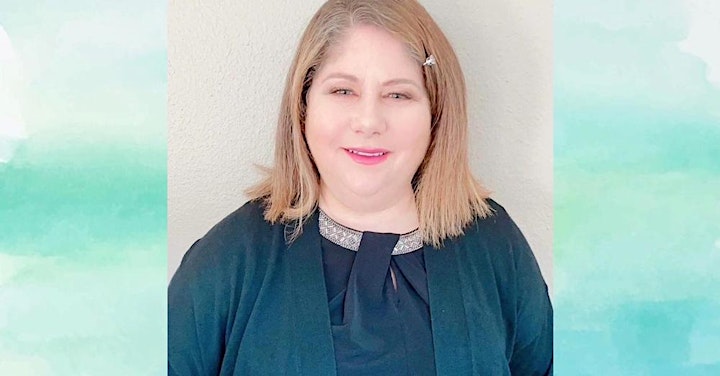 Medium Alyson Gannon
Alyson is a pillar for the mediumship community - organizing, teaching and collaborating on events and workshops.
The mediums demonstrating today are her friends and colleagues. She has known and worked with them for many years.
https://www.gofundme.com/f/lets-give-back-to-alyson-when-she-needs-us-most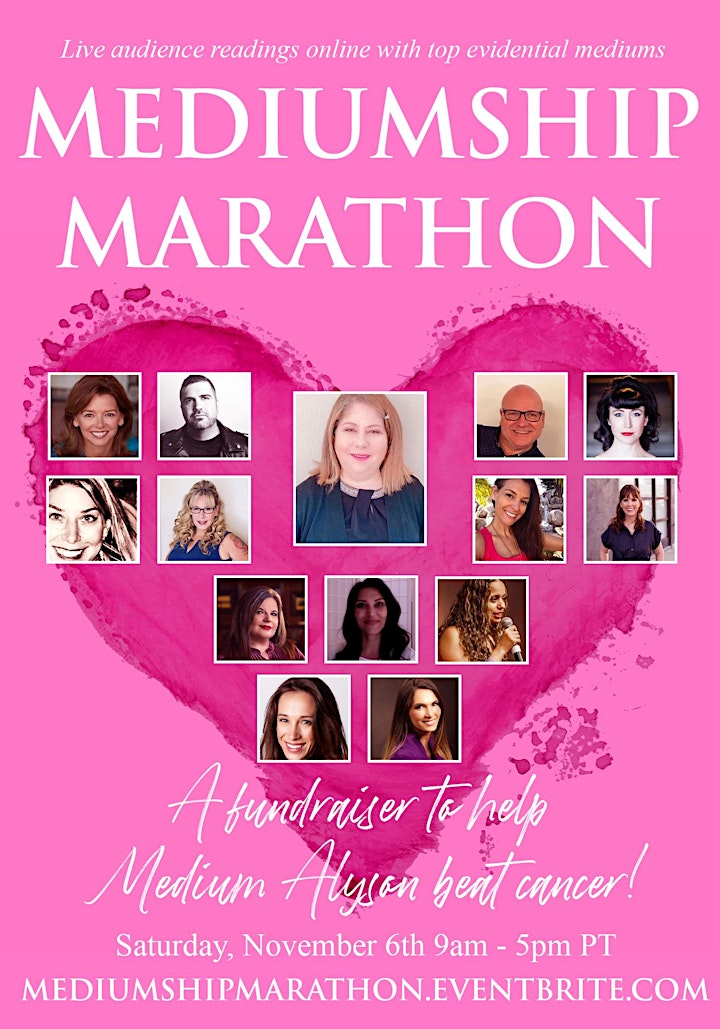 Mediums Bios:
9am Minister Colin Bates & Linn Probert
Minister Colin Bates is a mediumship tutor and course organizer at The Arthur Findlay College in Stansted, England. Colin is also a registered Spiritualist healer, public demonstrator of mediumship, teacher and lecturer of mediumistic and spiritual development for beginners through advanced students. He most recently appeared on the Netflix T.V. documentary, Surviving Death. You can connect with Colin at his website
Lynn Probert is based in the Southeast of the UK. She is a Tutor and Course Organizer at The Arthur Findlay College in the UK and holds a certificate of the Spiritualist National Union. Her honesty, compassion, and commitment to her work with the spirit world has made her a very popular tutor and demonstrator and she has appeared as a guest on TV, Radio and Theatre shows both independently and with fellow colleagues in amongst others the UK, America, Australia and many parts of Mainland Europe.
====================================================================
10:15am Cindy Kaza & Natalie Lucia
Cindy Kaza is an evidential medium who began seeing spirit at age 10. Cindy stars on Travel channel's, The HOLZER FILES, a paranormal tv show investigating supernatural phenomena.
Natalie Lucia is a certified psychic medium, animal communicator and healer. She resides in Suffern, NY with her three children and many fur babies. She loves connecting with the spirit world and helping people heal through her spoken word.
====================================================================
11:30am Kelly Fisher, Joy Giovanni and Cindy Kay Jones
Kelly Fisher is a psychic medium based in San Diego, CA where she lives with her husband and three children. She has seen and sensed the world of spirit as long as she can remember. Kelly uses her psychic and mediumistic gifts to help bring peace and healing from the world of spirit to people around the world.
Joy Giovanni uses her gifts as a medium, psychic and healer to empower and uplift all those that work with her. Joy is honored to serve as a bridge between worlds, delivering messages and validating how connected we all truly are. Connect with her live in her Facebook community Joy's Soul Spa.
Cindy Kay Jones is an International Spiritual Medium providing private sittings as well as presenting seminars. Cindy constantly strives to push the boundaries of her work with Spirit, wanting each Spiritual Connection to be meaningful and prove that beyond this physical work awaits the eternal world of Spirit.
===================================================================
1:00pm Thomas John
Thomas John is a global psychic and medium sensation who has impressed audiences with his accurate messages from the Other Side & is constantly in high demand with influencers and those at crossroads in their life. Thomas also aired his first television show: Seatbelt Psychic on Lifetime (2018) & his first novel, Never Argue with a Dead Person: True and Unbelievable Stories from the Other Side, was published in 2015. Thomas John aired his second television series June 2020 on CBS All Access called the Thomas John Experience. In recent years, his infallible track record and down-to-earth approach has led him to being known as one of the world's top psychics.
====================================================================
2:15pm Lillian Suarez & Kelley Eckhardt
Lillian Suarez is a certified natural born medium, spiritual advisor and teacher from Chicago. She works with clients both in person and online. You can reach Lillian through her website:
Kelley Eckhardt is a Certified Advanced Psychic and Evidential Medium and Best-Selling C0-Author of The Last Breath: True Stories of Mediumship, the Afterlife & Messages from Heaven. Kelley understands navigating life-shaping grief, having experienced the loss of her oldest son Ron when he was 20 years old. She draws from this devastating experience and her own healing process to offer others an understanding of the Spiritual world.
====================================================================3:30pm Lima Bergman, Cheryl Murphy and Courtney Kimmick
Dr. LIMA BERGMANN is a Spiritual Mentor and Intuitive Medium with a doctorate in clinical psychology. She uses this unique combination of skills to help people achieve psychological and spiritual transformation. Whether she is speaking to the public, working one on one with clients, or sharing messages from Spirit, Lima's goal is to help people live in alignment with their soul to move confidently toward their greatest potential.
Cheryl Murphy is an accomplished medium and psychic and has studied metaphysics for over 20 years. She has oriented her practice as a spiritual medium towards channeling loved ones who have passed over, and healing people with difficult life's decisions.
Courtney is compassionate certified, evidential psychic medium and accomplished spirit portrait artist.
====================================================================
4:45pm Alejandria Kate
Alejandria Kate, a certified Mind, Body, Spirit Practitioner and Reiki Master, believes that through a shift in perspective beauty and healing can be found within every experience.ak@alejandriakate.com
Date and time
Location
Refund policy
Contact the organizer to request a refund.
Eventbrite's fee is nonrefundable.